ISSUE 18.50.F • 2021-12-27
Look for our special issue on January 3!
In this issue
PUBLIC DEFENDER: Roll back Windows 11 after more than 60 days
Additional articles in the PLUS issue
HARDWARE: Hard drives – still pretty S.M.A.R.T.
EDITORIAL: Reflecting on 2021
PATCH WATCH: Staying safe this holiday season
---
ADVERTISEMENT

Find out why over 3 million people read Morning Brew. It's free to subscribe!
Morning Brew is a daily newsletter that keeps you informed and entertained, for free.
Morning Brew delivers the top business stories to over 3 million readers each morning.
---
PUBLIC DEFENDER
Roll back Windows 11 after more than 60 days

By Brian Livingston
I wrote "Win11 isn't a must-have upgrade yet" in my October 18, 2021, AskWoody column. However, for true experimenters, I explained a single Registry line that enables you to install Win11 on what Microsoft calls "unsupported" CPU and TPM chips, in case you really need one of four new Win11 features.
Since that time, it turns out you can fix one of Microsoft's most restrictive new policies. To the frustration of many, Win11 can't be rolled back to Win10 a mere ten days following an upgrade. Fortunately, you can end that limitation by using a couple of very simple steps.
I've also found promising news that will bring you up to date on some of this year's other stories, as I'll explain below.
You can try Win11 for more than ten days and still revert to Win10
First, the bad news: This article is primarily for people who haven't yet upgraded Win11 over Win10 — or have done so within the past week. That's because Microsoft has coded Win11 to permanently delete all Win10 recovery files just ten days after Win11 is installed.
If you happen to have upgraded to Win11 more than ten days ago, there are now no Win10 recovery files left on your computer. If that's your situation, the only way you can roll back to Win10 is to perform a clean install. To do this, use Microsoft's official Media Creation Tool as described in TechRepublic and AskWoody articles.

Figure 1. Some of the steps below involve the Windows logo key, also known as WinKey. If your keyboard doesn't have one — well, maybe you need a new keyboard.  Source: Photo by Radu Bercan/Shutterstock
Here's the good news: If you haven't yet installed Win11 — or you did so fewer than ten days ago — Microsoft has thoughtfully provided some easy ways for you to try Win11 indefinitely and still roll back to Win10. The Redmond software giant may have forgotten to mention this to you.
A word of caution: If you've upgraded to Win11, but you have the slightest intention of rolling back to Win10 after a few days, try to avoid installing apps, changing settings, or creating documents while you decide. There's no guarantee that such changes will survive the rollback from Win11 to Win10. You also shouldn't run Disk Cleanup or do anything else that may delete Win10's "temporary" recovery files.
If Win11 isn't yet ten days old, simply use the 'Go back' method
If you upgraded to Win11 fewer than ten days ago, and you already want to go back to Win10, the official method is easy. Assuming you downloaded Win11 normally — not through Microsoft's Insider program or using the Registry TPM-bypass trick that I mentioned above — first back up your files, and then use the following steps:
Click WinKey+I to open Settings, select System, then select Recovery.
On the Recovery pane, select Go back. (This choice may be labeled Previous version of Windows.) If this option is grayed out, you may have passed the 10-day deadline. You'll have to clean-install Win10.
If Go back works for you, you'll be asked to Check for updates. Say No Thanks. Then follow the prompts, grab some coffee as you wait through a few restarts, and you're back to good ol' Win10.
The initial backup is necessary because the official method may remove files you created after the upgrade to Win11. For more information, the Go back process is described in detail in a Microsoft Answers document.
Give yourself as many as 60 days to roll back to Win10
If ten days haven't yet passed — but you want a few more weeks to fully test Win11 — you can prevent Win11 from deleting Win10 for up to 60 days. This extends your ability to stay with Win11 permanently or roll it back, with less time pressure.
Microsoft has quietly documented two command-line methods to do this.
The first command merely shows you whether any time is left in your original ten days:
Step 1. In Win11's taskbar Search box, enter cmd.
Step 2. Right-click the cmd.exe option and select Run as administrator.
Step 3. In the command pane that appears, enter the following and press Enter:
DISM /Online /Get-OSUninstallWindow
If that command replies with an error message, it means too much time has passed for you to roll back to Win10. You'll have to use the clean-install method I mentioned earlier.
But if the command replies with Uninstall Window:10 or a smaller number of days, you're able to extend the rollback window.
In the same command pane, enter the second command, which allows you to change the rollback period to as many as 60 days:
DISM /Online /Set-OSUninstallWindow /Value:60
Instead of 60, you can enter any number of days from 2 to 60. (Any integer you specify outside that range will merely set the uninstall period to 10, the default.)
The above two commands — and additional ones, including a command that prevents a Win11 machine from ever rolling back to Win10 — are documented by Microsoft in a hardware developer document.
Give yourself an UNLIMITED number of days to roll back to Win10
The following method prevents Win11 from finding two recovery folders it wants to delete when your first ten days are up: $Windows~BT and Windows.old.
If you rename those folders, Win11 doesn't see anything to delete, and your old Win10 files remain in place.
Step 1. Press WinKey+E to open a File Explorer window.
Step 2. Select the drive on which Windows is installed, which is usually C:.
Step 3. On the View menu, make sure the Hidden items option is checked.
Step 4. Right-click the $Windows~BT folder and select Rename.
Step 5. Change the folder name to something like Win10$Windows~BT. Press Enter.
Step 6. Right-click the Windows.old folder and select Rename.
Step 7. Change the folder name to something like Win10Windows.old. Press Enter.
You now have an unlimited number of days to test Win11.
If you ever decide to roll back to Win10, reverse the filename changes as follows:
Step 1. Rename the two folders back to $Windows~BT and Windows.old.
Step 2. In Win11's Search box, enter recovery and select it.
Step 3. Under Go back to the previous version of Windows, click Get started.
Step 4. Follow the prompts as described in the "Go back" section above.
The above steps are not documented by Microsoft, so it's anyone's guess how well they will work in all situations — and for how long. My thanks to user nipu for posting his 60-day and unlimited-day analyses on a how-to page.
Another word of caution: Microsoft allowed a full one-month rollback period when Win10 launched in 2015. Reducing this grace period to a mere ten days for Win11 seems unusually harsh. But there are many ways Windows users can mess up Win11's ability to roll back: installing random apps, changing various settings, and heaven knows what else. Microsoft wants to minimize the kinds of problems that arise between the keyboard and the swivel chair.
But don't worry — the worst that can happen is that you completely screw up your computer and need to reinstall everything from your backups! (You might want to try the above methods on a nonessential PC rather than a crucial production machine, OK?)
Apple pauses its planned breakage of end-to-end encryption
I wrote on August 30, 2021, that Apple Computer planned to insert controversial code into its Mac and iOS software. The new routines would silently search for objectionable material that users backed up to Apple's iCloud storage system and report it to authorities.
I quoted technology experts who said, "This is a security disaster" (cryptographer Bruce Schneier) and "governments will demand it from everyone" (Johns Hopkins University cryptography professor Matthew Green). Authoritarian regimes would immediately pass laws — which Apple would feel compelled to follow — requiring the reporting of banned photos and phrases. The government of China already deletes posted images of Pooh Bear, because the furry cartoon character vaguely resembles Chairman Xi. (You can't make this stuff up: see the BBC story.)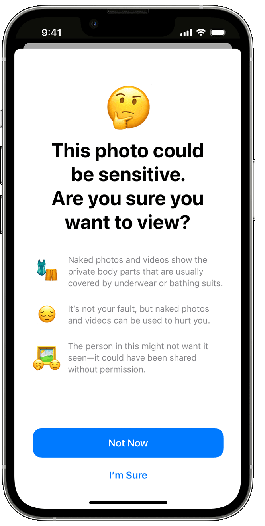 On October 14, more than a dozen security experts blasted Apple's plan in a white paper titled "Bugs in our Pockets." The authors explain that the scheme "by its nature creates serious security and privacy risks while the assistance it can provide for law enforcement is at best problematic."
Apple pulled back its so-called client-side scanning (CSS) plan, but it's unclear for how long. In a related move, the Cupertino corporation on October 13 updated iOS to incorporate just one small aspect of CSS code. If parents enable the feature in Apple's Family Sharing settings, iPhones will display to users under age 18 a warning message when iOS determines they are receiving or sending a photo that contains nudity (Apple photo at left).
Unlike Apple's original design for the feature, however, parents will not be notified if the teen chooses to proceed with the message despite the warning. Who knows whether this code will actually prevent anyone from seeing any skin — or what algorithm Apple might come up with next.
The security experts' objections to all this are described in a Lawfare blog post. The paper itself is available from an arXiv page. Apple's description of its watered-down photo warnings to teens is on a company support page.
The Brave browser draws praise and condemnation
I scrutinized in my November 29 column various experts' tests of which Web browsers offered (1) the best security from malware and (2) the greatest privacy from personal tracking. I reported that the new Brave browser excelled in most reviews and that I was switching all my devices to it.
Rave ratings are still coming in for the upstart browser. Most recently, CNET's Clifford Colby and Rae Hodge urged users to "Ditch Google Chrome" and use Brave instead. The reviewers acknowledged that Brave's privacy features would block intrusive ads, harming some websites' revenues. But they praised Brave's technology that shows its own ads, generating anonymous contributions of cryptocurrency to websites users visit. (Brave never blocks unobtrusive, inline ads, such as the subscription forms on the AskWoody website.) CNET review
Others object to the blocking of ad servers, which is Brave's main selling point to users. WordPress developer Kevin Muldoon writes on his blog that Brave is "unfair to website owners." He also objects that Brave inserts affiliate codes into some URLs that users enter. He recommends the use of the uBlock Origin ad-blocker extension for Chromium and Firefox instead. Muldoon review
Opinions dim on ExpressVPN after its acquisition by Kape
I reported on September 27 the acquisition of ExpressVPN, one of the most highly rated virtual private networks in the world. Its buyer was Kape Technologies, which had become notorious for operating adware from 2013 to 2019 under an earlier name. Kape had previously purchased CyberGhost VPN and ZenMate VPN in 2017, followed by Private Internet Access (PIA) in 2019.
ExpressVPN still earns high rankings. As recently as December 15, Tom's Guide raved, "We think ExpressVPN is the best VPN on the market." Another review site, TechRadar, wrote on December 14, "This is a top-quality VPN which exceeded our expectations in everything from platform support and privacy, to ease of use." (Fun fact: Both Tom's Guide and TechRadar receive commissions from ExpressVPN through affiliate links, which may or may not have influenced their reviews.)
Other tech reviewers are not so sanguine. "You should probably stop using ExpressVPN," said Gizmodo on September 24. The review included the fact that ExpressVPN's CIO had developed "zero-click" spyware for authoritarian regimes, for which he was fined $335,000 by the US Department of Justice in September 2021.
Aggregation service Sitejabber reports that ExpressVPN has a consumer rating of only 2.73 out of 5, "indicating that most customers are generally dissatisfied with their purchases."
Corporate VPNs face a different problem. Flaws in VPN software and firmware mean "many businesses aren't equipped to look for and patch security vulnerabilities being exploited by malicious hackers," ZDNet wrote on November 10.
We need to seriously re-evaluate the VPN space. It's questionable whether all of the somewhat pricey services out there have justified their cost and are worthy of our trust.
That's a wrap for me. Have a Happy New Year!
Do you know something that we all should know? Tell me about it!
Send your story in confidence to publicdefender@askwoody.com.
Join the conversation! Your questions, comments, and feedback about this topic are always welcome in the Forums!
The PUBLIC DEFENDER column is Brian Livingston's campaign to give you consumer protection from tech. If it's irritating you, and it has an "on" switch, he'll take the case! Brian is a successful dot-com entrepreneur, author or co-author of 11 Windows Secrets books, and author of the new book Muscular Portfolios. Get his free monthly newsletter.
---

If you purchase after clicking this ad, AskWoody may receive a small commission.
---
HARDWARE

Hard drives – still pretty S.M.A.R.T.

By Ben Myers

In my last article, Breaking and entering with Linux: What you see (AskWoody 2021-09-27), I said that there were issues with the S.M.A.R.T. system built into the firmware of both old-time spinning hard drives and solid-state drives (SSDs).

S.M.A.R.T. provides real-time recordkeeping about the health of your hard drive. It is all about system reliability, of which drives are a major element and a significant point of failure.

EDITORIAL

Reflecting on 2021

By Will Fastie

We're still alive.

Don't take that the wrong way. I'm not talking about the pandemic or my age. I'm talking about this venerable newsletter. Lest there be any doubt, I knew we'd make it this far. In fact, we have a future.

PATCH WATCH

Staying safe this holiday season

By Susan Bradley

This is the season of bright lights and holiday scams. Not a day goes by when I don't receive notice that a credit card has an alert, a FedEx package has been delayed, or my bank account is overdrawn.

I've seen bogus links to websites that want my credentials, that want to inject malware into my machine, that basically want to steal money from me. While most of the time these scams are very obvious, there are times when they make me stop and do additional checking — just to make sure that I've not been scammed. As we close the year, it's a good time to remind ourselves of various tips and best practices to keep ourselves protected.
You're welcome to share! Do you know someone who would benefit from the information in this newsletter? Feel free to forward it to them. And encourage them to subscribe via our online signup form — it's completely free!
---
Like what you see in the FREE newsletter?

Become a PLUS member!

As a Plus member, you'll receive the full newsletter, including all our great content about Windows, Microsoft, Office, 365, PCs, MS-DEFCON Alert notifications, useful and safe freeware, and Susan Bradley's sought-after patch advice. Plus membership also allows continuous access to the complete archive of nearly two decades of Windows Secrets and AskWoody Newsletters.

Naturally, Plus members have all the benefits of free membership, including access to the popular AskWoody forums.

The cost? We're supported by donations — choose any amount for a one-year membership. Every little bit helps.
---
Publisher: AskWoody Tech LLC (publisher@askwoody.com); editor: Will Fastie (editor@askwoody.com).
Trademarks: Microsoft and Windows are registered trademarks of Microsoft Corporation. AskWoody, Windows Secrets Newsletter, WindowsSecrets.com, WinFind, Windows Gizmos, Security Baseline, Perimeter Scan, Wacky Web Week, the Windows Secrets Logo Design (W, S or road, and Star), and the slogan Everything Microsoft Forgot to Mention all are trademarks and service marks of AskWoody Tech LLC. All other marks are the trademarks or service marks of their respective owners.
Your subscription:
---
Copyright © 2021 AskWoody Tech LLC. All rights reserved.