ISSUE 20.47.F • 2023-11-20 • Text Alerts! • Gift Certificates
The next free edition of our newsletter will be published on December 4, 2023.
You're reading the FREE newsletter

You'll immediately gain access to the longer, better version of the newsletter when you make a donation and become a Plus Member. You'll receive all the articles shown in the table of contents below, plus access to all our premium content for the next 12 months. And you'll have access to our complete newsletter archive!
Upgrade to Plus membership today and enjoy all the Plus benefits!
In this issue
FREEWARE SPOTLIGHT: SlickRun — A powerful way to launch anything
Additional articles in the PLUS issue
PUBLIC DEFENDER: Microsoft adopts passkeys in Windows 11 — death to passwords!
PATCH WATCH: A serving of zero days
---
ADVERTISEMENT
WinX DVD Video Software Black Friday Mega Sales
Attention, video enthusiasts! This Black Friday, WinXDVD Software is unleashing exclusive deals on its top-notch multimedia tools. Elevate your video experience with following products with lowest price of the year.

WinX DVD Ripper – Digitize Your DVDs Collections. Rip encrypted DVD movies, TV series to MP4 videos at No.1 speed with GPU acceleration.
WinX Video Converter – Convert 4K, HD videos to 420+ formats. Reduce up to 90% video size losslessly. Edit video in clicks.
WinX MediaTrans – Two-way sync videos, photos, music, ebooks, podcasts, voice memos, PDF, etc between iPhone and computer.
---
FREEWARE SPOTLIGHT
SlickRun — A powerful way to launch anything

By Deanna McElveen • Comment about this article
We all have that handful of programs that get installed on every new computer. Now we have another.
Eric Lawrence, a developer hailing from Texas, has created a very nifty, free program called SlickRun that is so intuitive and so, well, slick that you will be using it in no time. SlickRun is so powerful that once you get it customized to your liking, it will become second nature.
Things like "intuitive," "slick," "nifty," "powerful," and "free" are the sort of descriptors that find themselves on Deanna's list of always installed software. A few others on that list: Q-Dir, HDCleaner, VLC, 7-Zip, IrfanView, Thunderbird, f.lux, and Volume². (What's on your list? Tell us in the comments.)
Go grab a copy of SlickRun from OlderGeeks.com, and I will get you started using it. The main download link is for the 64-bit installer. If you need the 32-bit version instead, you'll see that option as well. The program runs on any version of Windows from XP all the way to Windows 11.
The installation is pretty straightforward. You will be asked if you want to allow this program to make changes to your computer. SlickRun is perfectly safe, so it's okay to allow it.
Next, you will be presented with the License Agreement (see Figure 1). Do we read it? Of course we do. Do we always read the small print during software installs and in life in general? Yes, we do. Does Deanna sound like a mother sometimes? Yes, she does.

Figure 1. Read the stuff. Always read the stuff.
Once the installer has finished its work, you can close it (see Figure 2). You will be left with the tiny SlickRun window, ready to take your commands.

Figure 2. You can close the installer once it has finished.
When you do click Close, the program's help webpage will pop up (see Figure 3). I normally hate that, but I will give Eric a free pass this time, because the page is very helpful.
This is also where you can download MagicWord Packs. More on those later.

Figure 3. The pop-up help page links you to SlickRun's instructions and offers you MagicWord Packs.
Before we get to using the program, we are gonna fix it so that we non–spring chickens can see it.
First, hover your mouse cursor over the right edge of the window until you see the double-headed arrow. Left-click and hold to drag the edge to the right stretching the width of the window.

Figure 4. Drag the right edge to stretch or shrink the window horizontally.
For adjusting the height, we just need to make the fonts bigger. To do this, right-click on the window and choose Setup (see Figure 5).

Figure 5. In Setup, you can make all changes to the appearance and functionality of SlickRun.
Once in Setup (see Figure 6), select the Appearance tab and then click the Font button. From there you can select your font face, style, and size.
Notice that the SlickRun window changes to display your computer's free memory, date, and time when the window is not active. This can be changed under the Appearance tab as well.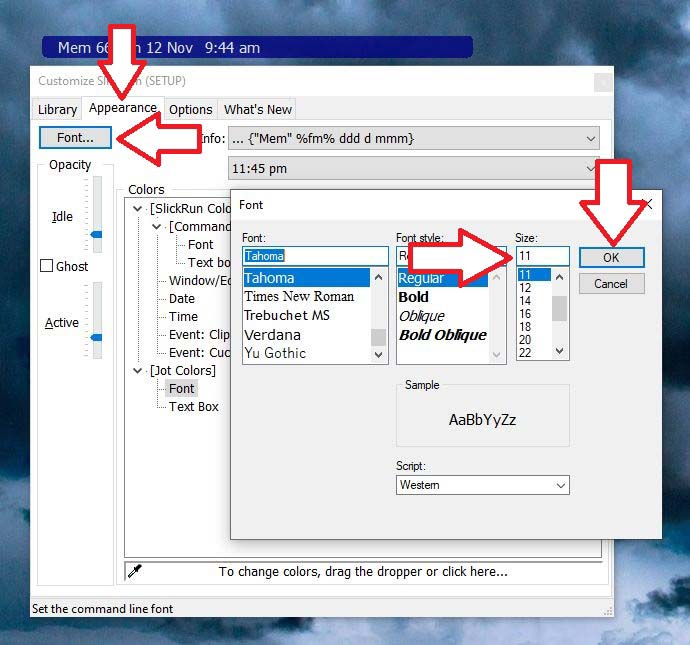 Figure 6. Select the face, style, and size of SlickRun's display font.
I kept the font face and style the same but I increased the font size from 11 to 22. The blue window clashes with my stormy clouds so I'm going to change that as well.
I'll just select Window/Edge (see Figure 7) and then grab and drag the little eye dropper onto the color I want from my clouds to get my new color.
From these selections, you can change the color of anything that displays in the window. There are even slide bars to adjust the opacity. Checking the Ghost box makes the entire window transparent.

Figure 7. Choose the colors and opacities of all aspects of the SlickRun window.
"Well, gee, Deanna. That's pretty and all, but what the heck does this program do!?"
SlickRun is an application launcher like no other, plus a few extras. Yes, I know there are a billion application launchers out there, but stay with me.
First, here's what SlickRun is not: It's not a typical hotkey launcher. It uses real words that already live in our brains and that we already associate with actions. There are no random hotkey combinations such as Ctrl+Option+K to memorize for an action.
To understand what I mean, go back to Setup again (see Figure 5). This time, select the Library tab (see Figure 8). Any words that you start typing in SlickRun's window are called "MagicWords." SlickRun comes with a list that the author has created but you can add, edit, or delete whatever you want.

Figure 8. SlickRun's author has already started you out with some MagicWords to try.
Notice that the word "book" is a MagicWord in the list. Next to it is an associated Filename, which probably would be better called an "Action" because the MagicWord does not always need to be associated with a file.
You rarely need to type more than just a letter or two of a word for SlickRun to finish it for you.
Let me show you. In the following example (see Figure 9), I needed only to type the letter "b" before the entire word "book" appeared in the window. Then I just hit the Enter key, and the Find a book at Amazon.com window appeared. Now I just type the book name, or author, or subject of a book into the box and hit Enter again. SlickRun instantly opens my default Web browser and relays the search to the Amazon website. How cool is that?
One quirk to note: To close any pop-up box without using it, click it so it has the focus, then hit Esc on your keyboard. It took me much longer than it should have to figure that out.

Figure 9. Typing or beginning to type "book," and then hitting Enter, brings up the window to find a book.
Want to check a stock price on Yahoo Finance? Type the word "stock" (I got it by typing just "st"), and the Stock Ticker Quote box will appear (see Figure 10). Hit Enter, and your default browser will open to Yahoo Finance with your stock price displayed.
You can also right-click on the window and then choose a MagicWord with your mouse.

Figure 10. Beginning to type "stock" and then hitting ENTER, brings up the Stock Ticker Quote box.
Is it going to rain? Just begin to type "weather" and a box will pop up where you can enter your ZIP code. It will display the weather for your location through Bing (see Figure 11).

Figure 11. Typing "weather" and then hitting Enter brings up a box describing the weather in your ZIP code.
Whether it be a ZIP code, stock symbol, book name, or anything else, the program will remember what you last typed whenever you type the same MagicWord. So the next time you enter "weather," you won't have to re-enter your ZIP code.
I did find a slight bug. Solitaire contained in Windows versions later than 7 no longer has the file name sol.exe (see Figure 12). Because I am using Windows 10 on this machine, I can either point it to another .exe file for a different Solitaire program such as XM Solitaire (xmsol.exe), or I can simply install the original set of games from Windows 7.

Figure 12. Found a bug. Don't worry, we can fix it by editing the MagicWord.
To edit a MagicWord, go back to Setup (see Figure 5) and then click the Library tab again.
To edit the MagicWord named "solitaire," click to highlight it (see Figure 13). Then click Edit to bring up the edit window for "solitaire."

Figure 13. Under the Library tab, choose the MagicWord you want to edit.
The first thing to do is change the path to be XM Solitaire's .exe file instead of Microsoft Solitaire's path (see Figure 14). I could enter this path manually by first right-clicking and choosing Properties of xmsol.exe to get it's path. Why the heck would I do this? Eric thought of everything in SlickRun, so all I have to do is open XM Solitaire and drag the little green eyedropper over it. SlickRun automatically enters the path. Can you image how easy it'll be to add all your favorite programs?

Figure 14. Changing or adding a path is just a matter of using the eyedropper.
For you total geeks, be sure to notice all the things you can edit, including adding parameters, Run As, Start Mode, etc.
This window also contains the Import and Export buttons. Remember that I mentioned the MagicWord Packs that you can download from the author's website? MagicWord Packs are simply more lists of MagicWords for different topics and uses — ones that you can import. You can also export a list from one computer and import it to a different computer. Got an office full of people? Give them all the same custom list!
But wait! There's more! (I said that in my infomercial voice.)
Type "cal" and get a 12-month calendar called SlickCal in a split second. You can right-click the calendar anywhere to get week numbers displayed.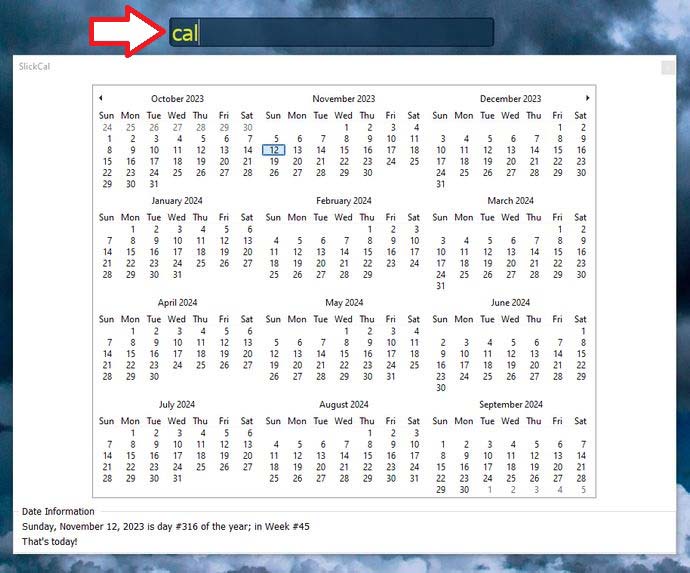 Figure 15. The MagicWord "cal" is in your list and it brings up a calendar.
I try my best to use my brain only for saving things such as my knowledge of computer and server building and my shoe size in every domestic brand. For other things, I can now simply type "jot" in SlickRun to bring up my second brain, aka JOT (see Figure 16).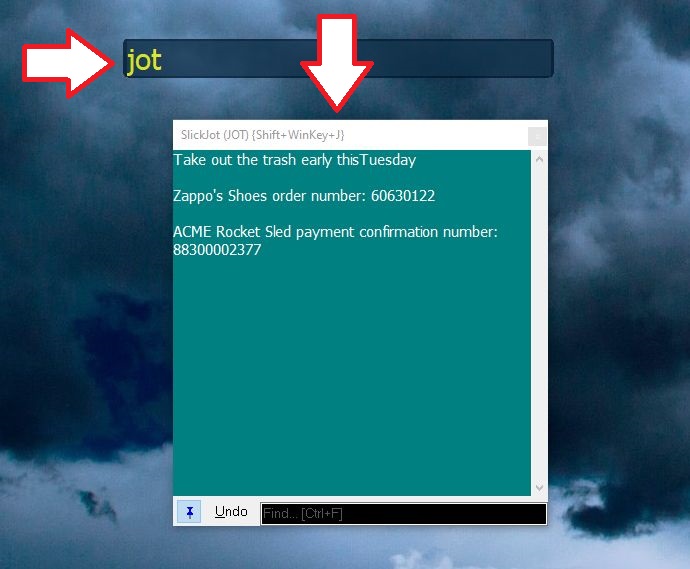 Figure 16. Need to get things out of your brain? Use MagicWord "jot."
I don't even have to remember what I am putting in SlickJOT (JOT) because all I have to do is select text from anywhere and drag it to the JOT window. No matter how I add my notes, JOT will keep it there until I remove it.
There is an unending number of things and locations you can launch with SlickRun. You just need to add them, and it is so easy to do.
To add a new MagicWord, right-click the SlickRun window and choose New MagicWord.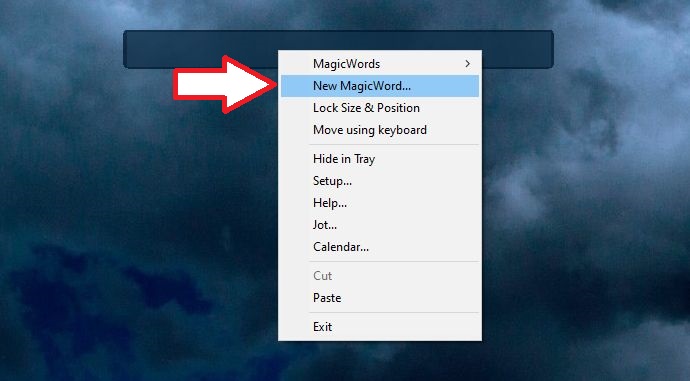 Figure 17. Adding a new MagicWord is just two clicks away.
To add my favorite video/audio player, VLC, I just open VLC and then drag the eyedropper to it (see Figure 18). Then I assign a MagicWord to it; I used "vlc." Now I just give it a note that will pop up if I hover my mouse cursor over the magic word. Next, I can click Test this MagicWord to make sure it works before clicking the green checkmark to save it.
That's it!

Figure 18. Give a MagicWord any name you want and launch it any way you wish.
Wow! An amazing piece of free software. Hope you find it as useful as I do.
Bonus Software!
You know what it is. Use your arrow keys.
Grab PacMan from OlderGeeks.com. Thanks, SDGGames.

Figure 19. Waka, waka, waka, waka, waka, waka…
Happy computing!
| | |
| --- | --- |
| | Our entire philosophy at OlderGeeks is built on being a safe download site offering software you can trust. We use every program we consider, checking it carefully for bundleware or other sneaky stuff. Every downloadable is checked with VirusTotal and Malwarebytes. If a program is updated, we do the same checks again. We reject more programs than we accept, always stressing quality and safety over padding our collection. Every program mentioned in this article meets our rigorous standards. We're as trustworthy as Grandma's apple pie! |
Join the conversation! Your questions, comments, and feedback
about this article are always welcome in our forums!
Deanna and Randy McElveen are celebrating more than a decade of running OlderGeeks.com, over two decades in the computer business, and even more than that putting up with each other. Their computer store is in a small town in the Missouri Ozarks. Believing that happy customers are always the best advertisement, they hope to squeeze in a couple more decades doing the same.
---
ADVERTISEMENT
---
Here are the other stories in this week's Plus Newsletter
PUBLIC DEFENDER

Microsoft adopts passkeys in Windows 11 — death to passwords!

By Brian Livingston

When Microsoft enhanced Windows 11 in a September 2023 update to support "passkeys" — a more secure form of authentication — it signaled the beginning of the end for insecure and hard-to-remember passwords.

To create a passkey, you simply use whatever method unlocks your devices: a character-based PIN, your face, a fingerprint, or what have you. You then visit any website or other remote service that's passkey-compatible. The server exchanges with your device an "authentication token." This uniquely identifies you and the device you are using to sign in.

The token is a private/public key pair. Your PIN, photo, or fingerprint is never sent across the network, where it could be intercepted by man-in-the-middle attacks.

PATCH WATCH

A serving of zero days

By Susan Bradley

In a lighter-than-usual November release, Microsoft is patching 63 vulnerabilities, including three already under targeted and limited attacks and three deemed critical.

Even though you and I will see the same number of patch installs, the number of underlying vulnerabilities for the month is down compared to past years. But that doesn't mean you should change how you install updates — wait to see what side effects may occur, my usual recommended practice.
---
Know anyone who would benefit from this information? Please share!
Forward the email and encourage them to sign up via the online form — our public newsletter is free!
---
Enjoying the newsletter?

Become a PLUS member and get it all!

Don't miss any of our great content about Windows, Microsoft, Office, 365, PCs, hardware, software, privacy, security, safety, useful and safe freeware, important news, analysis, and Susan Bradley's popular and sought-after patch advice.

PLUS, these exclusive benefits:

Every article, delivered to your inbox
Four bonus issues per year, with original content
MS-DEFCON Alerts, delivered to your inbox
MS-DEFCON Alerts available via TEXT message
Special Plus Alerts, delivered to your inbox
Access to the complete archive of nearly two decades of newsletters
Identification as a Plus member in our popular forums
No ads

We're supported by donations — choose any amount of $6 or more for a one-year membership.
---
The AskWoody Newsletters are published by AskWoody Tech LLC, Fresno, CA USA.
Your subscription:
Microsoft and Windows are registered trademarks of Microsoft Corporation. AskWoody, AskWoody.com, Windows Secrets Newsletter, WindowsSecrets.com, WinFind, Windows Gizmos, Security Baseline, Perimeter Scan, Wacky Web Week, the Windows Secrets Logo Design (W, S or road, and Star), and the slogan Everything Microsoft Forgot to Mention all are trademarks and service marks of AskWoody Tech LLC. All other marks are the trademarks or service marks of their respective owners.
Copyright ©2023 AskWoody Tech LLC. All rights reserved.