In this issue
MICROSOFT 365: Solo collaboration: Office's untold advantage
Additional articles in the PLUS issue • Get Plus!
PUBLIC DEFENDER: Make semiconductor chips without wasting water? Intel says it can.
PATCH WATCH: Do we really want (or need) Windows 12?
COMMENTARY: The worst software in the world
---
---
MICROSOFT 365
Solo collaboration: Office's untold advantage

By Peter Deegan
Modern Office app "collaboration" features are hyped by Microsoft for businesspeople to share a document. But all those features — comments, tracking, versioning, and multi-computer access — are available and useful for solo, personal work, too.
Using the collaboration tools on your own is an easy way to become confident with those features without embarrassing yourself — nobody is looking over your shoulder. The same tools are useful to help you manage a complex document by leaving notes and reminders to yourself. The also help you recall deleted text and access the latest version from wherever you are.
I'll focus on Word in this article because it has the most comprehensive collaboration features. The same tips apply generally to Excel, PowerPoint, OneNote, and even a little bit for Outlook.
Comments
Comments are notes or conversations alongside a document and have been in Word for a long time, albeit with different looks. The main change came a few years ago, when comments became "threaded" conversations and could be marked as "resolved."
Many people leave notes in the document by means of highlighting or a visible alert (e.g., "?????" or "TKTKTK"), but these risk being left in the final document. Comments are a better solution and are more visible. Comments stay with the document but can be removed from the published version. (Save As PDF and Print have options to exclude Comments.)
Ctrl+Alt+M (Cmd+Opt+A on a Mac) is the fast shortcut to insert a comment. One use for a comment is to remind yourself of a job yet to be done on the document. When it's completed, use the pull-down menu to mark the comment as "Resolved" (which somewhat hides the comment thread) — or delete it entirely. I usually delete "To Do" comments, once completed, for solo jobs.

Figure 1. Resolve or Delete thread in word comment
Another use for comments is private notes with source references. Effectively, these are similar to footnotes but not contained in the document itself.

Figure 2. Comment in Word to save source notes, with a "tip of the hat" to Bob Newhart.
Or the comment can be a reminder of "the road not taken."

Figure 3. Word comment saving alternative version or idea
Access on more than one device
Your documents, sheets, or slides can be opened on more than one device at a time if saved on OneDrive, SharePoint, Teams, or compatible cloud services such as Dropbox. In effect, you're collaborating with yourself, opening the same document and using the same Microsoft account. The latest version of the document can be opened and edited wherever you are. That's extremely useful:
The document is always ready to view or edit, wherever and whenever. No need to plan ahead or transfer a document between devices.
Switch to a desktop machine, laptop, tablet, or smartphone and immediately access the same document.
Add notes or comments to a document as they occur to you. I've sometimes had a brilliant idea (not often, but it does happen) while on a bus or train. Instead of making a separate note, I directly add a comment or make a small edit to the relevant doc or slide. Later, I view the comment or edit on a larger screen.
Enabling offline access provides an extra layer of backup with files saved on devices.
You can open the same document simultaneously on multiple machines (in other words, no need to close the document before opening elsewhere). Word will even show where you left off on each device. Here's the same document, opened with Word for Mac plus three other devices simultaneously — Word for Windows, iPad, and Android. The cursors for each appear as the vertical line with dot. Hovering over that marker shows you the name of the person accessing the document.

Figure 4. One person edits a document on four devices at once; this image is from Word 365 for Mac.
Set up offline access
The Office apps for iPhone, iPad, and Android can open documents directly from OneDrive or other cloud storage, but that requires an Internet connection. That might not be possible on portable devices (e.g., while flying) or might be too slow (with low-speed mobile broadband).
For faster or offline access, set up "Make Available Offline." That ensures there's a synchronized copy of a document, file, or folder available whenever you need it — and without waiting for a download.
Open the OneDrive app (iPhone, iPad, or Android) and look under the "…" menu options for Make Available Offline.
On Windows or Mac, the same feature is called "Files on Demand" and is enabled in Settings. In Windows, "Always keep on this device" is available on the right-click menu for any file or folder. On a Mac, go to Settings | Preferences | File On-demand | Download files as you use them. Then you can use the right-click menu on a file or folder to see "Always keep in this device."
I use this option on my main document folders from OneDrive and also with Teams/SharePoint when the computer or device has enough storage. Not only do I get faster access to documents, but it acts as yet another backup of crucial files.
OneDrive mobile apps default to synchronize only via Wi-Fi, to save using expensive mobile data. See Settings to change that.
Tracking
For individuals, Word's Tracking can be extremely helpful by saving all the changes made to a document, setting them aside for easy recall.
Tracking can be started for any document. Just go to Review | Tracking | Track Changes or press Ctrl+Shift+E. From then on, all your edits will be saved in the document. I normally choose "No Markup" so that all the changes are hidden and only the current version of the document is visible.

Figure 5. Word Track Changes options
"All Markup" shows every change, no matter how small, but can be very hard to read if there are many changes.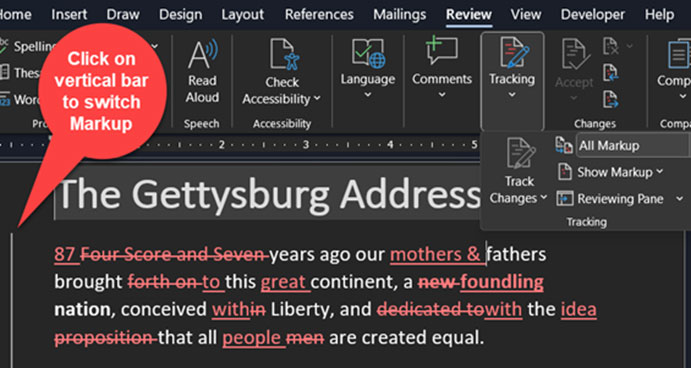 Figure 6. All text changes are visible in Word with "All Markup."
Simple Markup is a middle-ground choice that's easier to read.

Figure 7. Simple Markup is a lot less cluttered!
The vertical bar at left (red or gray) is an easy way to switch markup views without going to the Review tab.
With Track Changes on, you can see what text you've added, deleted, or changed — with the option to accept or reject any change.
Accept/Reject a change commits it to the document and removes the older version. For solo work, I never use this choice because it deletes the previous text that I might want to review later. It helps me better understand why I made a change, especially useful if I'm working on something over time.
Just Mine
A relatively new option in Track Changes for Word 365 is "Just Mine." It doesn't apply to individual work, but it's worth a mention.
Normally, the Track Changes setting applies to everyone working on the document. The new "Just Mine" option turns on tracking only for your own changes. Those changes are still visible to everyone with access to the document, but others aren't forced to have their edits tracked.
OneNote has History | Recent Edits, which is similar to Track Changes. It lets you see changes to a page over days, weeks, or months past. There's also "Show Page Versions," available from the right-click menu for any page.
Versioning
An alternative to Track Changes is versioning, which saves a copy of the entire document at regular intervals for later recovery. This is available for all documents saved either on cloud storage or locally, but by different methods.
Versioning is a great way to recover past wording, images, etc. that have been deleted and are now needed again.
Modern computers save past versions of files automatically. In Windows 8 and later, this feature is called "File History." On a Mac, it's "Time Machine." Make sure that option is set up on your computer, if it isn't already.
Cloud storage services such as OneDrive or Dropbox also have versioning. Go to the webpage for your cloud service and look at the menu options for a document. In OneDrive you'll see the choice "Version History." That opens a list of all the past versions available.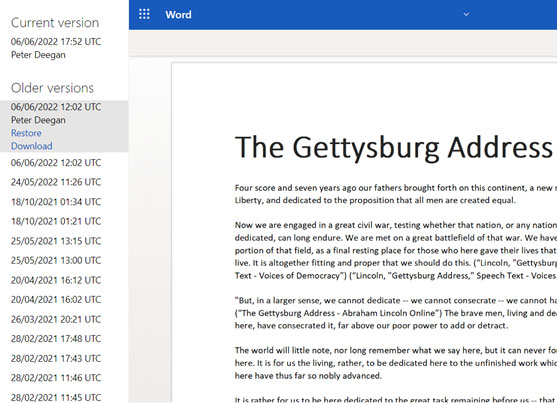 Figure 8. Version History in OneDrive
Personal OneDrive keeps the last 25 versions. SharePoint and OneDrive for Business default to 100 versions.
Click on a date/time to see that version. Then you can either
Restore, which replaces the current document with the older version; or
Download, which lets you open the older version from a copy on your computer.
At top right is the option to save that version separately to OneDrive.
You can also just select text from the version displayed and paste it into the current document or other location.
Online versioning is useful if your documents are hacked by ransomware. The past untouched versions of your files are available on cloud storage. File History or Time Machine are, sadly, vulnerable to ransomware — just like any other file accessible from the infected computer.
Outlook Draft emails
Microsoft is gradually enabling synchronization of the Drafts folder, which stores partly written emails not yet sent. It's available only for Microsoft 365–hosted mailboxes (understandable, but annoying).
Use that to quickly make notes on a new or reply email, using a mobile device, just as you think of it. Then your jottings can be opened later in another Outlook (e.g., desktop app) for revising and polishing before sending.
Become an expert in document collaboration by flying solo, using it by yourself on one computer or many. Once you're accustomed to it, take on passengers! You'll find many uses for it with family and friends.
Join the conversation! Your questions, comments, and feedback
about this topic are always welcome in our forums!
Peter Deegan is the author of Windows 10 for Microsoft Office Users, Microsoft 365 for Windows: Straight Talk, Eye-Catching Signs with Word, Christmas Cheer with Office, and others. He is the co-founder and editor in chief of the Office Watch site and newsletters since they started in 1996.
---
ADVERTISEMENT

---
Here are the other stories in this week's Plus Newsletter
PUBLIC DEFENDER

Make semiconductor chips without wasting water? Intel says it can.

By Brian Livingston

Semiconductor manufacturing requires water, and a lot of it. But the Intel Corporation, one of the world's largest operators of fabrication facilities, announced recently that it's on track by the year 2030 to deliver to local communities 100% as much clean water as its plants use — and that the company is already generating more than 100% in some countries.

PATCH WATCH

Do we really want (or need) Windows 12?

By Susan Bradley

The famous old idiom "moving the deckchairs around on the Titanic" is sometimes applied to technology.

Even though the saying usually implies the futility of a particular action, it often conjures up to me a technology company doing something — anything — to encourage us to purchase more of their product — or at least the latest, so-called greatest version. In my experience, it's not what we really want but what the vendor thinks we need.

COMMENTARY

The worst software in the world

By Will Fastie

If I were grading the various apps in Microsoft's Casual Games collection, they'd be lucky to get a D.

It's not because the games themselves are bad. It's because they are all based on the same underlying game engine, one designed with multiple capabilities. The emphasis on the engine has diverted attention away from the games themselves, which have been in general disrepair for some time.
---
Know anyone who would benefit from this information? Please share!
Forward the email and encourage them to sign up via the online form — our public newsletter is free!
---
Enjoying the newsletter?

Become a PLUS member and get it all!

Don't miss any of our great content about Windows, Microsoft, Office, 365, PCs, hardware, software, privacy, security, safety, useful and safe freeware, important news, analysis, and Susan Bradley's popular and sought-after patch advice.

PLUS, these exclusive benefits:

Every article, delivered to your inbox
MS-DEFCON Alerts, delivered to your inbox
MS-DEFCON Alerts available via TEXT message
Total access to the archive of nearly two decades of newsletters
No ads
Identification as a Plus member in our popular forums

We're supported by donations — choose any amount for a one-year membership.
---
The AskWoody Newsletters are published by AskWoody Tech LLC, Fresno, CA USA.
Your subscription:
Microsoft and Windows are registered trademarks of Microsoft Corporation. AskWoody, AskWoody.com, Windows Secrets Newsletter, WindowsSecrets.com, WinFind, Windows Gizmos, Security Baseline, Perimeter Scan, Wacky Web Week, the Windows Secrets Logo Design (W, S or road, and Star), and the slogan Everything Microsoft Forgot to Mention all are trademarks and service marks of AskWoody Tech LLC. All other marks are the trademarks or service marks of their respective owners.
Copyright ©2022 AskWoody Tech LLC. All rights reserved.