In this issue
PUBLIC DEFENDER: The state of Windows 11: A bit slow on the uptake
FROM THE FORUMS: SSD article draws much comment
Additional articles in the PLUS issue • Get Plus!
MICROSOFT 365: Use free Teams to make calls like Zoom
SUPPORT: How to get out of Windows' Automatic Repair loop
ON SECURITY: When newer isn't more secure, or better
---
ADVERTISEMENT
---
PUBLIC DEFENDER
The state of Windows 11: A bit slow on the uptake

By Brian Livingston
One year after the release of Windows 11, the new operating system is being installed by computer users at a much slower adoption rate than was achieved by Windows 10 and other major versions of Microsoft's core OS.
Counting all versions of Windows running on desktop computers worldwide, Windows 11, with a penetration of 13.6%, has only in the past two months overtaken the users of Windows 7 (10.6%), according to a September 2022 report by Statcounter. Just to state the obvious, the ancient Win7 OS was released by Microsoft way back in 2009.
Meanwhile, good ol' Windows 10 is still going strong, running on 71.9% of all Windows desktops globally, Statcounter says.
There are some good reasons to install Windows 11, and just as many other reasons why you shouldn't bother. The lack of a compelling need for most Windows users to get version 11 is the story behind the slow uptake we're witnessing.
According to AdDuplex's June 2022 report, "Less than 3.5% of modern Windows PCs upgraded to Windows 11 in the past 2 months. Approximately the same number was added to the latest version of Windows 10." (See Figure 1.) These statistics come from a network of more than 5,000 apps that report to AdDuplex the operating system they're running on, which is just one of many ways to measure market share.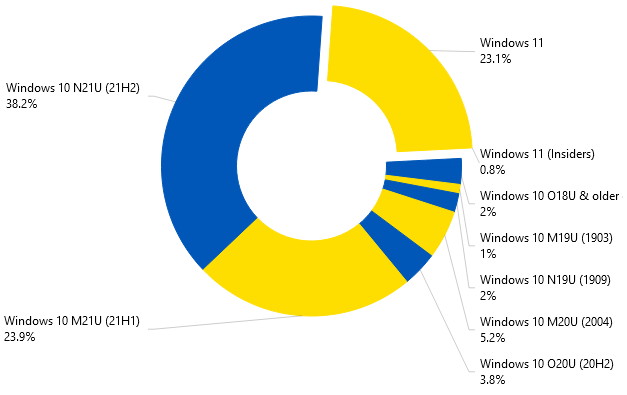 Figure 1. One year after its public release, Windows 11 (including the Insider Program) runs only 23.9% of desktops and laptops worldwide, as a share of all machines running either Windows 10 or 11 as of June 2022. Windows 8.1 and earlier are not shown. Source: AdDuplex
Don't shed a tear for Microsoft. The corporation's Windows profit center is doing just fine, with or without bang-up adoption of Windows 11.
According to Statista's most recent report, "Microsoft Windows is the dominant desktop operating system (OS) worldwide as of June 2022, with a share of just over 76%." (See Figure 2.)

Figure 2. Although Mac operating systems (dark-blue bars) have made inroads since 2013, all versions of Windows combined (light-blue bars) still run more than 76% of the desktop computers in the world as of June 2022. Other OSes, including Linux, run fewer than 10% of desktops. Source: Statista
People are still buying a lot of machines running Windows, even if purchasers are not exactly saying, "I want Windows 11, or else forget it."
You might think that everyone buying a new PC today sort of automatically receives a machine with Windows 11 on it. That isn't the case.
Puget Systems, based in Auburn, Washington (website), supplies thousands of personal computers to companies and individuals around the world. In an interview, I asked account manager Braden Sime how many of the company's customers were requesting that Windows 10 be installed vs. Windows 11.
"In the last 30 days," Sime replied, "about 50% of systems were sold with Windows 10, 40% with Windows 11, and 10% with Linux." In this real-world sample, when buyers could freely choose which OS to install, one-quarter more customers wanted Win 10 than Win 11!
Some people really need Windows 11 — are you one of them?
A lot of confusion surrounds Windows 11 because of Microsoft's requirement — and lack of a persuasive argument — that personal computers must use a fairly new CPU, have a large amount of RAM, and include a security chip known as TPM 2.0 (Trusted Platform Module 2.0).
Let's clear up those subjects right now:
The truth is that there are only four specific functions of Windows that TPM 2.0 enables and older PCs do not. Besides SHA-256, these features include Autopilot, SecureBIO, and Windows Defender System Guard. All of this is fully explained in Figure 1 of the "Registry line" column mentioned above.
If you need one of those four features — and especially if you're a member of a global military operation — then you need Windows 11 and a PC that fully supports the new OS's requirements.
Since that cohort of people is a small market, Microsoft is constantly promoting teasers: new apps that "require" Win11. At this writing, there are at least 50 such "Win11-only" apps. These include:
WSATools (free) allows you to sideload Android apps on Win11. This makes available many Android downloads that are not available on Win11's Amazon App Store. (Be careful not to load malware, though.)
ShareX (free) not only enables screen captures on Win11 but is also an easy way to make a screen recording, save it as an animated GIF file, and more.
Grover Pro ($2.99) is a podcast app with a large library of programs ready for you. Listen to NPR, the TED Radio Hour, Radiolab, and many others.
eReader ($3.89) displays e-book formats — such as MOBI, PDF, and even TXT files — and supports word search, tags, and quick-view links. It's especially good at turning pages on touchscreen-enabled desktops and laptops.

Figure 3. Grover Pro offers a wide variety of podcasts and an easy-to-use interface for collecting and listening to them. Source: Beebom
The best resource I've found for reviewing and linking to such Win11 apps is a Beebom article by Arjun Sha. I don't know whether one of the above-named extensions will make you desperate to install the new OS. But there's nothing inherently wrong with Win11, if it does something you want.
Acquiescing to a new version of Windows is as inevitable as a solar eclipse
If you're really, really averse to Windows 11, take heart! You might be able to skip it entirely.
Microsoft announced in September 2022 that it was switching to "a single Windows 11 feature update annually." This abandoned the company's previous twice-a-year policy for new features. (Patches will still arrive monthly.)
Rumors attributed to anonymous developers say Redmond has also decided to go back to its old once-every-three-years goal for "major" editions of Windows (version 11, 12, 13, and so forth). For examples of such reports, see articles by XDA Developers, Windows Report, and Deskmodder.
Asked for a response, a Microsoft spokesperson said: "We do not comment on rumors." But it's easy to imagine that a version of Windows with a new number may arrive 36 months after Win11 shipped. Three years is almost as often as a total eclipse is visible somewhere on Earth, and it means we could be getting Windows 12 as soon as 2024.
I'm not holding my breath or anything like that, but I'll let you know as soon as I see it.
(Microsoft executives had said in 2015 that Windows 10 would be "the last version of Windows." Redmond would simply issue more and more patches without ever changing the version number. Ha-ha-ha! I'm kind of glad that idea got scrapped — even Volkswagen doesn't make its classic Bug anymore — and we're better for it, as Mark Hachman explains in a PCWorld article.)
If you're interested in Windows 11 — or it's already running on one or more of your devices — be sure to pay attention to the Win11 2022 Update, also known as Version 22H2. Read the following columns by our own Susan Bradley and Will Fastie about the update:
Studying all that should give you plenty to chew on before you determine whether to dive into Win11 or run far, far away.
For those who are sticking with Windows 10: Be aware that Win10 Version 21H1 — which was released in May 2021 — will hit Redmond's end-of-life rules on December 13, 2022. On that date, Microsoft will cease releasing security patches and updates for 21H1, the company recently announced.
So you'll need to upgrade to at least Version 21H2, which is very similar. But first read Susan's cautions in her October 5, 2022, alert: MS DEFCON-2: Windows 10 22H2 expected this month.
Whew! It seems that there's always more and more we need to learn about how to operate these "time-saving devices" we all surrounded ourselves with. Oh, well — it's better than going back to typewriters and snail mail, I guess.
Do you know something that we all should know? Tell me about it!
Send your story in confidence to publicdefender@askwoody.com.
Join the conversation! Your questions, comments, and feedback
about this topic are always welcome in our forums!
The PUBLIC DEFENDER column is Brian Livingston's campaign to give you consumer protection from tech. If it's irritating you, and it has an "on" switch, he'll take the case! Brian is a successful dot-com entrepreneur, author or co-author of 11 Windows Secrets books, and author of the new fintech book Muscular Portfolios. Get his free monthly newsletter.
---
ADVERTISEMENT
FROM THE FORUMS
SSD article draws much comment

Ben Myers's recent column, Real-life SSD reliability must be managed, caught our readers' attention and resulted in a very active forum topic.
Perhaps this should not be surprising, given the importance of solid-state drives these days. SSDs of up to 1TB have become so commonplace and so economical that even entry-level PCs and laptops are equipped with such devices. The performance boost they provide is a compelling feature.
Many readers chimed in to share their experiences with SSDs and to provide additional insights.
What's been your experience? Hop on over to the forum and tell us about it!
P.S. When posting to the forums, don't forget to sign in!
---
Here are the other stories in this week's Plus Newsletter
MICROSOFT 365

Use free Teams to make calls like Zoom

By Peter Deegan

Anyone can use Teams Free to set up a group call with video, screen sharing, and other goodies — bypassing all the other Teams stuff about channels, posts, and mentions — which can confuse less-confident computer users.

Microsoft Teams has a lot going for it, perhaps too much at times. In this article, I'll explain how to use it for one-to-one and small-group calls. I'll also review which features are available and what's not possible with Teams Free.

Microsoft loves to confuse Teams customers by mixing up the free and paid options. Many of the promoted "Teams features" are really for paid plans only — but you'd know that only by looking in the very fine print.

SUPPORT

How to get out of Windows' Automatic Repair loop

By Randy McElveen

There are hundreds of reasons why your PC might get stuck trying to repair itself, putting your PC into an Automatic Repair loop.

Many of these can be complicated software issues or hardware failures. But don't bring your computer to me just yet. There are many very small issues that can cause a no-boot situation. In this article, I'm going to describe a few simple things you can try before calling a pro.

ON SECURITY

When newer isn't more secure, or better

By Susan Bradley

It's a dirty little secret in software — when new code is added to existing code, it doesn't always result in a more secure system.

Let me give you a specific example. Recently, Microsoft announced that there had been targeted attacks against ten organizations using fully patched Exchange servers. To gain access, the attackers needed rights on the server.

That meant they had already employed a successful phishing attack.
---
Know anyone who would benefit from this information? Please share!
Forward the email and encourage them to sign up via the online form — our public newsletter is free!
---
Enjoying the newsletter?

Become a PLUS member and get it all!

Don't miss any of our great content about Windows, Microsoft, Office, 365, PCs, hardware, software, privacy, security, safety, useful and safe freeware, important news, analysis, and Susan Bradley's popular and sought-after patch advice.

PLUS, these exclusive benefits:

Every article, delivered to your inbox
MS-DEFCON Alerts, delivered to your inbox
MS-DEFCON Alerts available via TEXT message
Total access to the archive of nearly two decades of newsletters
No ads
Identification as a Plus member in our popular forums

We're supported by donations — choose any amount for a one-year membership.
---
The AskWoody Newsletters are published by AskWoody Tech LLC, Fresno, CA USA.
Your subscription:
Microsoft and Windows are registered trademarks of Microsoft Corporation. AskWoody, AskWoody.com, Windows Secrets Newsletter, WindowsSecrets.com, WinFind, Windows Gizmos, Security Baseline, Perimeter Scan, Wacky Web Week, the Windows Secrets Logo Design (W, S or road, and Star), and the slogan Everything Microsoft Forgot to Mention all are trademarks and service marks of AskWoody Tech LLC. All other marks are the trademarks or service marks of their respective owners.
Copyright ©2022 AskWoody Tech LLC. All rights reserved.