ISSUE 19.20.F • 2022-05-16
In this issue
MICROSOFT 365: The twists and turns of Office Fast Account Switching
Additional articles in the PLUS issue • Get Plus!
SILICON: Will Intel be a dominant chip company going forward?
FREEWARE SPOTLIGHT: WebChangeMonitor — stalk your favorite websites for changes
PATCH WATCH: May updates fix risks to networks
---
ADVERTISEMENT

AskWoody Newsletter Subscribers Exclusive Deal for Memorial Day: Get 60% off a new RoboForm Everywhere subscription with this link! (exp. 6/16/22).

RoboForm is an award-winning password manager, password generator, online form filler, and secure repository where you can safely store sensitive information like credit cards and billing data. Best of all, with RoboForm, you have access to your passwords and saved data on all your devices.

Say goodbye to writing down passwords on scraps of paper or in a password book, and say hello to
RoboForm.
---
MICROSOFT 365
The twists and turns of Office Fast Account Switching

By Peter Deegan
Fast Account Switching lets you quickly "change hats" between work, home, and other Microsoft accounts in Microsoft 365, Office 2021 and 2019, and now the browser-based Office.com apps.
Most of us have more than one online life, usually a work account — and a personal account and possibly more for other work or voluntary commitments. For Office users, that means separate Microsoft accounts and switching between those accounts to see recent documents and online storage related to that part of your life. In the past, and still in Office for Mac, changing accounts meant reopening the Office app.
Fast Account Switching (FAS) lets you change Microsoft accounts without restarting the app. It has been in the Windows version of Office 365 for about two years, and in Office 2021 and Office 2019 since their respective releases — but not, so far, in Office for Mac (naughty, Microsoft). Account switching isn't in Outlook because you can open multiple mailboxes — in effect, it's always been part of Outlook.
Now FAS is in the browser-based Office apps (Word, Excel, PowerPoint, OneNote, and Visio) and in Office.com. As ever, Teams looks a little different but still has FAS.
Let's see how Fast Account Switching works in Office for Windows, with some twists to make it easier to know what account you're signed in to. Then, we'll look at the small variations that apply in the browser-based apps.
Fast Account Switching in Office apps
At the top-right corner of Word, Excel, or PowerPoint for Windows, there's a sign-in button. It'll show either a small image or initials for the currently signed-in Microsoft account.

Figure 1. Microsoft account selector at top-right corner of Office for Windows apps
A Microsoft account sign-in is required for Microsoft 365 apps. For Office 2021/2019, it's not needed — but Microsoft encourages it.
My Microsoft account – opens a browser window at https://account.microsoft.com/
Office user info – opens the File | Account pane.
Sign in with a different account – opens the familiar Microsoft sign-in pop-up. Login includes two-factor authentication, if configured. (Please say you have "two-fac" on your Microsoft accounts!)
Once you've signed in to a new account, the previous account is now listed at the bottom for fast switching (Figure 2).

Figure 2. Office account selector, with another account ready for quick switching
Each Office app can use a
different Microsoft account. Here are Word, Excel, and PowerPoint for Windows — each open with a different Microsoft account.

Figure 3. Word, Excel, and PowerPoint, each using a different sign-in.
Microsoft has "fast account switching" or "fast user switching" in both Windows and modern Office. If you're looking online for help, make sure the advice applies to the correct software.
What happens when switching accounts
The main benefit of switching accounts is seeing different Recent, Pinned, and Shared with Me documents in the File pane. Other settings, such as Connected Services, are also saved on a "per account" basis.

Figure 4. Recent, Pinned, and Shared with Me lists change for each sign-in.
The Quick Access Toolbar buttons can change for each account, but not ribbon customizations.
Visual differences between accounts
It's easy to get mixed up about which Microsoft account you're logged in to, so let's look at the obvious changes in app appearance that can help out — changing the profile picture, the Office theme, and/or the background pattern.
The Office theme and Office background settings (at File | Account) are saved for each Microsoft account, which means you can have varying backgrounds (Figure 5) as visual clues to which account you're signed into.
After years of being maligned as the most useless Office feature, the background pattern at the right end of the ribbon has finally found a purpose! In addition to the profile picture, you can have a different pattern for each account.


Figure 5. Office background pattern (Underwater is shown) is linked to a Microsoft account.
Changing your profile image
There's a problem when more than one account uses the same name but different email addresses (e.g., home and work). Quite often, each account has your same initials in the profile picture, making the accounts hard to tell apart.
That's easily fixed by changing the Microsoft account profile photo. From the desktop apps, choose My Microsoft account from the account list, which opens a browser window. Or go to the https://account.microsoft.com/ profile directly. Choose Add a photo. (See Figure 6.)

Figure 6. Microsoft account setting for changing photo at Your Info
In the browser apps, it's even easier. Click on the existing image/initials to change it (Figure 7).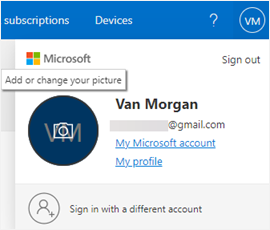 Figure 7. Change photo option at Office.com webpages.
Upload any photo you like. There are nice options to position and zoom the image.

Figure 8. Add/Change Microsoft account photo.
As you can see from my examples, it's not necessary to use photos of yourself. But keep in mind that the same image will appear in Teams and in collaborated documents, too.
Remove an account
To remove the current signed-in account from the switch list in Office apps, choose Sign out from the top-right corner of the account box. For other switchable accounts, click the three-dots button, then Sign out. (See Figure 9.)

Figure 9. Remove user from Fast Account Switching.
In the browser-based apps, it's the same — except for being labeled Sign out and forget.
Account
switching at Office.com
Microsoft has just added Fast Account Switching to Office.com and to the online Office apps Word, Excel, PowerPoint, OneNote, Visio, and Teams. If you've used FAS in the desktop apps, the online version has no surprises.
The account button is at the very top-right corner of the browser window.

Figure 10. Fast Account Switching at Office.com
There's no Office background pattern option–online, so the profile picture is usually your only quick reminder of which account you're signed in to.
Online app account limitations
There are a few limitations to the combination of Office apps, tabs, and accounts that can work together.
One account per Office online app
You can open lots of, say, Word documents/tabs in your browser, but they must all use the same Microsoft account.
You can't open two app tabs (e.g., two Excel sheets) with different Microsoft account logins. If you try, the other app windows will change to the new signed-in account. You'll get the warning message "Account switched. You recently switched to xxx@yyy.com. Click refresh to update."
The workaround is to open the same online app (Word, Excel, etc.) in an InPrivate/Incognito window or in a different browser.
Each Office online app can use a different account at the same time.
For example, you can open various Word online documents with your work account while working on PowerPoint decks using your home account in other browser windows.
Fast Account Switching isn't available in InPrivate/Incognito/Private
Office online apps work fine in those privacy modes, but FAS doesn't.
Fast Account Switching is an overdue change in Office, but few understand the flexibility it gives — especially between different apps. Microsoft needs to prioritize implementing FAS on Office for Mac.
Join the conversation! Your questions, comments, and feedback
about this topic are always welcome in our forums!
Peter Deegan is the author of Windows 11 for Microsoft Office Users, Microsoft 365 for Windows: Straight Talk, Eye-Catching Signs with Word, Christmas Cheer with Office, and others. He is the co-founder and editor in chief of the Office Watch site and newsletters since they started in 1996.
---
ADVERTISEMENT

---
Here are the other stories in this week's Plus Newsletter
SILICON

Will Intel be a dominant chip company going forward?

By Brian Livingston

All the headlines seem to be bad for Intel lately — poor yields on bleeding-edge technologies, disappointed customers, lagging performance compared with competitors from around the world, and on and on.

The truth of the matter is a bit more complicated.

Most of the stories you've been reading in the mass media about Intel are telling only half the tale — if that.

FREEWARE SPOTLIGHT

WebChangeMonitor — stalk your favorite websites for changes

By Deanna McElveen

My husband and I get asked a lot about how just two people can keep thousands of computer programs up to date on our website.

Simple: We can't — but we try real hard. Luckily, we get assistance from software developers' emails, RSS feeds, open-source project trackers, and good ol' fashioned complaining.

Another tool we've started using lately is WebChangeMonitor, by German software developer Martin Halle. It's a great little program that allows you to be notified when a change occurs on a webpage. Pretty handy for us when we want to know whether a developer has updated their version of an application, but the program can be helpful to anyone in so many other ways, too.

PATCH WATCH

May updates fix risks to networks

By Susan Bradley

It's looking like consumers may have an issue-free month — if they don't run Windows 11 machines — and businesses will have to decide whether they want to patch sooner versus later.

Once again, we have a vulnerability that has already been used and abused, but the good news for home and consumer users is that the vulnerability under fire is seen only in Active Directory domains.
---
Know anyone who would benefit from this information? Please share!
Forward the email and encourage them to sign up via the online form — our public newsletter is free!
---
Enjoying the newsletter?

Become a PLUS member and get it all!

Don't miss any of our great content about Windows, Microsoft, Office, 365, PCs, hardware, software, privacy, security, safety, useful and safe freeware, important news, analysis, and Susan Bradley's popular and sought-after patch advice.

PLUS, these exclusive benefits:

Every article, delivered to your inbox
MS-DEFCON Alerts, delivered to your inbox
MS-DEFCON Alerts available via TEXT message
Total access to the archive of nearly two decades of newsletters
No ads
Identification as a Plus member in our popular forums

We're supported by donations — choose any amount for a one-year membership.
---
The AskWoody Newsletters are published by AskWoody Tech LLC, Fresno, CA USA.
Your subscription:
Microsoft and Windows are registered trademarks of Microsoft Corporation. AskWoody, AskWoody.com, Windows Secrets Newsletter, WindowsSecrets.com, WinFind, Windows Gizmos, Security Baseline, Perimeter Scan, Wacky Web Week, the Windows Secrets Logo Design (W, S or road, and Star), and the slogan Everything Microsoft Forgot to Mention all are trademarks and service marks of AskWoody Tech LLC. All other marks are the trademarks or service marks of their respective owners.
Copyright ©2022 AskWoody Tech LLC. All rights reserved.