ISSUE 20.10.F • 2023-03-06 • Text Alerts! • Gift Certificates
You're reading the FREE newsletter

You'll immediately gain access to the longer, better version of the newsletter if you make a donation and become a Plus Member. You'll receive all the articles shown in the table of contents below, plus access to all our premium content for the next 12 months. And you'll have access to our complete newsletter archive!
Upgrade to Plus membership today and enjoy all the Plus benefits!
In this issue
HARDWARE: Tooling around with computers
FROM THE FORUMS: Tell the younger generations about us!
Additional articles in the PLUS issue • Get Plus! • Why?
PUBLIC DEFENDER: Can chatbots write code? Yes, but should you use it?
SECURITY: What to do before your phone is stolen
ON SECURITY: When you are flagged as malicious
---
---
HARDWARE
Tooling around with computers

By Ben Myers
Whether you maintain your own computer, run your family IT department, or manage lots of computers, having the right tools makes the work so much easier.
No matter which task you need to do, tools are essential — whether a spoon to stir your morning coffee or a hammer to pound a nail. So it is with computers, which need to be taken apart, put back together, cleaned, and sometimes connected to other devices to get the job done.
This is a survey and a how-to guide in two parts, both practical and sometimes lighthearted. Part one covers nearly everything you need to know to work on a large computer — desktop, tower, or all-in-one. Part two is about laptops and useful widgets needed to connect electronics together.
What are tools, exactly, and what kinds are there?
The formal, primary definition of tool, from Merriam-Webster, is:
tool noun (1) 1 a: a handheld device that aids in accomplishing a task.
You might think I am stretching the Merriam-Webster definition at times, and maybe I am.
This is not a buyer's guide for computer tools. If I mention a brand-name tool, that's only because it has exceptional qualities. The tools I use have grown in quantity and changed over many years, as I have replaced tools with "better" ones, easier to use. And no — they do not match, nor do they have to.
I do teardowns of desktops, towers, laptops, and — quite reluctantly — all-in-one computers. I do not see enough Apple Macs and tablets to do more than the very basic repairs and upgrades.
Let's break down tools into three major categories:
Tools to take apart and put together computers;
Tools to clean computer gear; and
Tools needed to accomplish a specific task connecting one device to another.
Some tools do not quite fit these categories but still prove to be extremely useful. Tools needed to take apart a laptop or tablet are usually much smaller and sometimes very specific (Tim Cook, are you reading this?), compared to the common large tools used to tear down a tower or desktop computer.
What about motorized electric tools? I do not use them. When I remove a screw, I must do it carefully to avoid stripping the screw head, often using brute force to push down on the screw with the screwdriver firmly in place, and making that first twist to deal with stiction. When I put a screw back in, I can feel when it is tight enough but not overly tight. Motorized tools do not provide that level of feel and control.
Two tools are indispensable and impossible to categorize
As a reminder to keep my temper in check when working on a project, I keep a sledgehammer handy (Figure 1) to tell me to keep my cool and never to use it on a computer.

Figure 1. My quiet friend, Sister Sledge
Starting with the original IBM PC, and for quite a long time, most parts inside a computer were similar — if not exactly — the same. That's no longer the case. It's important to keep track of the screws and other small parts you remove. My tool to keep all the tiny parts from jumping onto the floor is a white plastic tray (Figure 2) with a flat bottom and inch-high sides, retained from a supermarket buy. Simple, inexpensive, and effective. Its color makes it easy to spot any screw or plastic piece I need. Find something similarly utilitarian. Keep two or three around, because they are handy. (Need I reveal the brand and product I bought and ate?)

Figure 2. Plastic tray for parts with wanderlust
I also use such trays to sort through my vast collection of tiny parts, which are usually stored in jars or bins. I pour a suitable number into the tray, where I can see and distinguish them better.
Tower teardown tends to be truly trivial
To take apart a typical tower or desktop computer, you need only basic tools that are probably already on your home workbench. Start with two sizes each of flathead (aka slotted) and Phillips-head screwdrivers. (See Figure 3.) The slotted screws are rarer than other types in electronic devices, but the flathead screwdrivers have other uses.

Figure 3. Workhorse screwdrivers
Compaq's computers broke the mold a bit by using Torx screws. Hewlett-Packard acquired Compaq, and its computers continue this legacy. You'll thus need Torx drivers, although sometimes a small flathead screwdriver will work. If you're in and out of HP systems with any regularity, it's better to go Torx because they are far less prone to slippage. HP desktops and towers use Torx size 15 (T15) screws.
If you are replacing a power supply or other piece inside a computer, you may need to snip a plastic tie used to hold a cable in place, or maybe cut something else. Figure 4 shows one type of cutting tool in action.

Figure 4. Detaching a power-supply cable
You may need to put a connector from the front panel onto a motherboard header deep in that corner where your fingers are too big to do the job. Needle-nose pliers (Figure 5) extend your reach with greater precision. A good, strong set of tweezers can also be used.

Figure 5. Connecting a 9-pin front-panel cable to a motherboard header
For the road, I also carry a 10-piece set of small Torx, Phillips, and flathead screwdrivers in a zippered case with a hard exterior (Figures 6 and 7). Lowe's, which once sold this Kobalt kit, cheapened the product a couple of years ago by putting the screwdrivers into a flimsy plastic case instead. I am sure you can find a similar set of screwdrivers in a durable zippered case somewhere. I added some tiny screwdrivers and a paper clip, the latter for opening optical drives and releasing plastic inserts inside laptops. The leftmost screwdriver is the one I use most often, and its different look makes it easy to grab.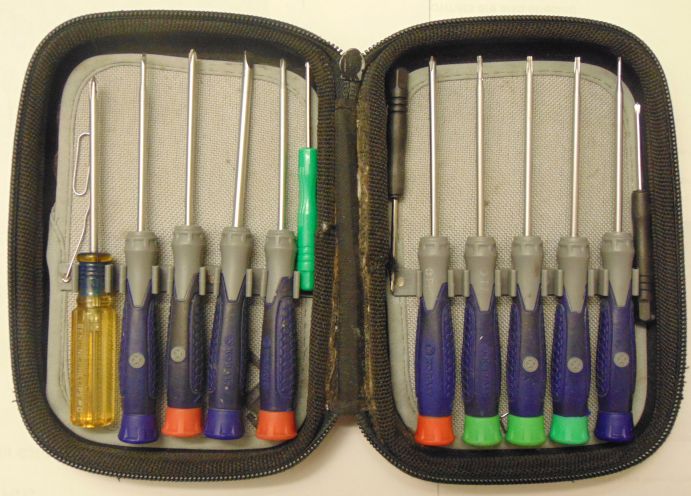 Figures 6 & 7. An open, and shut, case of screwdrivers
When in doubt, download the maintenance or repair manuals for brand-named computers, motherboards, and your favorite computer case so you can be sure of the steps to take them apart and put them back together again.
Pictures are worth thousands of words
Putting a computer back together is tricky. And I find most product documentation to be inadequate, so I take photos before dismembering a computer. If necessary, I can use those photos during reassembly. I use a good quality camera, typically at least 16 megapixels, to take clear, sharp, and detailed photos. I like to use my "bridge" camera, an upscale point-and-shoot (Figure 8); alternatively, I'll use a DSLR.

Figure 8. Selfie of me documenting a disassembly
Keep it clean!
The inside of any computer needs to be kept clean, mostly by removing dust and dirt from the parts inside. Pay special attention to all the fans — the one on top of a processor heat sink, the ones on graphics cards, and any fans affixed to the computer case. I use inexpensive artist brushes and long, cotton-tipped, industrial-quality swabs to dislodge the filth. You can use Q-tips, but the industrial swabs are stiffer and easier to handle because they have plastic or wooden shafts. When you rub and twist an applicator inside a cooling fan (Figure 9), it catches the dust bunnies inside with the cotton, making it easy to extract globs of dust.

Figure 9. How to catch a dust bunny
Use a dry cloth to remove excess dust from the inside of the computer case, then take it outside to blast away the dust and dirt with compressed air directed by a thin nozzle from a can, as in the action photo showing a fan spinning freely (Figure 10).

Figure 10. Compressed air removes dust, and fan spins freely
Use a cloth moistened with isopropyl alcohol, a nondestructive solvent, to rub away coffee spills, sticky fingerprints, and other markings from the outside of a computer case. Compressed air, industrial applicators, brushes, and enough elbow grease can also renew keyboards and mice. Other solvents, like Goo-Gone®, may leave residues but also make it easier to remove stickers and other adhesive-backed items. After using such solvents, rub the area with a cloth and isopropyl alcohol to remove the residue.
You may need to remove boards and memory to get enough access to make a motherboard squeaky clean, or perhaps to clean the fans on graphics cards or exhaust fans attached to the case. Unless you are replacing a motherboard, a total teardown of a computer is rarely necessary.
Desktop computers are easy. Now let's increase the degree of difficulty.
A word about all-in-one computers
Generally, the word to describe all-in-one PCs is "difficult." I get such devices for repair from time to time, and I approach this work slightly differently.
Do not attempt any work on an all-in-one without a manufacturer's repair manual, a very good YouTube video, and/or the series of illustrated teardown steps from the iFixit website. You can easily remove the back of some all-in-ones by detaching the stand and removing a few screws. Others require pry tools or spudgers to release tabs holding the back of the case in place.
A laptop computer running side by side with your repair can be another practical tool. It can provide you with access to any repair videos, illustrated how-tos, and manufacturer's service manuals while you work, and it can often be easier than printing pages from a PDF repair manual.
Apple iMacs, despite their superb screens, are the worst because you must remove the glass, affixed with adhesive over the front of the screen, then (carefully!!) remove the LCD screen. Only then can you get at the motherboard, memory, processor, storage, and Wi-Fi card. IFixit can supply a custom adhesive strip to put it all back together, along with other helpful tools.
All-in-one computers make up a small percentage of computers in use, and they vary widely in construction among brands. You have been warned.
What's next?
In the second part of this two-part series, we get to play small ball with laptops. I'll talk about one toolset I recently acquired, deserving of special mention for its elegant design. Most importantly, you might want to connect an external drive to a computer for data recovery. There are several different drive types, and each one requires a different tool to provide the needed connection.
Join the conversation! Your questions, comments, and feedback
about this topic are always welcome in our forums!
For over 20 years, Ben Myers has offered "cradle-to-grave" computer services for small businesses and individual computer owners — including building, upgrading, refurbishing, testing, repairing, and recycling of computer and network gear, primarily with Windows, a bit of MacOS, Linux, and — wait for it — MS-DOS.
---
FROM THE FORUMS
Tell the younger generations about us!

Plus member Wayne asked a very telling question in the responses to Will's article describing the results of our reader survey. He wanted to know how to tell a former student about us:
        I'm not sure how to send him a sample free newsletter.
Here are several answers.
If you get the free newsletter via email, you can simply forward it. We specifically allow that exception to our copyright. (It's not allowed for the Plus newsletter, for which copying or distribution is prohibited.)
Otherwise, just point them to our site! The home page, which contains our blog, also contains a post for every article in the newsletter. The blog posts for those articles published in the free newsletter have a link to the online newsletter.
Another way is to point them to our Newsletter archive, which lists every newsletter and alert published during the last twenty years. Everyone can click on any free link to read that newsletter online. (If you go back before June 2020, everyone can read everything, including the Plus newsletters!)
Give them a sense of the community by pointing them to the forums. Anyone can visit and read everything there, and anyone who registers can participate.
Finally, send them a gift subscription and let them have the full glory of Plus membership!
Thanks for the question, Wayne.
---
ADVERTISEMENT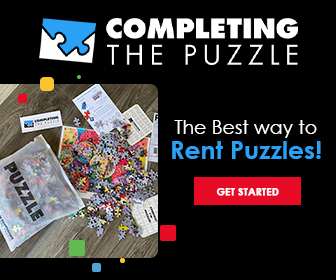 ---
Here are the other stories in this week's Plus Newsletter
PUBLIC DEFENDER

Can chatbots write code? Yes, but should you use it?

By Brian Livingston

You've heard a lot about "chatbots" that can answer search queries and write essays that sound like some human had written them. But did you know that artificial-intelligence agents, if you ask nicely, can also write working computer code?

Bots that can code include OpenAI's ChatGPT, which Microsoft has tried — with great frustration — to integrate into its Bing search engine. (See my February 27, 2023, column on the freakouts Redmond's AI has subjected users to.)

Automated tools like ChatGPT have spawned a lot of hysterical commentary, such as "The sky is falling and human programmers are doomed." But don't quit your day job just yet.

SECURITY

What to do before your phone is stolen

By Peter Deegan

Having your smartphone or tablet stolen is a traumatic event, but there are things you can do beforehand to make loss and replacement much less stressful, risky, and expensive.

I speak from experience. My iPhone was stolen last month, which was very annoying. But — because I'm a careful nerd — no files or data were lost. The thief was locked out of the smartphone in minutes.

There are things you should do to make loss of a device less traumatic and easier to recover from.

ON SECURITY

When you are flagged as malicious

By Susan Bradley

We rely too much on automated reporting in our security solutions.

Most of the time, such automation works pretty well. When it doesn't, the consequences can be quite damaging. We can think back to many times when antivirus updates accidentally flagged a file as malicious, and all sorts of fun ensued.

Just recently, an update to Microsoft Defender interacted with Attack Surface Reduction rules and removed shortcuts on the desktop. If you were on Defender and had the "Block Win32 API calls from Office macro" Attack Surface Reduction rule in place, then updated to security intelligence builds between 1.381.2134.0 and 1.381.2163.0, you would find your icons missing. IT admins were scrambling for days to fix the resulting mess.
---
Know anyone who would benefit from this information? Please share!
Forward the email and encourage them to sign up via the online form — our public newsletter is free!
---
Enjoying the newsletter?

Become a PLUS member and get it all!

Don't miss any of our great content about Windows, Microsoft, Office, 365, PCs, hardware, software, privacy, security, safety, useful and safe freeware, important news, analysis, and Susan Bradley's popular and sought-after patch advice.

PLUS, these exclusive benefits:

Every article, delivered to your inbox
Four bonus issues per year, with original content
MS-DEFCON Alerts, delivered to your inbox
MS-DEFCON Alerts available via TEXT message
Special Plus Alerts, delivered to your inbox
Access to the complete archive of nearly two decades of newsletters
Identification as a Plus member in our popular forums
No ads

We're supported by donations — choose any amount of $6 or more for a one-year membership.
---
The AskWoody Newsletters are published by AskWoody Tech LLC, Fresno, CA USA.
Your subscription:
Microsoft and Windows are registered trademarks of Microsoft Corporation. AskWoody, AskWoody.com, Windows Secrets Newsletter, WindowsSecrets.com, WinFind, Windows Gizmos, Security Baseline, Perimeter Scan, Wacky Web Week, the Windows Secrets Logo Design (W, S or road, and Star), and the slogan Everything Microsoft Forgot to Mention all are trademarks and service marks of AskWoody Tech LLC. All other marks are the trademarks or service marks of their respective owners.
Copyright ©2023 AskWoody Tech LLC. All rights reserved.