ISSUE 19.21.F • 2022-05-23
In this issue
PUBLIC DEFENDER: Want laptop graphics power specs? They might not be easy to find.
Additional articles in the PLUS issue • Get Plus!
MICROSOFT 365: Discover the useful but hidden extras at Office.com
HARDWARE: Solid-state drives — from bespoke to commodity
PATCH WATCH: Debugging feature-update failures
---
ADVERTISEMENT

Digitize DVD to MP4 with WinX DVD Ripper
Anniversary Deal

If you are looking for a reliable DVD video converter, WinX DVD Ripper won't let you down. Trusted by over 70M users, it has converted 3.6M+ discs per year since 2009. No matter the DVDs are old, newly-released, region-locked, encrypted or even damaged.

It gives you easy access to your DVD collections on your computer, smartphone and TV. You can also use it to 1:1 backup full DVD contents to ISO images and DVD folders.
---
PUBLIC DEFENDER
Want laptop graphics power specs? They might not be easy to find.

By Brian Livingston
Some well-known manufacturers of laptops make it a little hard to discover the power ratings that determine their machines' LCD display performance, even though graphics-chip suppliers such as Nvidia and AMD order the laptop makers to do so.
One of the suppliers — the graphics-processor giant Nvidia — says about this situation, "We're requiring OEMs to update their product pages" to reveal a crucial laptop feature known variously as Total Graphics Power (TGP) by Nvidia and Typical Board Power (TBP) by AMD, as explained below.
What you don't know about laptops can hurt you
As of this writing, at least one laptop manufacturer is just now getting around to adding its power ratings to the relevant webpages. But I don't mean to pick on that company. In general, this whole subject should be receiving more attention and disclosure by the computer industry.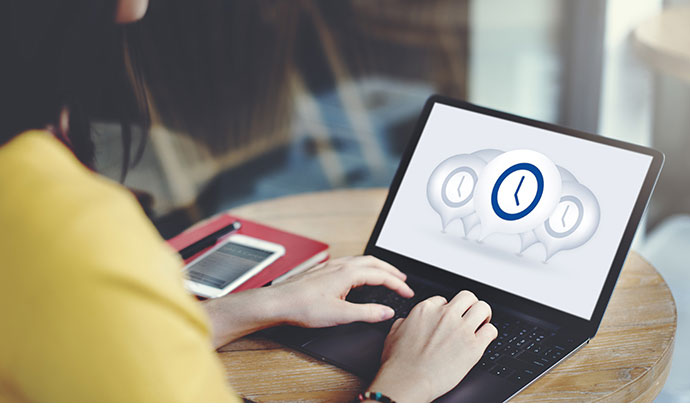 Figure 1. Many manufacturers claim great performance for their laptops, but if the makers withhold the machines' graphics power ratings, elaborate benchmark testing is required before users can learn which devices actually deliver the desired performance. Photo by Rawpixel.com/Shutterstock
Things were relatively simple in the old days — say, last year. Back then, GPUs (graphics processing units, which relieve CPUs of display-rendering tasks) generally offered one trait or the other: high performance or low power requirements.
Between 2017 and 2021, two different labels differentiated Nvidia's graphics processors and boards:
Max-P stood for "maximum performance" or "maximum power," although Nvidia didn't officially promote this term;
Max-Q, a designation that laptop makers often printed on packaging or stick-on labels, was always vaguely defined, but I think of it as "maximum quietness."
Max-Q circuitry always used less power than Max-P chips. According to Nvidia specs, a mobile RTX 2070 Super Max-Q processor would draw 80 to 90 watts. By contrast, an RTX 2070 Super Max-P chip in a more expensive laptop could suck down as much as 115 watts, delivering better performance.
The lower power levels of Max-Q chips limited the speed of such laptops, but the benefit was that the manufacturers needed to dissipate less heat. As a result, makers could create thinner laptops with slower cooling fans that were thereby quieter than thicker, beefier machines.
Quietness in a laptop is not just nice to have. Among other things, Nvidia required laptops to pass a Max-Q certification process, and the devices couldn't run louder than 40 decibels — approximately equal to the background hum of a library reading room — under ISO-7779 testing conditions.
Last year, Nvidia entirely dispensed with the Max-P/Max-Q distinction. At the Computex 2021 trade show, executives announced that Nvidia's new GeForce RTX 3080 Ti and similar products would henceforth use a so-called Ampere architecture (wiki). Each new chip would be able to handle a wide range of power, with laptop makers deciding how much to deliver to a given GPU.
What you see is not always what you get
Unfortunately, allowing laptop manufacturers to set wildly varying levels of GPU power had unintended consequences. Machines with identical specifications would deliver great performance in some models but disappointing results in others.
When the old "low-power" Max-Q designation was dropped in 2021, an Nvidia spokesperson said the company "strongly encourage[s] OEMs to list clocks and other technologies a laptop supports."
Some laptop makers, however, failed to publish specs on how much power their mainboards were capable of feeding to their machines' GPUs. In response, Nvidia made it a requirement last year — but saying so doesn't mean every OEM site is up to date.
That's a problem, because when two laptops with the same underlying hardware exhibit strikingly divergent graphics performance, reviewers may not be able to determine why.
For example, laptop reviewer Jacob Roach of the Digital Trends Media Group clocked the performance of two machines this month — the Lenovo Legion 5i Pro and the MSI Creator Z17 — using the 3DMark Time Spy suite. Both laptops are based on exactly the same chips. Their CPUs are the Intel Core i7-12700H and their GPUs are the laptop-specific Nvidia RTX 3070 Ti. (See Figure 2.)

Figure 2. Despite the two laptops having exactly the same CPUs and GPUs, the graphics performance of the Lenovo Legion 5i Pro is more than 21% higher than that of the MSI Creator Z17. But why? Reviewers can only guess. Source: Jacob Roach, ReSpec columnist for Digital Trends
"Keep in mind that, on paper, these two machines come with identical specs," Roach writes. "In reality, the mobile RTX 3070 Ti operates in a range of 80 watts to 125W. The MSI Creator Z17 goes up to 90W, while the Lenovo Legion 5i Pro tops out at … well, I couldn't tell you."
The Lenovo machine's mainboard is apparently engineered to supply more wattage to its GPU than the MSI Creator is designed to provide. But how much more — 95 watts, 105 watts, 115 watts, 125 watts? The webpage for Lenovo's Legion 5i Pro Gen 6 states various models' Maximum Graphics Power, but that's a measure of heat generation, not TGP, as explained in a Geeks3D blog entry.
Raw graphics performance isn't everything, but it doesn't hurt to have it
Obviously, you don't need your laptop to generate a lot of graphics power if all you're doing is entering data into a spreadsheet to balance your checkbook or opening an email client to read your new messages.
But graphics performance is of crucial importance to many users, not just the 3 million people worldwide who play video games, according to Statista estimates. (As many as two-thirds of Americans play video games — 41% of US players are women — and the average gamer worldwide spends the equivalent of $492 on the pastime each year, Statista calculates.)
Aside from gamers, many business users also need top-notch graphics performance. The developers of the best-selling photography app (Adobe Photoshop), video editor (Adobe Premiere Pro), and broadcasting tool (Open Broadcaster Software) have all added code to take advantage of specific RTX features, Nvidia says in an announcement.
Within the comments section of that announcement page, users mostly complain about how hard it is to find a reasonably priced graphics board that's actually in stock. (Damn the GPU demand from those bitcoin miners!) But one user reports on his old GeForce 1080 Ti machine. It was able to run almost every game smoothly on a high-definition 1080p monitor, but its GPU couldn't keep the scenes steady on a higher-resolution, 1440p display. The lack of oomph was fixed, he says, when he upgraded to an RTX 3070 GPU.
Would photo- and video-oriented business users experience a worthwhile speedup if more power were getting to the GPU? It would depend on their particular systems. Benchmarks by NotebookCheck on two MSI laptops with identical RTX 3070 Ti GPUs showed that one machine was 15% to 17% slower than the other. The mainboard of one model provides 150 watts to the GPU, whereas the weaker model delivers only 105 watts, the reviewer says.
Acer and Lenovo did not respond to my requests for comment. However, the attention being paid to this issue by investigative journalists may be uncorking the necessary information from at least a few harried webmasters. A spokesperson for Razer sent me a chagrined but ultimately heartening response on May 13:
So, here's the lowdown, and apologies that it's probably a much more boring answer than you were hoping for.
Blade 14 models already have it listed on their individual pages on Razer.com, with various different wattages based in specific configurations (example).
For our Blade 15 and 17 models, we're in the process of updating the Web pages to list it as well. Candidly, our Web team just had a backup of publish requests and it's in the queue to get updated by Monday [May 16] at the latest, or at least that's what I'm told.
How to find out your laptop's Total Graphics Power (if it isn't published)
If you want to know your laptop's TGP or TBP — and whether a competing system might be capable of delivering even greater power to a particular GPU — the number may be easily available, or it may require a bit of digging.
It's fairly simple to find power numbers from the chip manufacturers themselves. For example, Nvidia shows "Graphics Card Power" in watts near the bottom of its GeForce RTX 3080 Family page. And AMD lists a TBP statistic for its new powerhouse Radeon RX 6800 board on a product page.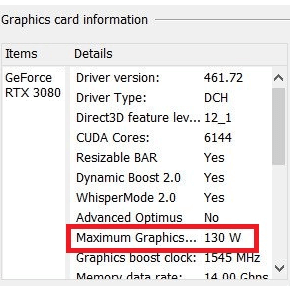 For a laptop you already own, reviewer Karan of the World's Best and Worst blog suggests that you first check the chip maker's system information panel. Using Nvidia as an example (see illustration at left by Karan):
1. Open the Nvidia control panel.
2. Select Help, then System Information.
3. Maximum Graphics Power is listed in Details.
More instructions — and the steps to download and use the free HWInfo app if all else fails — are in Karan's "How to Check GPU Power Limit" article.
Be aware that terms such as Maximum Graphics Power and Max Power Consumption may be different from Total Graphics Power, as mentioned above.
Finally, links to several laptop manufacturers' power-spec webpages — including a few holdouts that may have been updated by the time you read this — are maintained by The Verge on a gaming laptop page.
Whew! Finding a laptop with good graphics performance shouldn't be this hard. But armed with the above information, I hope you'll find the information you need to inform yourself about your choices.
Do you know something that we all should know? Tell me about it!
Send your story in confidence to publicdefender@askwoody.com.
Join the conversation! Your questions, comments, and feedback
about this topic are always welcome in our forums!
The PUBLIC DEFENDER column is Brian Livingston's campaign to give you consumer protection from tech. If it's irritating you, and it has an "on" switch, he'll take the case! Brian is a successful dot-com entrepreneur, author or co-author of 11 Windows Secrets books, and author of the new fintech book Muscular Portfolios. Get his free monthly newsletter.
---
ADVERTISEMENT
---
Here are the other stories in this week's Plus Newsletter
MICROSOFT 365

Discover the useful but hidden extras at Office.com

By Peter Deegan

Microsoft has done a lot of work on the Office.com home page, especially for business and enterprise users.

There's a lot more available on those pages than first appearances indicate. In fact, some of the most useful features are hiding behind faint, almost hidden, icons.

Office.com is a useful portal to access recent documents saved on OneDrive or SharePoint/Teams across all your Office apps and document types. I'll first look at the many changes for Business, Enterprise, and Education users, and then I'll explore some hidden extras for Microsoft 365 Family/Personal.

HARDWARE

Solid-state drives — from bespoke to commodity

By Ben Myers

Solid-state drives (SSDs) have a surprisingly long history, leading up to the types commonly in use today.

It takes some planning and analysis to make best use of them, but significant improvements in speed and reliability over electromechanical hard drives make SSD investments worthwhile.

For this article, let's stick with name brands such as Crucial, SK hynix, Kioxia, Samsung, SanDisk, and Western Digital — all with comparable performance levels. Note that SK hynix acquired Intel's SSD business, SanDisk is now a subsidiary of Western Digital, and Kioxia is a spinoff of Toshiba.

PATCH WATCH

Debugging feature-update failures

By Susan Bradley

A long-time reader recently got in touch to mention his difficulty in getting a PC update past Windows 10 version 1909.

Plus member Lee Gruenfeld indicated that he had worked with several Microsoft support agents to get a more contemporary version installed, a process that lasted several months and resulted in continued failure.
---
Know anyone who would benefit from this information? Please share!
Forward the email and encourage them to sign up via the online form — our public newsletter is free!
---
Enjoying the newsletter?

Become a PLUS member and get it all!

Don't miss any of our great content about Windows, Microsoft, Office, 365, PCs, hardware, software, privacy, security, safety, useful and safe freeware, important news, analysis, and Susan Bradley's popular and sought-after patch advice.

PLUS, these exclusive benefits:

Every article, delivered to your inbox
MS-DEFCON Alerts, delivered to your inbox
MS-DEFCON Alerts available via TEXT message
Total access to the archive of nearly two decades of newsletters
No ads
Identification as a Plus member in our popular forums

We're supported by donations — choose any amount for a one-year membership.
---
The AskWoody Newsletters are published by AskWoody Tech LLC, Fresno, CA USA.
Your subscription:
Microsoft and Windows are registered trademarks of Microsoft Corporation. AskWoody, AskWoody.com, Windows Secrets Newsletter, WindowsSecrets.com, WinFind, Windows Gizmos, Security Baseline, Perimeter Scan, Wacky Web Week, the Windows Secrets Logo Design (W, S or road, and Star), and the slogan Everything Microsoft Forgot to Mention all are trademarks and service marks of AskWoody Tech LLC. All other marks are the trademarks or service marks of their respective owners.
Copyright ©2022 AskWoody Tech LLC. All rights reserved.