ISSUE 18.24.F • 2021-06-28
Watch for our special issue on July 5!
In this issue
MICROSOFT NEWS: Windows 11 announced
Additional articles in the PLUS issue
LEGAL BRIEF: You can be like Muhammad Ali — or Alibaba
PUBLIC DEFENDER: Have a smart home? A company may change your thermostat.
LANGALIST: Locked out of his own PC's Desktop!
MICROSOFT: Microsoft account or local account — which one should you choose?
PATCH WATCH: The confusion of .NET
ADVERTISEMENT
Internet connection lagging? Downloads taking ages?

NetOptimizer will help you to get the maximum out of your Internet plan by optimizing hidden network settings. Best of all, you can configure optimal values in just one click!

Grab your copy today with an exclusive 75% discount + 2 FREE gifts and effortlessly enjoy the Internet at maximum available speeds as promised by your ISP!
MICROSOFT NEWS
Windows 11 announced

By Will Fastie
Why this? Why now? And what the heck is going on?
On June 24, 2021, Microsoft announced Windows 11. I have no idea why. It is surely not for the cobbled-together reasons the company gave during its rather brief briefing on Thursday.
Why? Because I didn't hear anything that represented more than what might have been pushed out in one or more "routine" Windows 10 feature releases. New icons? Mildly new look? A couple of cute and maybe even helpful UI enhancements? Those don't sound like concepts that generate major versions given the similar feature updates we've seen creep into Windows, Edge, and Microsoft 365 over the past couple of years.
What's going on?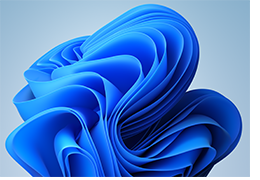 I have one theory, a bit speculative, that relates to the US Government's General Services Administration (GSA) procurement schedules. For most software, GSA contracts specify an initial five-year procurement period followed by a second five-year support period. That's ten years in which a software company must maintain a software product. Windows 10 was introduced on April 29, 2015; we're about six years in. That alone might make Microsoft want to "reboot" the system and start a different set of clocks running.
It sounds a bit silly. However, Microsoft has been on the wrong side of this twice, once with a two-year extension of Windows XP support and then again with extended service agreements for Windows 7.
There are several extremely significant parts of this announcement, all bad news for Windows users.
The event itself
I've been attending Microsoft's events in all their forms for nearly 40 years. This "What's next for Windows" event was, without question, the worst I have ever seen. That doesn't make sense; if Windows 11 is so significant, so new, so fresh, where are the marching bands and fireworks? Microsoft never comes close to the Hollywood polish of Apple, but it has done far better in the past.
My conclusion is that Microsoft did not want to do this event at this time but was forced to do so — and thus did it in haste. Microsoft alerted everyone to the event several weeks ago, right around the time that a Windows 11 build leaked. While I can't prove any connection between the leak and Microsoft's decision to announce, the timing is suspicious.
Haste is what I saw in the construction of the event. Panos Panay's presentation lacked the passion for which he has become known; I consider him the most forceful proponent of Microsoft since Steve Ballmer. It wasn't evident this time. If Panay isn't excited, I consider that a signal that we shouldn't be terribly excited, either. But there's more. The visual backdrop behind Panay consisted of a space with what appeared to be intersecting hallways, all rendered in gray and white. Quite dismal, actually, but also completely empty.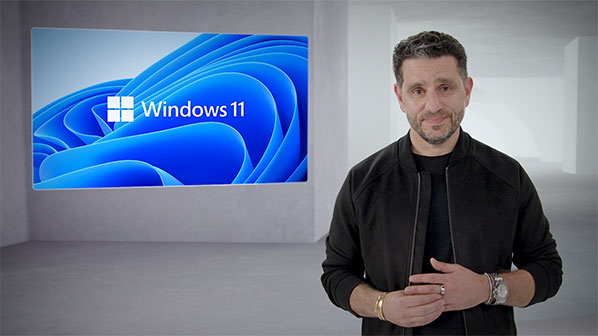 Satya Nadella's brief participation was also less than inspiring. Nadella is a superb executive and a strong leader, but his stage presence leaves something to be desired. After watching his talk, I wasn't shaking in anticipation of a great new software advance. He said the words "re-imagining everything" and called Windows 11 a "democratizing force for the world," but these statements are so broad as to mean nothing and, as seems to be typical for him, were backed up by nothing.
From all the other presenters, I got next to nothing — except for what I think might have been a tiny slip (or was it?) from Steve Dispensa when he mentioned "device hardware readiness." Turns out that's big.
When?
This is another reason why I think the event was patched together quickly. No specific dates were given. Even the general availability date was mentioned only as "holiday," which typically means by Thanksgiving in the US. Insider builds are coming, but nothing specific about them was offered. We don't really know when. Apple usually says, "iOS 99 will be available for download two weeks from now" or uses similar, definite, wording.
In a five-minute presentation given to media prior to the public event, corporate vice president of communications Frank Shaw pooh-poohed the leaked version of Windows 11, calling it an "incomplete build," and urged those of us in the media not to review features until they showed up in the early insider builds. What?
Shaw's mere mention of the leaked build seems to me a major slip. Why recognize it at all? Why bother? Why is that leak so important? And what's with trying to muzzle the press? Microsoft distributed a picture of the new, centered start menu, but I can't talk about it until I see it in the flesh? That ain't happening.
The major glitch — hardware
Remember, Steve Dispensa's "slip" was his use of the phrase "device hardware readiness." It was the only mention of hardware other than Panay's comments about working closely with Intel, Qualcomm, and ARM and using the word "silicon." There was a passing mention of 10th- and 11th-generation Intel chips, but not as requirements — only as a good platform for Windows 11.
The "readiness" phrase set off sirens and red flashing lights in my head.
Hardware turns out to be a huge deal or a huge deal-breaker, depending upon your perspective. Here are a few very important links to Microsoft resources that should help you understand this better.
There are three key hardware requirements from this morass of information:
Windows 11 requires a 64-bit CPU;
Windows 11 requires TPM 2.0;
Windows 11 requires at least an eighth-generation Intel processor or an AMD processor from no earlier than 2019.
Speaking personally, I do not have a PC that measures up. My primary PC, which works just fine, thanks, has an excellent and fast fourth-generation i5 processor. My other PCs are older. All run Windows 10. None will run Windows 11. My wife just got a new Lenovo Yoga for her birthday, and it will run 11. If only she'd let me use it. Susan Bradley reports similar problems.
Our personal travails aside, this is an earthquake. I know that many have long-standing complaints about version-to-version problems with Windows, but the truth is that Microsoft has a fantastic record of running new versions of Windows on older hardware. I have a decade-old Dell OptiPlex, newly updated with an SSD and more memory, that runs Windows 10. In all my experience with Microsoft operating systems, I have noted only two times when Microsoft made radical shifts, and only one of them was disruptive, albeit mildly:
Windows XP — NT becomes the kernel for Windows for both business and consumers, with Pro and Home editions. It was a major change, with MS-DOS no longer sitting beneath consumer versions, but it went well for both Microsoft and users.
Windows 8 — COM (component object model) apps no longer ran in Windows, the first time in nearly 30 years that a Microsoft operating system killed off older apps. I had 250 or so useful COM utilities, some of which I miss, but mostly no one noticed except gamers with very old games.
But Windows 11? A rule of thumb is that if your processor is more than three years old, it won't be supported. This is not the traditional mode of PC evolution, it's the new "it's good for two years" smartphone mode. I wonder how many of the 1.3 billion Windows users that Nadella is fond of mentioning will be able to use 11 without buying a new device?
Not me. You?
App compatibility and features
I was totally confused about the part of the presentation that discussed application compatibility between Windows 10 and Windows 11. What caught my attention was the note that 99.7 percent of all apps would be compatible. Stated another way, 0.3% will not be compatible.
That's a small number. It's much smaller than the elimination of COM apps in Windows 8. So why bring it up?
I don't know. Perhaps there is something significant in that 0.3%, compelling enough that Microsoft felt it needed to be noted. We'll try to find out more. Hopefully we'll be able to test an insider build of Windows 11 by, um, let's see now, well, real soon.
One thing not mentioned during the event was the removal of some Windows 10 features. A list of them can be found on the Windows 11 specs, features, and computer requirements page; scroll down a bit. Quite a list, actually.
Being underwhelmed
All I really got from this event was that the Windows 10 to Windows 11 upgrade would be similar to a Windows 10 feature update. Except for that hardware thing, of course.
All the UI and appearance changes? Who cares? It's happened for every version of Windows, and it generates some noisy complaints, but then one of three things happens.
Folks get used to it (for better or worse) and stop complaining;
Third parties step in with solutions (such as Stardock's wildly successful Start10) to restore a desired feature;
Microsoft comes to its senses.
We will be getting a new start menu icon, though.
Did I like anything?
There is one part of all this that rings true and may well be the entire underlying reason for the incremented version number — security.
Since the event, Microsoft has been furiously updating its hardware specification and compatibility pages, removing ambiguity about whether TPM 2.0 was required or not. It is. And TPM 2.0 alone eliminates hundreds of processor models. (Microsoft also updated its compatibility app so that it says why the tested system won't run 11.)
There's no question that TPM is important. So, what if Microsoft had tried to add the 64-bit and TPM requirements to a routine Windows 10 "feature" release? You don't have to think very hard to realize what a disaster that would be. The only way to make it work is a new, distinct version. And the only thing that makes it palatable is that the Windows 10 lifecycle hasn't come to an end yet.
Unfortunately, this put Microsoft in the uncomfortable position of drawing that line in the processor sand. It must have been a very difficult decision to make. No matter how discomfiting it will be to us average folk, I'd have to say it was the right decision.
This may also have been the reason for what I'm sure was an early announcement, and why the leak was so important. It would not have taken long for testers to realize the new hardware requirements and talk about them. Microsoft needed to get ahead of that.
But I stand by what I wrote above. After all, Microsoft could have had Nadella trot out and say "security is everything." Instead, we got hype, platitudes, and attempted muzzles.
The 1.3 billion of us deserve better.
Event imagery courtesy Microsoft Corporation. Used with permission.
| | |
| --- | --- |
| | Join the conversation! Your questions, comments, and feedback about this topic are always welcome in the AskWoody Lounge! |
Will Fastie is editor in chief of the AskWoody Plus Newsletter.
LEGAL BRIEF

You can be like Muhammad Ali — or Alibaba

By Max Stul Oppenheimer, Esq.

What do you think of when you hear "Ali?"

Muhammad Ali Enterprises wants to be sure that you think of them and the great boxer — and the fine line of ring tones, computer games, sunglasses, and other products they plan to sell under that name.

PUBLIC DEFENDER

Have a smart home? A company may change your thermostat.

By Brian Livingston

You may be surprised to learn that installing "smart home" devices could mean that a private company can turn your thermostat up and down — no matter what setting you thought you had entered.

LANGALIST

Locked out of his own PC's Desktop!

By Fred Langa

There's no such thing as a small permissions problem in Windows! When things go wrong, they can go very, very wrong, as today's first reader-submitted question illustrates.

Another reader wonders whether he should try updating his PC's firmware via Windows' Device Manager.

Finally, a reader seeks help when his device fails to restart after a power outage.

MICROSOFT

Microsoft account or local account — which one should you choose?

By Lance Whitney

When you set up a Windows 10 PC for personal use, Microsoft makes you select which type of account you want to use to sign in. A Microsoft account will synchronize certain apps and settings across multiple devices and give you access to services beyond Windows. A local account provides an entryway solely to your current PC.

PATCH WATCH

The confusion of .NET

By Susan Bradley

Recently I've noticed that some folks are getting a bit confused about my recommendations regarding .NET updates.

If you are a regular follower of my Master Patch Lists, you know that I don't always recommend installing .NET updates right away, in the months they are released. Why?
---
You're welcome to share! Do you know someone who would benefit from the information in this newsletter? Feel free to forward it to them. And encourage them to subscribe via our online signup form — it's completely free!
---
Like what you see in the
AskWoody FREE newsletter?

Become a PLUS member!

As a Plus member, you'll receive the full newsletter, including all our great content about Windows, Microsoft, Office, 365, PCs, MS-DEFCON Alert notifications, useful and safe freeware, and Susan Bradley's sought-after patch advice. Plus membership also allows continuous access to the complete archive of nearly two decades of Windows Secrets and AskWoody Newsletters.

Naturally, Plus members have all the benefits of free membership, including access to the popular AskWoody forums.

The cost? We're supported by donations — choose any amount for a one-year membership. Every little bit helps.
---
Publisher: AskWoody Tech LLC (sb@askwoody.com); editor: Will Fastie (editor@askwoody.com).
Trademarks: Microsoft and Windows are registered trademarks of Microsoft Corporation. AskWoody, Windows Secrets Newsletter, WindowsSecrets.com, WinFind, Windows Gizmos, Security Baseline, Perimeter Scan, Wacky Web Week, the Windows Secrets Logo Design (W, S or road, and Star), and the slogan Everything Microsoft Forgot to Mention all are trademarks and service marks of AskWoody Tech LLC. All other marks are the trademarks or service marks of their respective owners.
Your subscription:
---
Copyright © 2021 AskWoody Tech LLC, All rights reserved.