ISSUE 20.25.F • 2023-06-19 • Text Alerts! • Gift Certificates
You're reading the FREE newsletter

You'll immediately gain access to the longer, better version of the newsletter if you make a donation and become a Plus Member. You'll receive all the articles shown in the table of contents below, plus access to all our premium content for the next 12 months. And you'll have access to our complete newsletter archive!
Upgrade to Plus membership today and enjoy all the Plus benefits!
In this issue
WINDOWS: Working with the Intel Driver & Support Assistant
Additional articles in the PLUS issue
PUBLIC DEFENDER: The Star Trek universal translator is here today
ONENOTE: How to get transcripts from Teams to OneNote
PATCH WATCH: The case of the missing Registry key
INTEL NEWS: Intel rebrands
---
---
WINDOWS
Working with the Intel Driver & Support Assistant

By Ed Tittel
Intel's share of the x86 processor market at the end of 2022 came out at nearly a two-to-one ratio for Intel vs. AMD.
The Statista survey ascribes 62.8% of that market to Intel and 35.2% to AMD; the remaining 2% presumably belongs to ARM and "other CPUs" sometimes found in PCs.
But other Intel devices, including PC chipsets and controllers, show up in PCs of all kinds. And that means Intel also supplies drivers to connect devices to Windows and allow them to do their jobs.
Intel offers a software tool known as the Driver & Support Assistant (aka DSA or Intel DSA). As the company itself describes this tool, it "enables you to scan computing devices for the latest drivers available from Intel." The description explains further that this tool supports a range of products that include graphics (both discrete and integrated devices), wireless and wired networking, Intel SSDs, Intel SFF PCs called NUCs ("Next Unit of Computing"), and Intel Compute Sticks. Intel offers tens of thousands of device drivers for the many devices it supports in Windows versions 7 through 11.
Given that nearly all PCs use an Intel driver of some kind or another, it makes sense to get familiar with the Intel DSA. Despite some foibles (more on those later), this tool is both helpful and useful for IT pros and other users interested in keeping Intel drivers up to date.
Installing and using Intel DSA
From its current landing page on the Intel website, you may download a file named Intel-Driver-and-Support-Assistant-Installer.exe (~6MB in size). Alternatively, if you visit intel.com and search for "Intel DSA," the first result in its hit list takes you to its most current landing page. Over time, the search-based method will work best, because new versions of the tool get released fairly regularly.
To install the Intel DSA, simply run the aforementioned .exe file (double-click the file icon in File Explorer, or right-click the file name and then click Run from the resulting pop-up menu). After you agree to the license terms, this installs a Windows app named "Intel Driver & Support Assistant" on your PC. A restart is required upon initial installation of this tool. After the restart, typing at least "Intel dr" into the Start menu search box will bring up the Intel DSA app as its first search result. The primary app menu entry appears in Figure 1.

Figure 1. The Intel DSA app Start menu items
There's typically no need to run the Intel DSA with administrative privileges unless your organization uses Group Policy Objects (GPOs) to prevent driver installation. If so, you must log in to target PCs from an administrator account, or elevate privileges for Intel DSA by providing a valid administrator password to launch that program.
Interestingly, running Intel DSA opens a webpage in your default Web browser. (Chrome is my default, so the following screencaps may look slightly different on your PC.) On a caught-up PC, Intel DSA reports that drivers are "up to date" and lists whatever items it has recently installed, as shown in Figure 2.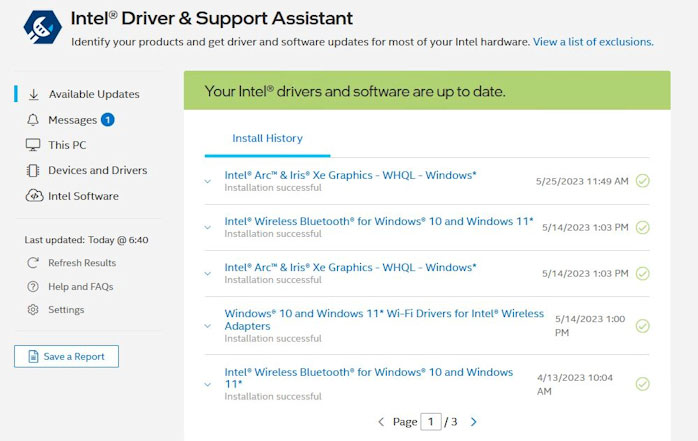 Figure 2. If Intel finds no new drivers to install, it reports that drivers and software are up to date.
On machines that hitherto lacked the Intel DSA, you'll see something like Figure 3 after running the tool for the first time. The drivers it discovers needing updating include those for Bluetooth, Wi-Fi, and integrated Intel graphics. These are all very common on many laptops and PCs — especially the Lenovo ThinkPad and Yoga units that serve as my test PCs. (My Yoga 7 is the source for all figures in this article.)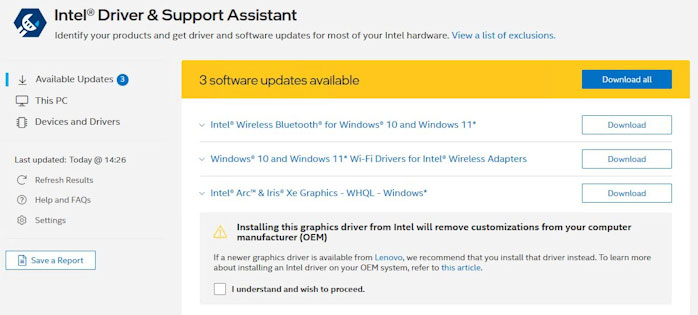 Figure 3. On my Yoga 7, Intel DSA finds three common drivers to update: Bluetooth, Wi-Fi, and graphics.
To install specific drivers, first click the Download button to the right of any individual item (or click the Download all button at upper right). After the downloads are complete, the Install History is shown (Figure 4).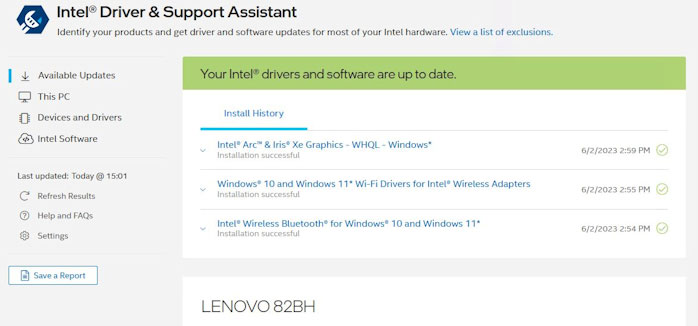 Figure 4. After Intel DSA updates complete, they'll appear in an Install History list.
Why does Intel DSA treat graphics drivers differently?
In Figure 3, you can see a checkbox at the bottom center. It demands explicit permission before Intel DSA will install an Intel graphics driver onto the target PC. Why is such permission necessary? Good question!
On older PCs — with fifth-generation or older Intel CPUs — installing an Intel graphics driver overwrites the existing graphics driver. Because that wipes out any customizations an OEM might have made to that driver, Intel warns users that they might lose such things if they proceed. However, those with Intel CPUs and associated Intel integrated graphics found in sixth-generation (or newer) CPUs need not worry. Intel reworked its graphics drivers to leave customizations alone. Thus newer PCs can install such Intel graphics drivers without losing customizations and associated capabilities.
That's good news because sixth-generation Intel CPUs hit the market from Q3 2015 to Q2 2016, over seven years ago. The vast majority of us probably have a PC purchased within that timeframe, which is why most of us can ignore Intel's warning. In other words, it's OK to click the checkbox and install the latest Intel graphics driver.
After I did so on my Yoga 7 and then chose Install all, Intel DSA proceeded to install all drivers shown in Figure 3. Along the way, it asked me for UAC permission on two of three updates. It also asked for individual permissions and approvals during each install. That involved 20 mouse clicks in total, and about four minutes of install time. A reboot recommendation followed the graphics driver install. When I clicked Refresh results on the blank Intel DSA page in Chrome, it showed all three drivers with a June 2, 2023, install date, as shown in Figure 4.
Intel DSA foibles and follies
Using Intel DSA in default mode involves user activity — and lots of it. That's why I had to click 20 times to work my way through the dialogs for those updates on the Yoga 7. Numerous items on the Web — all those listed below are from Intel itself — explain how to silence the Intel driver-update process by device class (and eliminate user input during updates).
Admins should find these and related resources helpful for automating Intel updates so that they don't demand constant approvals and permissions to proceed.
Intel's driver updates often appear in the Windows Driver Store (C:\Windows\System32\Drivers or C:\Windows\System32\DriverStore) as duplicate entries. I use the excellent GitHub project DriverStore Explorer (aka RAPR.exe) to remove obsolete and duplicate entries on my Windows PCs. If you use Intel DSA regularly, it's not unusual to find as many as 10 duplicates for Wi-Fi, Bluetooth, USB, and graphics drivers in the Windows Driver Store. For example, the Lenovo Yoga 7 reported 13 superfluous Intel drivers after applying updates, consuming a total of 2.32GB of disk space.
Intel DSA apparently does nothing to manage obsolete or duplicate drivers on its own, so you must handle that chore yourself. I've seen such maneuvers save anywhere from hundreds of megabytes to 6GB on Windows installs. This is especially important if you maintain Windows images for deployment, where space savings mean faster file transfers and shorter update windows.
Recently, Intel announced the latest DSA version for download (May 22, 2023). But for about four days after that, the download link on the DSA landing page continued to deliver the prior version of the tool instead of the new one. It did get fixed after a while, but if it happens once, it might just happen again. Keep your eye on that ball as new versions of DSA emerge.
Despite its foibles and the occasional DSA peccadillo, the Intel Driver & Support tool is worth downloading and using to help keep PC drivers up to date. Try it yourself! You should find it a useful add-on to your update arsenal, if you aren't using it already.
Join the conversation! Your questions, comments, and feedback
about this topic are always welcome in our forums!
Ed Tittel is a long-time computer industry writer and researcher. The author of over 100 computing books, Ed is also a Windows Insider MVP (2018-2023) who writes for numerous other websites and publications. For more info, visit edtittel.com.
---
ADVERTISEMENT

---
Here are the other stories in this week's Plus Newsletter
PUBLIC DEFENDER

The Star Trek universal translator is here today

By Brian Livingston

PARISOT, FRANCE — I'm working this month in Europe. During this time, I've found that handheld language translators have become truly useful in speaking with people when you don't understand their native tongue.

My knowledge of French is fairly nonexistent. I can manage to say "oui," "non," and "un grand café noir, s'il vous plaît" (a large black coffee, please). So you can imagine my fear when I learned — as I'll explain later— that I'd be spending 30 days in the land of le Louvre, which I can't even pronounce correctly.

ONENOTE

How to get transcripts from Teams to OneNote

By Mary Branscombe

If you have meeting recordings from Teams, you can get the text of what everyone said — if you know where to look.

The Windows version of OneNote has a transcription tool, but I've had a lot of problems getting it to work. I often use the Otter.AI service to turn my meetings and interviews into text by propping my phone up on the table or next to my laptop.

But if you're using Teams for your meetings, you can usually get a better-quality transcription by doing it inside Teams.

PATCH WATCH

The case of the missing Registry key

By Susan Bradley

Microsoft leaves it up to us to finish its job.

Once upon a time, there was a company that cared equally about the impact of patches on customers large and small. But in the past two months, something has happened. Some of you would argue that furthermore, Microsoft's patching guidance has been primarily for the enterprise market segment from the start.

That's not my experience.

INTEL NEWS

Intel rebrands

By Will Fastie

To coincide with the upcoming release of new processors based on the Meteor Lake microarchitecture, Intel will institute a new branding scheme.

I'm inclined to say this happens too often with Intel and is confusing, but the amazing reality is that the "i" branding has been around for 15 years. That's actually a pretty long run.

But the new branding is still confusing, at least for now.
---
Know anyone who would benefit from this information? Please share!
Forward the email and encourage them to sign up via the online form — our public newsletter is free!
---
Enjoying the newsletter?

Become a PLUS member and get it all!

Don't miss any of our great content about Windows, Microsoft, Office, 365, PCs, hardware, software, privacy, security, safety, useful and safe freeware, important news, analysis, and Susan Bradley's popular and sought-after patch advice.

PLUS, these exclusive benefits:

Every article, delivered to your inbox
Four bonus issues per year, with original content
MS-DEFCON Alerts, delivered to your inbox
MS-DEFCON Alerts available via TEXT message
Special Plus Alerts, delivered to your inbox
Access to the complete archive of nearly two decades of newsletters
Identification as a Plus member in our popular forums
No ads

We're supported by donations — choose any amount of $6 or more for a one-year membership.
---
The AskWoody Newsletters are published by AskWoody Tech LLC, Fresno, CA USA.
Your subscription:
Microsoft and Windows are registered trademarks of Microsoft Corporation. AskWoody, AskWoody.com, Windows Secrets Newsletter, WindowsSecrets.com, WinFind, Windows Gizmos, Security Baseline, Perimeter Scan, Wacky Web Week, the Windows Secrets Logo Design (W, S or road, and Star), and the slogan Everything Microsoft Forgot to Mention all are trademarks and service marks of AskWoody Tech LLC. All other marks are the trademarks or service marks of their respective owners.
Copyright ©2023 AskWoody Tech LLC. All rights reserved.