ISSUE 20.34.F • 2023-08-21 • Text Alerts! • Gift Certificates
You're reading the FREE newsletter

You'll immediately gain access to the longer, better version of the newsletter when you make a donation and become a Plus Member. You'll receive all the articles shown in the table of contents below, plus access to all our premium content for the next 12 months. And you'll have access to our complete newsletter archive!
Upgrade to Plus membership today and enjoy all the Plus benefits!
In this issue
PUBLIC DEFENDER: Your worst Windows 11 irritations — solved!
Additional articles in the PLUS issue
AI: How to use Google Labs to experiment with AI
HARDWARE: Working with USB 3 and 4 in Windows
SOFTWARE: Can I install that on that?
---
ADVERTISEMENT

Tech Brew

Join the over 400K people reading Tech Brew – the free 3x/week email delivering the latest updates on the technology changing the business world. Check it and start getting smarter today!

Try it!
---
PUBLIC DEFENDER
Your worst Windows 11 irritations — solved!

By Brian Livingston
Despite all the wailing and gnashing of teeth that Windows 11 users have directed at Microsoft, the tech giant still hasn't corrected the OS's most common failings. Fortunately, we can fix the problems ourselves.
Microsoft plans to end technical support and security patches for Windows 10 on October 14, 2025. (Redmond might extend that date — if big corporate users howl loudly enough — but don't count on it.) It's likely that we're little more than a year away from being forced to run Win11, like it or not. You might as well make it work the way you want it to. Why suffer the dumbed-down user interface that you get out of the box?
I'm not inventing any exotic experiments here. The solutions I recommend below have been around almost as long as Win11 itself. The following add-ons have proven themselves to be both useful and reliable. That's exactly what I want on any machine I use every day.
Once you've digested the info here, I'm going to turn things over to you. Use the link at the bottom of this column to send me your biggest Win11 irritations and (if possible) any solutions you've found that correct the problems. I'll describe the best tips two weeks from now.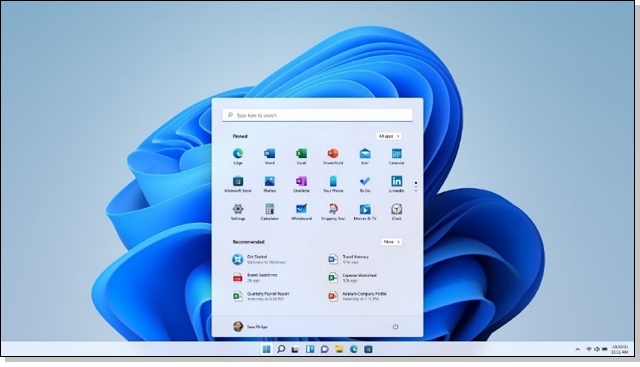 Figure 1. We've all seen a million times Microsoft's promotional photos of the Windows 11 start menu. The picture is here — one more time — just to illustrate the following discussion. Source: Microsoft Corp.
Yes, some people like the Win11 start menu. But most experienced users of Win10 hate it.
Well, what's so wrong with the Win11 interface? Let me count the ways:
The new start menu is a squarish blob that you cannot resize.
The menu lacks Win10's folders to organize your apps and documents.
Only 18 apps are initially visible. You must click All apps to see the rest.
A "Recommended" area displays random documents, consuming half the blob.
If you turn off "Recommended," the area goes blank but nags you to restore it.
Win10's Live Tiles were never a hit. But now they've disappeared. (As a substitute, WinKey+W shows Widgets.)
To be sure, you can tweak a few Win11 settings. For instance, you can position the menu to the left, rather than dead center. And other options are possible, although they're a little hard to find.
I'm not going to cover those tips here. They're documented on thousands of webpages, which are easily discovered by anyone who would be satisfied with tiny improvements.
Instead, I'll describe how to simply ditch the irritating Win11 start menu and replace it with a superior and customizable Win10-style menu.
The old reliable features of Windows 10 are back with a simple app
Before we go any further, let's put to bed a common rumor. You may have seen blogs that say you can make Win11 revert to a "classic" interface using the following Registry key:
Ignore that advice. The trick worked only in early, mid-2021 preview builds of Win11. To the frustration of many, Microsoft removed support for the key in build 22000.65. That rev was released to the developer channel on July 8, 2021, before the OS's official public launch that October. Redmond giveth, and Redmond taketh away.
Forget minor, cosmetic changes and get StartAllBack. This tiny app — which actually frees up more memory than it uses — gives you the ability to restore a truly usable menu to Win 11. (See Figure 2.)

Figure 2. After you install StartAllBack, you're able to control which items will take up display space on your start menu, which ones will be limited to a link, and which will have their own fly-out menus. Source: StartAllBack
StartAllBack gives you a great deal of control over the items that show up on your new start menu. You can limit items to simple links or give them on-demand menus of their own.
I'm aware that other third-party solutions exist. After considering all the offerings, I've decided to use StartAllBack on my own Win11 machines. It offers great customization features and fixes other problems, such as Win11's buggy File Explorer (as described below).
All I'll say here about the many alternatives is that you shouldn't run them at the same time as StartAllBack. Add-ons such as OpenShell and Start11, as good as they may be, create unexpected conflicts if you run them simultaneously with other user-interface replacements.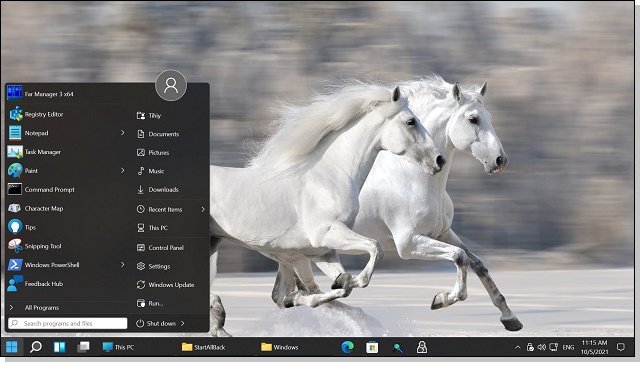 Figure 3. After you install StartAllBack — depending on which of its three styles you choose — you'll see a good ol' two-column menu. You can once again drag and drop apps and documents to it (unlike Win11's start menu). Of course, you can still select whatever wallpaper you like, if wild horses aren't your thing. Source: StartAllBack
During StartAllBack's installation, you're presented with some choices:
Select "Install for this user" to limit StartAllBack to the current user (who may be you).
Select "Install for everyone" to give the new menu to all users of a given machine.
You're also asked to select one of three styles for the start menu and other elements:
Remastered 7 provides an Aero-style menu and taskbar.
Kinda 10 uses a rectangular menu and adds the Ribbon back to File Explorer.
Proper 11 gives objects rounded corners and adds a command bar to Explorer.
I use the Kinda 10 style on my Win11 machines. Rounded borders are nice and all that. But I've never found them to improve my productivity over objects that have square corners.
StartAllBack makes other improvements to Win11 besides the start menu. Significantly, Win11's File Explorer is known for misreading the file types within a folder and displaying the wrong set of columns. For example, it may omit the "Length" column for video files and miss other file-specific information. StartAllBack restores the older, stable Win10 file-manager code, which is better behaved. (But see a different File Explorer fix below.)
StartAllBack costs a very reasonable $4.99. I recommend that you get the app from StartAllBack.com's home page. The website is free of malware, according to DNSFilter, FlashStart, and ScamAdviser. At this writing, the current version of StartAllBack is 3.6.11. After you download and install the app, you use StartAllBack's About tab to register using PayPal, a linked bank account, or a credit card.
For more info, see a lengthy review of StartAllBack and Start11 by AskWoody's Lance Whitney.
Win11's File Explorer has other problems that require fixing
Ever since Win11 22H2, the OS's File Explorer has proven itself to be much less reliable than Win10's version:
Folders on network drives and USB drives that do not mount as "local disks" are always displayed as the "general" folder type. The Win11 File Explorer doesn't allow you to set an appropriate folder type for folder trees.
File Explorer resets the folder types on "local disks," such as Drive C, despite the folder types you try to specify.
The Win11 version of File Explorer often hangs or performs very slowly.
File Explorer's attempts to track recent items have been found to cause the poor performance, as described in a Microsoft Answers thread.
Microsoft developers have been aware of these problems for more than a year. But no fix has been released at this writing, according to File Explorer testers who've reported their findings in an Eleven Forum thread.
Whether or not you install StartAllBack, you need other tools for complete File Explorer fixing. A free app called WinSetView can give you more precise control.
For example, if you want something as simple as Details view for all folders everywhere without exception, WinSetView can do that for you. For finer definition, configure different folder trees separately. The app doesn't run in memory but merely sets documented values in the Registry that Win11's File Explorer seems to handle poorly. (See Figure 4.)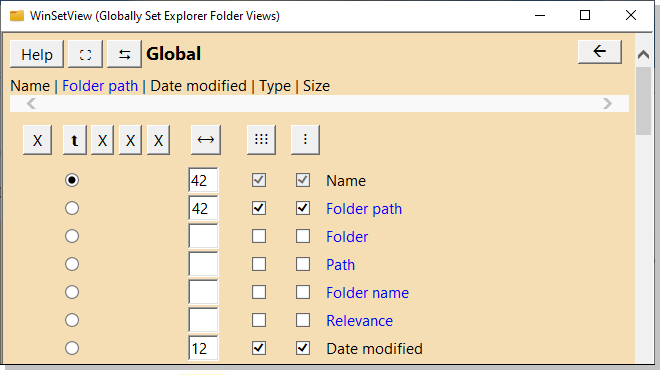 Figure 4. The free WinSetView app gives you extensive control over the layout and column widths for different folder types as displayed by Win11's File Explorer. Source: WinSetView
To be sure, all this power comes at the cost of a steep learning curve. Windows makes it hard to adjust folder types and column widths. These things should be easy to set — and stay in effect — using just a mouse. But they aren't.
If you're happy with Win11's "blob" start menu and don't install StartAllBack, WinSetView may be just the ticket to fix File Explorer. To try it, take the following steps:
Download WinSetView from its GitHub page, which contains brief directions.
RTFM (Read the Fine Manual) — frankly, a necessity — on its own HTML page.
Use my WinSetView instructions from a previous AskWoody column (free edition).
Again, there are many other Win11 shells and user-interface offerings out there. I can't review them all, but the above apps should help you solve many of the biggest problems. Someone in Redmond may someday get around to writing the code that should have gone out in the first place — but why wait?
Now it's your turn — what Win11 problems and solutions have you found?
I could go on all day about Win11, but I'll stop right here. This is your cue to send me any Win11-specific irritations and fixes you may have run into. I'll include the best tips in my next column.
Simply write to the email address shown in the box below. You can include screen captures as attachments, if you like.
Let me know whether I can credit you by name, you prefer me to use only your first name and last initial, or you request that I keep your identity completely confidential. (As an investigative journalist, I'll withhold your identity unto the grave, if that's your preference.)
Windows sufferers, unite!
Do you know something that we all should know? Tell me about it!
Send your story in confidence to publicdefender@askwoody.com.
Join the conversation! Your questions, comments, and feedback
about this topic are always welcome in our forums!
The PUBLIC DEFENDER column is Brian Livingston's campaign to give you consumer protection from tech. If it's irritating you, and it has an "on" switch, he'll take the case! Brian is a successful dot-com entrepreneur, author or co-author of 11 Windows Secrets books, and author of the new fintech book Muscular Portfolios. Get his free monthly newsletter.
---
ADVERTISEMENT
---
Here are the other stories in this week's Plus Newsletter
AI

How to use Google Labs to experiment with AI

By Lance Whitney

Want to see how AI can work with Google Search, Docs, Gmail, and other tools? Google Labs will give you a taste.

Google has a lot of AI projects in the works, all designed to bring or expand AI to Search, Gmail, Google Docs, and other services. For now, several of these projects are experiments that you can try out only through the company's Google Labs service. With Google Labs, you're able to check out AI features in Google Search, Gmail, and Google Docs. You can also play with an AI-based notebook and a musical AI that will turn your words into music. Read on to see how to access and use these different projects.

HARDWARE

Working with USB 3 and 4 in Windows

By Ed Tittel

The Universal Serial Bus, most commonly known as USB, has been a basic staple of computing since it first arrived on the scene in 1996.

It's a widely used computing-industry bus standard that's overseen by the USB Implementers Forum (USB-IF), an industry consortium that publishes and maintains standards for USB4, USB 3.2, USB 2.0, USB ports, cables, connectors, and more. I haven't seen a PC that didn't include multiple USB ports since the early 2000s.

SOFTWARE

Can I install that on that?

By Susan Bradley

I'm going to see how well the applications and tools I regularly use work on vastly different platforms.

Can we install a contemporary Linux distribution and still run our favorite Windows applications? What about Windows applications on a Mac? Do you think we can?
---
Know anyone who would benefit from this information? Please share!
Forward the email and encourage them to sign up via the online form — our public newsletter is free!
---
Enjoying the newsletter?

Become a PLUS member and get it all!

Don't miss any of our great content about Windows, Microsoft, Office, 365, PCs, hardware, software, privacy, security, safety, useful and safe freeware, important news, analysis, and Susan Bradley's popular and sought-after patch advice.

PLUS, these exclusive benefits:

Every article, delivered to your inbox
Four bonus issues per year, with original content
MS-DEFCON Alerts, delivered to your inbox
MS-DEFCON Alerts available via TEXT message
Special Plus Alerts, delivered to your inbox
Access to the complete archive of nearly two decades of newsletters
Identification as a Plus member in our popular forums
No ads

We're supported by donations — choose any amount of $6 or more for a one-year membership.
---
The AskWoody Newsletters are published by AskWoody Tech LLC, Fresno, CA USA.
Your subscription:
Microsoft and Windows are registered trademarks of Microsoft Corporation. AskWoody, AskWoody.com, Windows Secrets Newsletter, WindowsSecrets.com, WinFind, Windows Gizmos, Security Baseline, Perimeter Scan, Wacky Web Week, the Windows Secrets Logo Design (W, S or road, and Star), and the slogan Everything Microsoft Forgot to Mention all are trademarks and service marks of AskWoody Tech LLC. All other marks are the trademarks or service marks of their respective owners.
Copyright ©2023 AskWoody Tech LLC. All rights reserved.