AskWoody
News, tips, advice, support for Windows, Office, PCs & more. Tech help. No bull. We're community supported by donations from our Plus Members, and proud of it
ISSUE 17.30.0 • 2020-08-03
The AskWoody PLUS Newsletter
---
In this issue
PATCH WATCH: Hello! Has anyone seen 2004?
LANGALIST: Is powerline networking secure?
APPLE MAC: Troubleshooting kernel panics and testing Mac hardware
BEST UTILITIES: Freeware Spotlight — Bloatbox
---
PATCH WATCH
Hello! Has anyone seen 2004?

By Susan Bradley
Have you received the May feature release of Windows 10 — aka Version 2004?
So here it's the start of August — 68 days after the release of Microsoft's newest Windows — and I have not seen Win10 2004 offered to any of my home PCs. These are my unmanaged machines: a home-built SilverStone small-form-factor desktop, a Lenovo ThinkPad X1 Carbon laptop, an older Surface, and a newer Surface Go. I'd thought Microsoft was removing the upgrade block on Surface devices — but it never took place, as ZDNet's Mary Jo Foley reported. And Woody pointed out yet another block for the Surface X devices.
On every one of my systems, Windows Update taunts me with a message that effectively says "your machine isn't worthy." And it's not just me: I know other Windows users who are in the same holding pattern — and wondering why it's taking Microsoft so long to offer us the 2004 release. (We Windows users might not want this feature upgrade at this time, but we do want the option.)
Recently, I found an excellent article that sheds some light on this puzzle.
I think we'd all feel some small amount of comfort if Microsoft were more transparent about the upgrading process, clearly stating why so many of our machines aren't "ready" for Win10 2004. (Perhaps the new OS isn't "ready" for our PCs.) That said, I'm in no hurry to move to the next level of Windows. I haven't seen any earth-shaking, must-have changes that would compel me to install Version 2004 immediately.
At this point, I'm perfectly comfortable waiting a month or two … or three. I think I'll leave my home systems as they are — and just see how long it takes Microsoft to consider my PCs worthy. Moreover, Win10 1909 is working just fine, and it will be supported for many months to come. (Note: If you're running a no-longer-supported version of Win10, Microsoft now makes it difficult to upgrade to Versions 1903 or 1909.)
Final call: My 2020 patching survey is coming down
I plan to close the Consumer Patching Survey and the Business Patching Survey on August 4, the day after this newsletter is published. Based on the preliminary returns, there are some interesting trends — and comments. For that input, I thank you!
As I noted at the start, this is a rather informal survey. But it does give all of us a platform for voicing our concerns about Windows updating. Perhaps providing your input will make you feel a bit better. Although the survey has no official connection with Microsoft — there was no MS input or support — I do know that the company has reviewed the results of my previous surveys.
So if you haven't filled out the Consumer Patching Survey and/or the Business Patching Survey, please do so — right now!
Big tech conferences go virtual
For the past 22 years, the annual Black Hat conference has been a popular gathering for digital-security specialists and well-behaved hackers. Appropriately, this year's keynote will highlight the security challenges for democratic elections.
Not surprisingly, the 2020 conference will be completely virtual. It might not be as much fun, but it makes it easier for anyone to attend. (Some sessions, such as the Business Hall, are free; most are paid. A briefings pass for the entire show costs US $1,095.) The main information and training sessions run August 1 through 6. I'll be attending from the comfort of my home and office, and I'll give you a report on my virtual experiences.
An aside: Here at AskWoody, we try hard to stay out of politics. But I must urge everyone to ensure that you're registered to vote — whatever state or country you reside in. One way or another, all votes count. In my state, California, I can sign in to a website and confirm when my ballot was mailed to me, when the marked ballot was received, and whether it has been counted. Other states with mail-in voting offer similar sites.
If you choose to vote in person, double-check that your voter registration is up to date. In some states, you can confirm your status online, too. If you want to keep democracy healthy, vote!
The other major tech show to go all-virtual is the Consumer Electronics Show, to be held in January 2021. That will surely be a difficult transition — the entire show is one gigantic sensory and hands-on experience of all things digital. It was where we could really geek out. A virtual CES means no more one-on-one booth demos, no more business-to-business chats … and missing that chance encounter with the next up-and-coming inventor/entrepreneur.
Win10 previews to haunt us again — and other miscellanea
After a short break, Microsoft is once again posting optional preview updates for Windows 10 1809 and later … well, except for Version 2004. As of this writing, no preview has been offered for Microsoft's latest Windows. .NET Framework previews have returned, too.
What does this mean for the average PC user? Not much — the same rules apply: install previews only on test PCs; to keep them off your production/personal systems, do not click "Check for updates." As we have said many times, clicking that option does not simply show available updates — it installs them.
I recommend that you skip the following Win10 preview patches:
Cumulative updates
.NET Framework
Security: Microsoft recently released an advisory for "There's a hole in the boot" vulnerability. This is another one of those threats that won't keep you awake all night — a successful exploit requires physical access to the computer. It's more likely to be used against highly classified machines. Still, Microsoft reports that it's working on a fix.
An Office reminder: Once again, I strongly recommend moving to the slower Enterprise Office-updating channel, rather than the monthly (aka current) channel. Mark Berry's post shows exactly how to make that change. (Another reminder to IT consultants: you'll likely want to pre-set the patching channel. This setting is inside the Office 365 administrator console, and you can select it before installing Office on workstations.) As I've noted before, in my experience, the slower updating channel works well and causes fewer hiccups over time.
Windows 7 fix: The bug in Windows 7 that prevents .NET update installs has now been resolved (more info).
You should now be able to successfully install July .NET Framework security update KB 4566517 or KB 4566466 on machines with valid Win7 ESUs.
Go Chromium: Microsoft is pushing out its Chromium-based edition of Edge. I recommend trying it — in the long run, it'll undoubtedly be more secure than classic Edge. Download KB 4559309 if it's offered or grab a copy online.
July patching summary
The good news is that the July updates fix the printing problem that cropped up in June. The alternative is to grab the hotfix from the Microsoft Update Catalog.

What to do: Any flaws in the July updates are relatively minor or impact a small subset of systems. So I'm giving the green light. Look for patch history in our online Master Patch List documents.
Windows 10
Servicing-stack updates
Cumulative updates
Cumulative .NET Framework for Win10
Windows 8.1/Server 2012 R2
Windows 7/Server 2008 R2 SP1
Before attempting to install the July updates, be sure you have June servicing-stack update KB 4562253 installed (you can get it at its Microsoft Update Catalog download page). Otherwise, July's patches won't show up. You'll also need to have July's servicing-stack update KB 4565354 in place to receive August fixes. (It should show up after you install the primary July updates.)
Server 2012
Windows Server 2008 SP2
Office
The following July security and non-security Office patches are safe to install.
These Security updates fix one or more remote code-execution vulnerabilities:
Office 2016
Office 2013 SP1
Office 2010 SP2
Non-security fixes and enhancements:
Office 2016
Office 2013 SP1
These days, more than ever, stay safe out there.
Questions or comments? Feedback on this article is always welcome in the AskWoody Lounge!
In real life, Susan Bradley is a Microsoft Security MVP and IT wrangler at a California accounting firm, where she manages a fleet of servers, virtual machines, workstations, iPhones, and other digital devices. She also does forensic investigations of computer systems for the firm.
---
LANGALIST
Is powerline networking secure?

By Fred Langa
An AskWoody Plus reader questions whether data is safe when traveling over common AC electrical circuits.
Plus: Yet more tips from your fellow subscribers on hard-drive destruction, salvaging — and maybe even revival!
Is powerline networking easily snooped?
After reading "Sometimes, Wi-Fi just won't fly" (AskWoody Plus 2020-07-20), subscriber Maury Pepper raised good points about potential issues with powerline networking.
"Fred, I'm surprised you didn't mention security, as it relates to using the TP-Link [powerline adapters]. Without pairing, anyone with a similar device could monitor all traffic between your laptop and router. The article you referenced by Becky Waring does mention the importance of pairing when you live in an apartment building. Frankly, there's no telling how far from your neighbors you must be so that the signal is no longer viable — there are just too many variables.

"Separately, your article showed networking speeds of 6,000Kbps receive and 585,000Kbps transmit. I'm wondering whether there's a missing decimal point on the transmit side. If the receive speed is 6Mbps, I could believe a transmit speed of 585Mbps. Given that the speeds on the router side of the wall were around 100Mbps, I question the wildly asymmetric transmit speed of 585Mbps."
First, security: Yes, Ethernet signals traveling over powerline networks can and do travel to other rooms — and even other buildings. But the combination of built-in encryption and other factors will keep your data quite secure. More on that in a minute.
Second, speed: I agree that the asymmetric receive/transmit rates are bizarre, but I can assure you it's exactly what I saw.
I may have discovered the source of the slowdown. After writing that article, I discovered that my living room drywall is backed with some sort of sturdy reinforcement — possibly a metal lath or mesh. This came to light when I was installing drywall anchors to tip-proof a cabinet. Something grabbed the anchor's threads much more firmly than I would expect with plain gypsum board.
The wall's internal reinforcement is uniform — I checked in several locations — and is probably intended to help support the weight of wall-mounted objects. (Anchoring heavy items such as a wall-mounted TV to metal studs might be more challenging than with traditional wooden studs.)
Whatever its purpose, that unbroken layer of reinforcement sitting directly between my router and laptop probably explains the signal loss — but not the speed asymmetry.
Getting back to Maury's main point about security, there can indeed be privacy concerns with powerline networking because an injected Ethernet signal will propagate through all interconnected circuits. The signals do fade with distance and eventually become indistinguishable from random electrical "noise." But in nearby circuits, the signals pass through all normal electrical connections (junctions, fuses, breakers, and the like) essentially unaltered.
In most cases, an Ethernet signal will be stopped only if there's some kind of electrical filtering or current-altering device between the powerline send/receive units. Those problematic devices include transformers, power conditioners, surge suppressors, electrical "noise" filters (such as in some power strips), and so on.
In the absence of filtering, powerline Ethernet signals will easily pass into adjoining spaces, apartments, or even buildings, depending on how things are wired. In that regard, powerline networking is much like Wi-Fi, which also sends its signals out indiscriminately.
But just as Wi-Fi can be made quite safe through the use of encryption, so can powerline networking. As I said in the original article, the powerline adapters I bought "convert standard Ethernet data packets into high-frequency, encrypted signals that ride over standard electrical wiring" (emphasis added).
My units employ built-in and always-on 128-bit AES encryption; the firmware-generated decryption key is automatically set up during the pairing process that Maury spoke of. Other powerline units let you create your own key or passphrase, much like setting up a WPA2 encrypted connection on a Wi-Fi router.
AES encryption is good protection in and of itself, but it's just one of several hurdles that a prospective powerline snoop would have to overcome to obtain intelligible data. For example, they'd have to somehow know that a networking signal was present in the AC wiring. They'd need physical, plug-in access to an unfiltered circuit. They'd also need the appropriate hardware to tease out the Ethernet signal from the underlying carrier frequency (and from random electrical noise). And then they would have to crack the always-on AES encryption plus whatever other network encryption is in use (HTTPS, VPN, TOR, etc.).
That's an extremely unlikely chain of events, and it explains why I think encrypted powerline networking can be very, very secure!
An old-school way to revive a dead drive
Subscriber Larry Greene shared this tip:
"RE: Fred's dead drive.

"I know he already gave up on it, but I wanted to share an old-school method I've used with some success on dead drives. I'm not sure why it works, but it does.

"Freeze the drive overnight, then use an external USB to SATA adapter to hook it up. It works more times than you might think. I apply it all the time in my job as a desktop/laptop tech at a major enterprise.

"We've transitioned to SSDs, but I was able to use this technique on an old drive I had around from 1999."
You're right, Larry! "Put it in the fridge" was and still is a totally legitimate, nothing-left-to-lose, last-ditch recovery option for malfunctioning spinning-platter hard drives.
The usual explanation for why it might work lies with the differential contraction/expansion of the drive's components. Those dimensional changes could free up stuck mechanical parts.
It was never a "try this first" trick — the risk of further damage to the drive is high due to condensation issues, liquid lubricants thickening or solidifying with the cold, and so forth.
I haven't heard of anyone actually using the deep-chilling technique in years and years; I suspect that modern HDDs rarely fail that way anymore.
But it's still good to remember as a nothing-left-to-lose option. Thanks, Larry!
Removing and/or salvaging HDD parts
Several subscribers wrote in about the ways they disassemble their old hard drives, either to ensure direct destruction of the platters or to scavenge potentially useful parts! Here's a sampling.
"Hi, Fred. I just wanted to pass along my method. I disassemble the drive and then apply my orbital sander to both sides of the platter. I also use a sledgehammer to destroy any electronic components. The first time I did this was a little rough, but by drive number 10, I could do the whole process in about five minutes or less. As always, I enjoy your articles." — Charlie Jursch
"Hi Fred! About the HDDs: I take them apart and salvage the small but powerful magnets. They often come in handy, and the platters make nice coasters. LOL" — Joe Thiel
"Fred, about old disk drives. I take out the super-duper powerful magnets for various cool uses. And because the platters are so attractive, I remove them and scrub the data with my old Radio Shack magnetic bulk-tape eraser. Best wishes!" — Bob Antaki
Good stuff, guys! Thanks to all who wrote in!
Send your questions and topic suggestions to Fred at fred@askwoody.com. Feedback on this article is always welcome in the AskWoody Lounge!
Fred Langa has been writing about tech — and, specifically, about personal computing — for as long as there have been PCs. And he is one of the founding members of the original Windows Secrets newsletter. Check out Langa.com for all of Fred's current projects.
---
Apple MAC
Troubleshooting kernel panics and testing Mac hardware

By Nathan Parker
Most of the time, the macOS operating system "just works." On healthy machines, users rarely experience major system issues.
But occasionally, macOS will experience a kernel panic — the Apple equivalent of the Windows blue screen of death.
In older versions of Apple's OS, a kernel panic would show up as a gray overlay on the user interface with a frozen screen. Clearing it required a hard reboot via the power button. But newer systems with macOS will typically reboot and then display a solid-gray screen with warning text. On some of the latest Macs equipped with the T2 security chip, the system restarts with a black screen (see Figure 1). The error messages associated with a kernel panic don't include any troubleshooting information or codes — just a warning in several languages that the machine needs to reboot or has rebooted.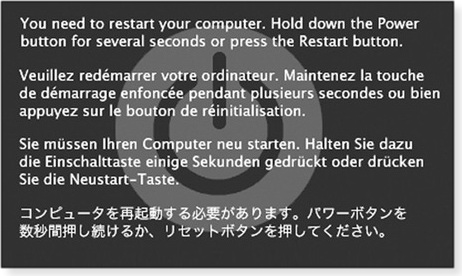 Figure 1. A typical macOS kernel panic error message. It doesn't tell you much.
Again, kernel panics are now rare; they were more common on older Macs — especially with Mac OS X Tiger and somewhat less so with Leopard. So I was surprised recently when a kernel panic hit my iMac Pro. It was the first such event I'd experienced in years.
I suspected the fault resulted from an application update. I use CrossOver (more info) to run some Windows programs on my Mac, and one of them was recently ported from 32-bit to 64-bit. Launching the updated app caused my iMac Pro's user interface to go astray and the system's fans to kick into high gear. The machine then shut down and restarted with a kernel-panic message. I restarted the system manually, and everything seemed to be back to normal. (That should sound familiar to Windows users.)
As with most operating systems, macOS creates diagnostic logs after unusual events. I sent the files to the app's developers, and, via a popup dialog box, I okayed sending telemetry information to Apple.
Here's to access log files on a Mac: Open Finder and click the Applications/Utilities folders. Launch the Console app and, in the left sidebar, select Log Reports. Next, in the File Name column, look for something similar to "kernel" and/or "panic" (or try using the Console search bar to locate it).
In my case, the file name started with a "panic" prefix (see Figure 2). Right-click the file and select Reveal in Finder — from there you can copy the file and email it to a support tech.

Figure 2. Locating the kernel-panic log file via the macOS Console tool
For more information on kernel panics, see the Macworld article "How to troubleshoot a kernel panic" and the Apple Support post "How to use Apple Diagnostics on your Mac."
Testing a Mac's hardware
In most cases, a kernel panic is caused by some flaw or incompatibility in an application or the operating system. But the source of frequent kernel panics could be in the hardware. It's a good idea to run a hardware test to rule out that possibility. (It never hurts to run hardware diagnostics occasionally to ensure that system components are working flawlessly.)
Basic hardware tests are included with every Mac. Older systems with DVD drives used the Apple Hardware Test software, generally included on a DVD. Most modern Macs have the Apple Diagnostics tools built in — you simply press-and-hold the D key at startup, select a language, and allow the process to run on its own. (Note: If you enabled the Mac's firmware password, it must be disabled before attempting to run Apple Diagnostics.)
When the diagnostic tests are complete, the system will display any found errors. (In my case, there were no hardware problems.) If you contact Apple Support, the given error codes will be useful for further troubleshooting.
If you believe your system needs a more detailed examination, there are some third-party tools. I used Micromat's TechTool Pro (USD $130; Figure 3) for years. Its extensive suite of tests checks memory, SMART drive status, fans, batteries (including those in iOS-devices), and much more. You can even create a bootable partition containing TechTool Pro (via the eDrive tool) or create a bootable flash drive using the Protogo option.

Figure 3. TechTool Pro is pricey, but it has an extensive set of Mac diagnostic tools and an easy-to-use interface.
Micromat offers additional hardware-testing apps and tools, including:
For drive maintenance and diagnostics, the Mac's Disk Utility is a handy tool for creating and erasing partitions. And the app's First Aid option is great for correcting potential drive issues.
For heavy-duty data-recovery tasks, Alsoft DiskWarrior (around $110) reportedly monitors drive health, repairs drives, and recovers data. I've never used it, but it gets solid reviews. Note, however, that it doesn't fully support the newer Apple File System (APFS) format. But it can help with systems as old as PowerPC Macs running Leopard.
Do you have a favorite third-party Mac diagnostic tool or suite? Let us know about it on the AskWoody forum, using the link below.
Questions or comments? Feedback on this article is always welcome in the AskWoody Lounge!
Nathan Parker has been using Apple devices since 2006, when he purchased a PowerBook G4 running Mac OS X Tiger. He has worked in various IT consulting roles and is currently an IT Consultant for Earth Networks (formerly WeatherBug). In addition to his contributions on AskWoody, Nathan also blogs weather updates at WeatherTogether. And he's working on his PhD.
---
Best Utilities
Freeware Spotlight — Bloatbox

By Deanna McElveen
Managing privacy and removing bloatware in Windows are two of those important but annoying tasks for keeping a safe and clean system.
Remember my review of Spydish? (See AskWoody Plus Newsletter 2020-06-15.) It's one of my go-to utilities for running a quick check on privacy settings. It also lets you thin out some of the less useful apps included with Windows. Do you know anyone still using Zune?
Recently, we heard that Belim from Mirinsoft was going to add a bloatware extension to Spydish. But apparently, there was a change in plan. Instead, Belim created a standalone gem called Bloatbox.
Feel free to grab a copy of the new app from our OlderGeeks.com site. Now let's dig in!
Remember those times when you're working through Windows' Apps & features screen (Settings/Apps) to remove programs you're sure you'll never open? Take "People," for example — no one I know uses it. But if I try to uninstall the app, that option is inactive (see Figure 1) — Microsoft has decided that "People" is so important, it should always be part of Windows.


Figure 1. The Uninstall button for People is grayed out. You can't remove it.
Fortunately, Bloatbox doesn't play by Microsoft's rules. Not only does it help you remove any native bloatware having an inactive uninstall button, it also removes Windows apps that are not even listed — such as Zune Music and Zune Video. What are the chances of that Zune player (Figure 2) making a comeback? 😉

Figure 2. Is there anyone still using a Zune music player?
If you have the Bloatbox ZIP file downloaded, take a moment to unpack it and run Bloatbox.exe. Yep, it's portable!
Bloatbox has just one screen (Figure 3), and it couldn't be any simpler to use.

Figure 3. Bloatbox is a one-screen app.
On the left side, Bloatbox lists all Microsoft apps currently installed on your system. To select apps you want to vanish, simply hold down the Ctrl key and click them (see Figure 4). Next, click Add selected — the unwanted bloatware will then show up on the Remove apps pane on the right (Figure 5).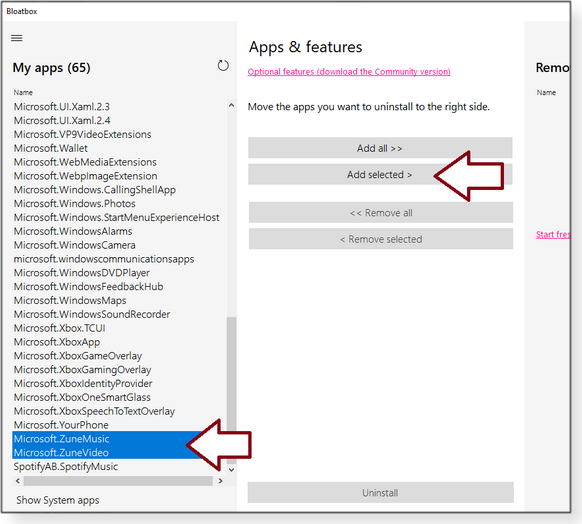 Figure 4. Selecting apps for removal is quick and easy in Bloatbox.

Figure 5. In this example, I have added MS People, MS ZuneMusic, and MS ZuneVideo to the "kill" list.
If you change your mind on one or more of the items in Remove apps, just select them in the list and click Remove selected (Figure 6).

Figure 6. You can undo any items in the Remove apps list with the Remove selected button.
A WORD OF WARNING: Bloatbox doesn't give you any way to reinstall deleted apps. In some cases, you might have to restore Windows 10 to bring them back. You can also use a PowerShell command, as noted in this Microsoft Community post. So be really sure about the apps you want to remove before taking the next step. And, as always, have recent backups of your system.
Okay, so you're really positive you want the selected apps removed from your PC. Click the Uninstall button at the bottom of the screen (Figure 7) … and in just a few seconds the apps are gone!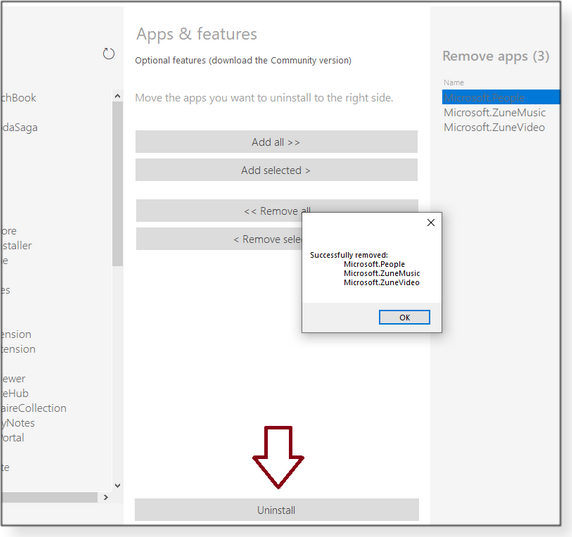 Figure 7. Once you click Uninstall, the chosen apps are effectively gone for good.
Yes, it really is that easy. Bloatbox does give you the option to remove all apps at once, but I wouldn't go there. Start with a few "for sure" apps and ignore any you just might want to use someday.
Note: The Bloatbox community has created a Community package add-on (Figure 8; more info) that uses PowerShell scripting. Be extremely careful with this option. If something goes badly astray with your system, it's all on you.

Figure 8. Bloatbox Community package removes more Windows apps and features. But it's risky.
One last feature: When you boot Bloatbox, you'll see a "Start fresh if your Windows 10 is loaded with bloatware" link in the right pane (see Figure 9). This feature is great if you purchased a retail PC and discovered that the manufacturer dumped in piles of crapware. Keep in mind, however, that some of that custom vendor software might be useful — system maintenance utilities, for example.

Figure 9. The Start fresh if your Windows 10 is loaded with bloatware link will clean out vendor-installed apps.
We hope you get some use out of this great utility.
Happy Computing!
Questions or comments? Feedback on this article is always welcome in the AskWoody Lounge!
Deanna and Randy McElveen are celebrating over 20 years in the computer business, ten years running OlderGeeks.com, and more than 26 years of putting up with each other. Their computer store is in a small town in the Missouri Ozarks. Believing that happy customers are always the best advertisement, they hope to do it for another 20 years.
---
Publisher: AskWoody LLC (woody@askwoody.com); editor: Tracey Capen (editor@askwoody.com).
Trademarks: Microsoft and Windows are registered trademarks of Microsoft Corporation. AskWoody, Windows Secrets Newsletter, WindowsSecrets.com, WinFind, Windows Gizmos, Security Baseline, Perimeter Scan, Wacky Web Week, the Windows Secrets Logo Design (W, S or road, and Star), and the slogan Everything Microsoft Forgot to Mention all are trademarks and service marks of AskWoody LLC. All other marks are the trademarks or service marks of their respective owners.
Your subscription:
---
Copyright © 2020 AskWoody LLC, All rights reserved.