AskWoody
News, tips, advice, support for Windows, Office, PCs & more. Tech help. No bull. We're community supported by donations from our Plus Members, and proud of it



MS-DEFCON

3

:

Patch reliability is unclear, but widespread attacks make patching prudent. Go ahead and patch, but watch out for potential problems.



Readers share their Security Baseline nominees
Windows Secrets Newsletter • 190 • 2009-03-26
---
---
INTRODUCTION
Just seven more days to get free brain lessons

By Brian Livingston
Every month, Windows Secrets licenses some valuable content and gives it away to our subscribers.
This month, our bonus is an excerpt from a new paperback book on getting the most from your brain — but you have only another seven days before we have to stop letting people download it.
Brain Rules by John Medina (photo, below) has been released by Pear Press with the latest information on how to exploit our mental abilities to the max.


The author describes a young man who can't tie his own shoelaces but can multiply the number 8,388,628 x 2 in his head 24 times within a matter of seconds. Can we all learn to unlock the powers of our minds in this way? This book tells you how.

All Windows Secrets subscribers can get an exclusive 45-page PDF excerpt, including two full chapters and a summary of the others. We announced this on Feb. 26, and the download is only available through Apr. 1.

Use the link below to update your preferences page, after which you'll see a download link to get your free bonus.

All subscribers: Set your preferences and download your bonus
Info on the printed book: United States / Canada / Elsewhere
Brian Livingston is editorial director of WindowsSecrets.com and co-author of Windows Vista Secrets and 10 other books.
---
TOP STORY
Readers share their Security Baseline nominees
By Ryan Russell
Windows Secrets readers have been giving me their feedback loud and clear: they hate Norton all-in-one products and love standalone antivirus, antispyware, and firewall apps.
Still, I have to say that security suites do remain a valid option for people looking for no-muss, no-fuss protection for their PCs.
We got lots of con and little pro on Symantec's Norton Internet Security 2009. I reported in a Feb. 26 Top Story that reviewers from PCMag.com, PC World, and Maximum PC had made NIS 2009 their No. 1 choice as the best security suite. Not all of you agree.
WS readers are clearly more tech-savvy than the average PC user. In fact, chances are good that you manage several PCs — or several hundred. Many of these machines are used by people who don't know Safe Mode from apple pie à la mode.
As editorial director Brian Livingston explained in his Mar. 5 column, the WS Security Baseline summarizes the latest ratings on just the minimum PC security measures: a hardware firewall, a security suite, and a software updater. This is for people who have no security perimeter and need to know at least the first things to do. Most PC users will augment the baseline, depending on how and where they use their system.
The veteran system tweakers who comprise a large percentage of our readership clearly say they're not well served by any all-in-one security suite. Most of you have tried different suites or antivirus programs over the years and have a strong opinion about which security mix you prefer. A security suite is a no-brainer, no-hassle option intended for folks who don't want the bother of investigating all the standalone possibilities.
The biggest problems readers reported with the product are difficult installation, poor malware detection, and Symantec support personnel trying to charge U.S. $99 to troubleshoot installation woes or help remove a piece of malware. Readers who got the suite installed without incident do report, however, that the reviewers' claims of performance gains in the new version are accurate.
For the conspiracy-minded, I can assure you that I have absolutely no financial incentive to push Symantec products. My employer, BigFix Inc., could be considered a competitor of Symantec. Windows Secrets has never asked me to recommend a product or to slam one. Finally, I have no idea who will be advertising in any given edition of the newsletter.
I was surprised that so many readers assumed that the ratings in the magazines we referred to were bought and paid for. Without direct evidence to the contrary, I trust the integrity of their editors and don't believe they're controlled by advertisers.

Your nominees in the best-antivirus category

Since I received so much reader feedback, I'm not going to let it go to waste. I hereby declare the following to be your completely nonscientific, highly biased, totally reader-selected nominees for best-of-breed security software.
Number one on the list of components readers care about is antivirus software. I received recommendations for 13 different AV products. The most popular was ESET's NOD32, the second-most popular was Comodo AntiVirus, and tied for third were PC Tools AntiVirus Free Edition and AVG Anti-Virus Free Edition. All four programs have free versions except NOD32, which has a 30-day free trial.
For more information on the nominated products, visit:
• ESET NOD32
• Comodo AntiVirus
• PC Tools AntiVirus Free Edition
• AVG Anti-Virus Free Edition
• Virus Bulletin
• AV Comparatives

Favorite software firewalls come down to two

A handful of readers took the time to comment on their choices for best software firewall. The most popular — Comodo Internet Security — is free and includes the company's antivirus engine as well. The free ZoneAlarm Firewall was also lauded by one reader, but two others told us of their problems with the program.
Windows Vista and XP SP2 and later come with a basic firewall that's better than no firewall at all, but not much. (I don't consider earlier versions of the Windows Firewall workable because of these versions' terrible interfaces.)
• Comodo Internet Security
• ZoneAlarm Free

Familiar names cited as best spyware fighters

I received more nominations for anti-spyware tools than I did firewall recommendations. This may reflect the growing number of spyware threats assaulting our systems.
Spybot Search & Destroy is a free tool supporting every version of Windows back to Windows 95. A couple of readers complained about the newest tools not running on old operating systems, which is why I point this out.
Windows Defender is a free tool from Microsoft that requires Windows Genuine Advantage to download and use.
The only reader-recommended anti-spyware tool lacking a free version is Webroot Spy Sweeper, which costs $30 per year (discounts available for two or three years).
Finally, PC Tools Spyware Doctor has free and fee-based editions that work on versions of Windows from 98 up.
• Spybot Search & Destroy
• Microsoft Windows Defender
• Webroot Spy Sweeper
• PC Tools Spyware Doctor

Choosing the security programs we review

Trying to name the single best security program is futile. There's simply too much variation in user preferences and PC configurations to find a single application that fits the bill for everyone. But that doesn't mean we can't review the results from respected test labs and report back to you on what we find.
Reader Derek Swift comments that, if I'd like to see some real AV testing, I should look at the results from Virus Bulletin and AV Comparatives, which emphasize the detection rates of the antivirus apps they test.
Do you want to know which standalone security apps work well together? Send us your recommendations in these categories and any other manner of PC security program you're curious about. This information will be useful as we revise the procedures that go into our analysis of the minimum security products that all PCs should be running.
Give me some feedback, and I promise: you won't be able to shut me up. Get in touch with me via the Windows Secrets contact form.
Ryan Russell is a Windows Secrets contributing editor and the quality assurance manager at BigFix Inc., a configuration management company. He moderated the vuln-dev mailing list for three years under the alias "Blue Boar." He was the lead author of Hack-Proofing Your Network, 2nd Ed., and the technical editor of the Stealing the Network book series.
---
WACKY WEB WEEK
Putting the 'art' back into your arteries!
By Katy Abby

You've heard it before: fast food is bad for you. Doctors have been pounding this point into us for years. But sometimes, a tantalizing waft of greasy goodness is too tempting to resist!

If you just can't kick the habit of pulling your car up to the drive-through window, here's a more creative way to consume those burgers, without piling on the pounds. Now, if only we could figure out an arty use for ice cream …. Play the video
---
LANGALIST PLUS
Clean up the mess left by incomplete uninstalls
By Fred Langa

Bad uninstallation routines leave more than code behind; orphaned files can cause big trouble for your system.

Cryptic error messages and balky startups can be signs of application ghosts in your machine.

Some programs just don't know when to leave

Jim Denneny's PC is hampered by a lingering install/uninstall problem. Although his issue sounds specific, this type of problem can — and does — crop up on many, many systems. Maybe yours!
"I get an error message whenever I launch a program called Telechart: 'Please wait while Windows configures MyTrack — Internal Error 2718.' This has no relevance to the Telechart program and, I suspect, is tied to a Windows Installer error. I used to have MyTrack on this PC but have removed all vestiges of it — even using Regedit.

"There is a Registry value embedded in the error message. I can find that key/value in the Registry under:

Windows Current_Version AppManagement ARP Cache

"I'm reluctant to delete the key from the Registry for fear that I might cause a problem."
If it's Windows itself generating the error message, then error 2718 means "Missing package name for product name …." This usually means the software setup "package" has been uninstalled or deleted, but there are traces left behind — usually in the Registry — that are causing confusion.
The simplest fix may not work, but it's so easy, it's worth a shot: run the free Windows Installer CleanUp Utility. A full description and download link are in Microsoft Knowledge Base article 290301.
If the cleanup utility doesn't clear out the stragglers, you'll need to do a little more digging in the Registry. (Don't you hate it when programs don't properly clean up after themselves?)
You tried deleting MyTrack entries from your Registry, but some software publishers let their products create entries under different names. Here's an example that affects many users: Symantec's software has a reputation for littering the Registry with whole libraries of useless junk, even after a "successful" uninstall. Some entries will be listed under the name of the individual software package that was uninstalled, but others will be under such general headings as "Norton" and "Symantec."
To completely remove Symantec software, you have to wade through your Registry and delete every possible variant of the software and publisher to ensure that the deleted program is truly all gone. What a pain!
In your case, Jim, MyTrack is published by Track Data Securities; so in addition to searching the Registry for any entries with "MyTrack" in their name, you may also need to look for other references to the software: "MT," "Track Data," "TDS," "TD Securities," etc. Use your imagination and search for every possible variation you can think of.
You also say you're worried about simply whacking stuff from your Registry. I don't blame you! Microsoft offers pretty good guided help on Registry management in KB article 322756, titled "How to back up and restore the Registry in Windows."
Many popular Registry-cleaning tools can help find and delete obsolete or useless Registry entries and assist in manual cleanups, too. The better ones also back up and reliably restore the keys you alter or delete. (See Figure 1.)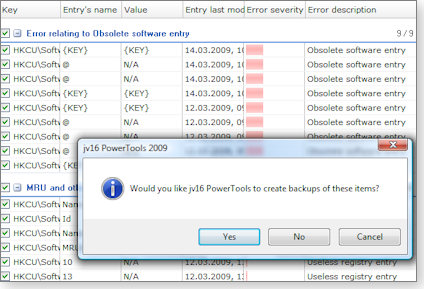 Figure 1. The better Registry cleaners, such as jv16 PowerTools, work safely by making backups of any entries you tell them to remove.
If this type of tool interests you, Scott Spanbauer's Sept. 11, 2008, Best Software column titled "Three top Windows cleaners boost performance" can point you in a good direction. My personal favorite Registry cleaner is Macecraft's jv16 PowerTools (more info).

BIOS-based tracking software protects laptops

Pete Foley ran across an unusual type of theft-prevention software:
"I just read a review of Computrace LoJack for Laptop software. [The company] claims that the software will survive a complete reformat of the hard drive. How does it do this? And couldn't the malware people do the same thing?"
This type of software falls under the general heading of "asset tracking." Tracking programs are used primarily in the corporate world. In this specific case, the software publisher has worked with various BIOS makers to include special code right in the BIOS firmware that's built into some PCs and laptops intended for organizations and road warriors. You'll find a list of the BIOS makers that include this code at the Absolute Software site.
The code remains inactive until you buy and install special tracking-activation software. Once the software activates the BIOS code, the code monitors the hard drive. If the tracking software on the hard drive is removed or the drive is reformatted, the BIOS code restores it, allowing the stolen hardware to "phone home" via the Internet to report its location to the tracking service. Because it's BIOS-based, the software is difficult for malware to co-opt or defeat.
Theft-prevention software can be a good idea if you travel a lot or use a computer in high-risk environments. There are several varieties of PC-tracking programs, some of which don't use the BIOS. For links to several of these services, visit the tracking directory at Business.com. (You'll want to scroll past the sponsored links to find the directory entries.)

PC boot routine can't find second hard drive

John Strong's XP system can't remember its own drives:
"I've searched endlessly for an answer to why my Gateway PC running XP SP2 intermittently forgets a second hard drive on boot. All it takes to get the OS to recognize the drive is to run the Add Hardware applet in Control Panel. The OS also forgets the sharing settings for the drive — not every time, though — so I have to reactivate sharing. What gives? Any ideas?"
The most common reason for this is an older drive that's slow to spin up. If your primary drive reaches operating speed quickly, the BIOS may hand off to the OS and let the system boot before the second drive is fully awake. Newer drives usually can respond with an electrical "I'm here!" before the drive is fully spun up and ready, but I've seen this problem with older drives and even with some newer external USB drives.
You might want to poke around in your PC's BIOS to see whether there's a setting for "enable hard drive pre-delay" or something similar. Many BIOSes have this setting, which basically tells the BIOS to stop and wait for half a minute or so to let all the drives wake up, settle down, and be ready for duty. (If you need it, Microsoft MVP Michael Stevens has written an excellent how-to compendium called Access/Enter Motherboard BIOS.)
If that article doesn't provide a solution, see whether your "missing" drive requires custom or updated drivers. If it's a USB drive, make sure your USB hardware and drivers are current and OK. And if none of these steps helps, take advantage of today's historically low hard-drive prices to replace the troublesome drive with a newer, speedier model.

Finding a fix for skipping audio and video

Rachel Newstead's PC won't play multimedia smoothly:
"I have a WinXP system with 512MB of RAM, a 1.2GHz processor, and a 40GB hard drive. [That's] more than enough — one would assume — to run any video or audio software without any trouble.

"But lately, audio and video files skip like an old broken record, often to the point [where] the file [is] unlistenable. The problem affects Windows Media Player, QuickTime, VLC, Netflix streaming movies, everything."
I've noticed that network access seems to be a common cause for multimedia skips, dropped frames, and other media spasms. If I'm settling in to watch a movie — and especially streaming video — I'll temporarily exit all programs that regularly access the Net: my mail client, a WeatherBug-type applet, my RSS feed-reader, unneeded browser tabs, etc.
Other intensive processes can also cause network trouble. For example, disk-cleanup and other scheduled utilities are bad news if they're set to run while you're trying to enjoy multimedia. Turning them off or rescheduling them can solve the problem.
If these steps don't clear up your playback issues, press Ctrl+Shift+Esc to open Task Manager, and choose the Processes tab. Click the CPU heading to sort the column so that the most CPU-intensive processes are at the top of the window. (The task list will jump around, but that's OK.) Start your audio or video playback and watch the list to see what jumps to the top when you notice the audio or video stutter. That top-listed process is your likely culprit.
In Vista, you can determine which program launched the troublesome process by right-clicking the process's entry in the list. Select Properties and look at the Location line. With many third-party programs, the folder name will make the responsible software plain as day.
In XP, or in any instance where a process's origin is unclear, browse to the Process Library on the "What Process?" site. The information on that site will help you identify exactly which program is launching the process that's causing the problem.
Usually, all it takes to clear things up is to temporarily disable the software that's causing the playback problem. If the application can't be disabled, maybe you'd do well to uninstall it and search for a better-behaved replacement.
Fred Langa is editor-at-large of the Windows Secrets Newsletter. He was formerly editor of Byte Magazine (1987–91), editorial director of CMP Media (1991–97), and editor of the LangaList e-mail newsletter from its origin in 1997 until its merger with Windows Secrets in November 2006.
---
BEST SOFTWARE
Free info manager shows promise but needs work
By Ian "Gizmo" Richards

I'd been waiting years for the final version of the Chandler personal information manager to be released.

When version 1.0 became available, I went to the site and downloaded the software, full of hope and expectation that here at last was the program that would help me get organized — only to be disappointed by its 1.0-itis.

A PIM with a different take on time management

Chandler is a free, open-source personal information manager (PIM) designed to help you organize your time. The program resulted from a project started in 2001 when Mitch Kapor, designer of the Lotus 1-2-3 spreadsheet, decided to create an open-source PIM that would make use of the latest software-design principles.
In other words, Kapor set out to create a PIM that was as much a leap forward in usability over Outlook and other PIMs as Lotus 1-2-3 was over the first electronic spreadsheet, VisiCalc.
In the ensuing seven years, the project has had several changes of direction and leadership. The changes were clearly evident when I started playing with version 1.0. (Note that the current release is version 1.02.)
The early Chandler releases were e-mail-centric. That is, they built on the idea that for most users, it's e-mail that drives their work, so a 21st-century PIM needs to work from e-mail outward rather than the other way around.
That model has always appealed to me; it's certainly the way I work. However, with the release of Chandler 1.0, that model seems to have been largely abandoned. Instead of e-mail sitting at the center of Chandler, it's the program's to-do list that's the star.
In fact, I could describe Chandler 1.0 — rather unkindly, though not inaccurately — as a task manager/calendaring application that offers Web-based collaboration and partial e-mail integration.
I say "partial" because Chandler lacks an e-mail client. Instead, the program connects with your IMAP mail client. Therefore, Chandler is no replacement for Outlook.
You won't find any design breakthroughs in Chandler. Many existing products — and such Web services as Remember the Milk, BackPack, and Trog Bar — offer similar functions.

CHANDLER PERSONAL INFORMATION MANAGER
Part desktop client, part Web service

Chandler combines a desktop application with a free, Web-based "hub account" that is synchronized with the desktop client.
The desktop app is written in the Python language and is available for Windows, Mac OS X, and Linux. It's a bulky 30MB download because Python is included in the download.
When you first open the desktop client, you see a window similar to the one shown in Figure 1. Chandler then invites you to import your data. You can add data to the program from any app that supports the iCalendar (.ics) format. This includes Google Calendar, Palm Desktop, Apple iCal, Microsoft Outlook, and many other PIM and calendaring applications.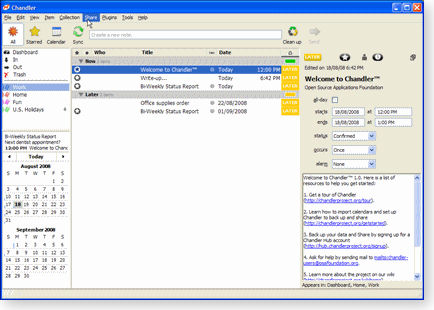 Figure 1. Chandler provides easy access to the information you need.
Once your data is imported, you're guided through the process of creating your free, Web-based hub account on the Chandler site. Then you can publish (upload) the data from your desktop client to the hub account. After the first upload, the hub account automatically syncs with the desktop client — as long as there's an Internet connection available.
The hub account is the vehicle allowing you to share data and collaborate with others. It also lets you sync your data across several computers, including machines running different operating systems.
You can also use the hub account to create notes (tasks), so you can work online or offline. The synchronization between the desktop client and the Web service was seamless and effortless in my testing — as good as any other such service I've tried.

Taking note of your tasks and appointments

In actual use, the key entity within Chandler is the "note," which may represent an event or task. Notes are organized into "Collections," to which you assign a "triage status" of Now, Later, or Done. The triage status determines the alarms and notifications you'll receive.
Notes and events are easy to e-mail to one person or lists of recipients. That works well enough, but I found Chandler's system for handling inbound e-mails frustrating, because you must have an IMAP e-mail account. Since all my accounts use POP3, I had to create an IMAP account in order to test the program.
Chandler creates three e-mail folders: Chandler messages, Chandler starred, and Chandler events. If you want to receive e-mail in Chandler, you must move the messages into these special folders to get them to show up in the Chandler desktop client.

E-mail's too simple, interface too cluttered

Overall, Chandler's e-mail schema is simple — perhaps too simple. For example, I constantly found the program's three triage categories to be insufficient. Similarly, I felt that I needed to be able to create my own Chandler e-mail folders with specific functions rather than rely on the three categories provided.
And while the schema is too simple, I found the interface cluttered and unnecessarily complex. Yes, it all works; but it is far from intuitive.
These grievances aside, I must say that Chandler did genuinely help me organize my work, though the program did no better than my favorite to-do list manager, the commercial program Trog Bar. However, Trog Bar is designed for use in a single PC and has none of the rich Web and collaborative features available in Chandler.
Frankly, I have no use for these Web features, but if you do, then you may wish to put Chandler on your evaluation shortlist. Do, however, expect some rough edges; Chandler is still version 1.0 and, unfortunately, it shows.
See also Scott Spanbauer's review of Chandler in the Aug. 14, 2008, Best Software column.
Ian "Gizmo" Richards is senior editor of the Windows Secrets Newsletter. He was formerly editor of the Support Alert Newsletter, which merged with Windows Secrets in July 2008.
---
PATCH WATCH
Old versions of Adobe PDF apps finally patched
By Susan Bradley

Overdue updates for Versions 7 and 8 of Adobe Reader and Acrobat arrive, fixing a hole that allowed attacks via JavaScript.

If you disabled JavaScript prior to the arrival of the patches, you can re-enable the feature after applying this update.

It's safe to allow JavaScript in PDFs again

In the Mar. 12 Patch Watch column, I indicated that Adobe had fixed a hole in version 9 of its Reader and Acrobat PDF software, but updates for versions 7 and 8 of those apps wouldn't be available until Mar. 18. The patched editions for major versions 7, 8, and 9 are 7.1.1, 8.1.4, and 9.1, respectively. The programs don't update automatically until you launch them. If you're using an earlier release than those version numbers, visit Adobe's download page to update to the latest release.
My Mar. 12 column recommended that you disable JavaScript in Reader and Acrobat until the updates were available. In fact, you may not actually need JavaScript to view, create, or edit PDFs in the programs. In this case, leaving JavaScript disabled can protect against future JavaScript-related glitches.
If you need to re-enable JavaScript in the programs, open the apps and click Edit, Preferences. Select JavaScript under Categories on the left side, and then click Enable JavaScript near the top of the window. (See Figure 1.)

Figure 1. Select the topmost option in Acrobat's JavaScript settings to re-enable JavaScripts in PDFs.
As with any product that malware authors frequently target, you may want to consider such Adobe alternatives as CutePDF (more info) and Foxit Reader (more info).

IE 8, others fall prey to security contest

Microsoft released version 8 of Internet Explorer on Mar. 19, but serious security flaws were discovered in the program within minutes of its debut.
Microsoft touts IE 8's improved speed, as shown in the company's own browser speed tests. And an independent review by NSS Labs indicates that IE 8 protects against current malware threats better than IE 7 or any other modern browser.
However, a contest at the recent CanSec security conference on Mar. 18 showed that Apple's Safari, Mozilla's Firefox, and IE 8 were all deemed vulnerable, as reported by Tipping Point's DV Labs. All three browsers allowed unauthorized access to the test computers within mere minutes.
The results were purchased by Tipping Point, which intends to keep them under wraps until patches are released. The vulnerability has been confirmed in IE 8, as described in a blog post by Digital Vaccine Labs.
Before you consider installing IE 8, make sure your Web applications support the new release. Microsoft's release notes indicate, for example, that Intuit's Turbo Tax Online tax service doesn't run under IE 8.
If you installed the new version but are now having second thoughts, you'll find instructions for removing IE 8 in Microsoft Knowledge Base article 957700. This document includes a "Fix it for me" button that automates the uninstall process.
IE 8's new features are described in the Windows Experience Blog.

Malware in iTunes podcasts may swipe passwords

Apple notified customers in a Mar. 11 alert that a malicious podcast may steal your Apple iTunes credentials and expose your user ID and password. Normally, iTunes will notify you that updates are available, but if you don't see the notification, you can download the update manually from Apple's iTunes download page.
On Windows systems, an additional vulnerability impacts the Digital Audio Access Protocol, Apple's proprietary protocol for sharing media across a network. The hole could allow a Denial of Service attack.

Windows Live Messenger 'update' limits uploads

Normally, updates enhance a program or add new features. The recent refresh of Windows Live Messenger actually removes a unique and effective capability. The old, reliable method for transferring folders in the background via Distributed File System Replication (DFSR) has been replaced by Windows Live SkyDrive.
Shared folders in the older Messenger could transfer very large files silently in the background. Unfortunately, the replacement technology has a 50MB upload limit.
For now, I recommend that you say no to this upgrade. However, as my friends upgrade to the new version, I lose the ability to share folders with them. It's a shame that Microsoft has decided to remove a tried-and-true technology and replace it with one of their cloud-based offerings that is not as robust, in my opinion.

Thunderbird e-mail gets three critical updates

I'm a fan of the Mozilla Foundation's Thunderbird e-mail client and use it for my personal, nonbusiness mail. I was offered an update to 2.0.0.21 to fix several critical security issues discussed in a Mozilla security advisory. The fixes include several that were patched in Firefox version 3.0.7 in early March.
Mozilla is currently testing the Thunderbird 3 beta, but as of now version 2 is the most-recent supported release.

Exchange Server 2007 patch due next week

Microsoft Exchange Server 2007, the company's premier e-mail platform, gets update rollups approximately every two months. In February, Exchange Server 2007 Service Pack 1, which included Update Rollup 6, was released. The update placed the product on a Patch Tuesday install schedule.
This month's security update for Exchange Server 2007 is due within the next few days. February's Exchange Server 2007 patch actually disabled some Exchange services, requiring administrators to manually restart the services and reset them to start automatically. Thankfully, this side effect is fixed in the new Update Rollup 7, described in KB article 960384. Your Exchange services shouldn't be disabled when you install this patch.
If Macintosh clients connect to your Exchange Server 2007, install this rollup as soon as possible, because several of the problems fixed in this release involve the use of Entourage. Otherwise, the Macintosh version of the client-access application may make duplicate entries in the server's Calendars.
Cleaning up duplicate calendar entries is not fun.

Windows Genuine Advantage gets another update

You paid for your legitimate Microsoft software, yet every now and then you're prompted to run Windows Genuine Advantage (WGA) to prove it to the company. Most WGA updates make the software-validation process better; past WGA fixes have made the alerts less obtrusive and ensured that they minimize false positives.
Of course, many owners of legal Microsoft programs would argue that the best fix in the update described in Microsoft KB article 905474 would be to remove WGA from their machines once and for all. Their second choice: have WGA run once and never bother them again. (See Figure 2.)


Figure 2. There's no indication of what's improved in this Windows Genuine Advantage update, so pass on it for now.
I honestly don't know what this WGA update "fixes," because the Knowledge Base article doesn't go into any detail on what has changed. And the WGA blog states only that the validator is now more likely to identify counterfeit copies of XP Professional.
Skip this WGA patch for now. I'll have more information about it in my next column, including how advantageous it really is for us legit Microsoft customers.

Opt out of this optional PowerShell patch

My rule of thumb requires that any patch listed as an optional update needs to be extraordinary before I'll install it. Microsoft KB article 926139 describes version 1 of PowerShell for Windows XP and Server 2003. This is another update you can skip.
PowerShell is a command-line shell and scripting language intended to allow administrators to automate certain system tasks. In standard office settings, your organization's IT staff will decide whether to deploy this tool. If you use a standalone system that isn't part of an office network, you'll either never need PowerShell or, if an application requires it, you'll be prompted to install it.
By the way, Windows 7 will include PowerShell version 2 natively, so we'll likely be seeing an update for the program in the not-too-distant future. For now, however, give this one a pass.

A mini-service pack for Windows Home Server

If you run Windows Home Server, look for a Power Pack 2 described in Microsoft KB article 956587 among the patches offered to your system via Microsoft Update. As reported on the Windows Home Server blog, the update improves the server's remote access, enhances Windows Media Center, and facilitates content streaming.
The Power Pack 2 update also fixes a problem that causes file and folder restorations to stop when they're 79% to 81% complete. If you're running the Windows 7 beta, there are some other problems documented in the release notes. In particular, a specific Registry key must be added before you update the Home Server connector software.
The Patch Watch column reveals problems with patches for Windows and major Windows applications. Susan Bradley recently received an MVP (Most Valuable Professional) award from Microsoft for her knowledge in the areas of Small Business Server and network security. She's also a partner in a California CPA firm.
---
Publisher: AskWoody LLC (woody@askwoody.com); editor: Tracey Capen (editor@askwoody.com).
Trademarks: Microsoft and Windows are registered trademarks of Microsoft Corporation. AskWoody, Windows Secrets Newsletter, WindowsSecrets.com, WinFind, Windows Gizmos, Security Baseline, Perimeter Scan, Wacky Web Week, the Windows Secrets Logo Design (W, S or road, and Star), and the slogan Everything Microsoft Forgot to Mention all are trademarks and service marks of AskWoody LLC. All other marks are the trademarks or service marks of their respective owners.
Your email subscription:
Copyright © 2020 AskWoody LLC, All rights reserved.
---
Welcome to our unique respite from the madness.
It's easy to post questions about Windows 10, Win8.1, Win7, Surface, Office, or browse through our Forums. Post anonymously or register for greater privileges. Keep it civil, please: Decorous Lounge rules strictly enforced. Questions? Contact Customer Support.

Plus Membership
Donations from Plus members keep this site going. You can identify the people who support AskWoody by the Plus badge on their avatars.
AskWoody Plus members not only get access to all of the contents of this site -- including Susan Bradley's frequently updated Patch Watch listing -- they also receive weekly AskWoody Plus Newsletters (formerly Windows Secrets Newsletter) and AskWoody Plus Alerts, emails when there are important breaking developments. Click here for details and to sign up.
Search for Topics
Copyright © 2004 – 2020 AskWoody LLC. All rights reserved.