ISSUE 16.41.0 • 2019-11-11
The AskWoody Plus Newsletter
---
In this issue
---
Network troubleshooting
Resolving Windows network-connection problems

By Lance Whitney
Troubleshooting networking issues in Windows 10 can be a maddening process. When your PC refuses to make a connection to the Web, Windows' built-in diagnostics tools can help.
But when troubleshooting, it's also useful to have some understanding of how Windows networking works. Firewalls, network adapters, and various properties and settings all play a part in whether you have a fully functioning Ethernet or wireless connection.
This topic can be deep and complex, but here are some basic diagnostic steps that you should try first.
Looking at the networking ecosystem
No Wi-Fi connection? Isolate the problem. Let's start with a review of some of the more obvious troubleshooting steps. First, determine whether it's a local problem (inside your home) or it's the external connection to your Internet Service Provider (ISP). Check the status lights on your modem/router. They should indicate whether the box has a functioning connection to your ISP and the Web.
If the status lights aren't all "green," try resetting the modem — typically by powering it off and on. If that doesn't help, you might have to call your ISP.
On the other hand, if the outside connection appears to be working, try connecting to the Web via another device such as your smartphone, tablet, or another PC. If you have an Ethernet connection available, see whether it'll link to websites.
Assuming that's all good, you've narrowed it down to a Wi-Fi issue. Try using a different wireless network, if one is available. Another option is to reset the link between PC and router. Click the network icon on the Windows taskbar/notification area and right-click your existing network. Select Forget (see Figure 1). That should remove the connection's possibly problematic profile. Next, reconnect to the network, enter your password, and see whether the connection now works.

Figure 1. The Forget option deletes saved network profiles.
Tip: If you've connected to numerous public and private networks, you've probably acquired a long list of now obsolete network profiles. To clean them up, click Settings/Network & Internet/Wi-Fi. Next, click the Manage known networks link. Select any no-longer-needed profiles and click Forget.
Still no connection? Use the network troubleshooter. Windows has numerous built-in troubleshooting tools. For connection problems, right-click the network icon (the small globe) in the notification area and select the Troubleshoot problems option. The Windows Network Diagnostics box will open and let you know it's looking for connection issues.
When the troubleshooter finishes, you'll have various options, depending on the diagnostic results. You might receive a suggestion to "Apply this fix" (see Figure 2) or another to "Skip this step." In most cases, you want to let Windows proceed with its "fix."
But if the given description of the problem seems off-base, you can also tell the troubleshooter to "Continue trying to fix the problem." In some instances, the troubleshooter will be unable to identify or fix the issue — in which case, it's time to explore other options.

Figure 2. The Windows Network Diagnostics troubleshooter might provide a quick repair for networking issues.
Check your networks settings. It's possible something is amiss with your connection settings. Right-click the network icon in the notification area again. But this time, select "Open Network & Internet settings." That launches the "Network status" window and displays your network-connections conditions.
Next, scroll down the window and click the View your network properties link. In the Properties screen, look for the name of the failing connection — e.g., "Wi-Fi." There, you should find information on the status of the connection plus the IP addresses for your router (gateway) and DNS servers (see Figure 3). Clicking the Copy button lets you quickly paste the information into a text file for later reference, should you need to continue diagnosing the connection problem.

Figure 3. The View your network properties window provides a quick summary of your networking connections.
Returning to "Network & Internet," select Wi-Fi and click the Manage known networks link. Next, select the problem network and click the Properties button. You can now review the default settings for this network (see Figure 4). In most cases, your home network should have "Connect automatically when in range" turned on. For troubleshooting purposes, "Random hardware addresses" and "Metered connection" should be off.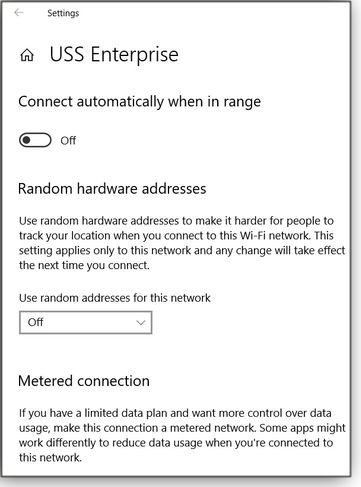 Figure 4. The properties window for specific networks provides a few basic settings.
Review your network adapter settings. At this point, you're starting to get into the weeds of network-connection diagnostics.
Back at Network & Internet/Status, click Change adapter options. In the next screen, right-click the target network (e.g., Wi-Fi); a popup menu will offer a few options. Select "Diagnose" to run a troubleshooter directly on the network adapter. Again, you can try applying any suggested fixes.
Next, select Properties from the menu to review the various adapter settings and attributes. Select the "Internet Protocol Version 4" entry and click Properties. By default, "Obtain an IP address automatically" and "Obtain DNS server address automatically" should be enabled (see Figure 5).

Figure 5. Normally, your adapter should be set to obtain IP and DNS server addresses automatically.
Finally, if all else fails, you can try a network reset. Close any open adapter-settings windows and return to Network & Internet/Status. Click the Network Reset link. The next screen warns that this option will remove and reinstall all your network adapters and return network components to their default settings. Your system will also restart.
To proceed, click the Reset now button. (see Figure 6). Click Yes to confirm.

Figure 6. A last-resort option for connection issues is to reset your PC's networking components.
Once your system has restarted, sign into Windows and check your network connection again. If it's still not working, it's likely not a Windows problem. At that point, you'll probably need some expert help.
Questions or comments? Feedback on this article is always welcome in the AskWoody Lounge!
Lance Whitney is a freelance technology reporter and former IT professional. He's written for CNET, TechRepublic, PC Magazine, and other publications. He's authored a book on Windows and another about LinkedIn.
---
Best of the Lounge
Wi-Fi router security
Da Boss Kirsty shares an article by Danny Palmer on the potential dangers of using an elderly Wi-Fi router.
If your router is five or more years old, you might be open to the Gafgyt infection (aka Bashlite; more info). This denial-of-service malware is unusual in that it tries to kill off rival infections — it likes to be the "king of the hill." It would appear there's no first-come, first-infect honor among malware purveyors.
---
Windows 10
Plus member Hackmuss has a scheduled task that runs provtool.exe. But whenever this EXE runs, it leaves 18 empty folders with the prefix "tw-" in the Temp directory. Hackmuss wants to find a way to prevent this issue — without using Task Manager to end the task. Fellow Loungers responded with a fix!
---
Windows 7
Lounger dgreen wants to switch from Microsoft Security Essentials to Bitdefender when support for Windows 7 officially ends. The consensus: dump MSE now and install the free version of Bitdefender.
---
Windows 10
Plus member KP noticed the Windows 10 Metered connection setting was grayed out on one of two computers. Can you use the registry to turn it back on? Members chimed in, quickly answering why metered connections appeared to be unavailable.
---
OneDrive
OneDrive is a great way to back up data files. But Plus member dmt_3904 wonders whether it's a good idea to store a system image on the cloud service. Most replies recommended using a local external drive. What say you?
---
MS Office
Plus member hmw3 has run into an issue adding older updates to Office 2007. Microsoft offers only .cab files. One question to Loungers solves the riddle of how to install CAB files!
---
Windows 7
Lounger Cybertooth lays out a detailed plan for keeping Win7 safe after its official end of support. The plan is multi-faceted and geared toward security. If you're sticking with this venerable OS, have you worked up your plan? Or are you switching to another platform?
---
If you're not already a Lounge member, use the quick registration form to sign up for free.
---
LANGALIST
Hybrid attack can extract data from inert RAM

By Fred Langa
It sounds impossible, but data can be recovered from RAM chips — even after they've been removed from a PC.
Specialized attacks on memory modules can reveal working passwords and cryptographic keys still stored random-access memory, possibly allowing malicious hackers to bypass encryption services such as BitLocker, VeraCrypt, FileVault, and others!
Plus: Disabling Windows Firewall and its nags.
How data can be extracted from inactive RAM chips
Subscriber Mayur Goswami asked about a disturbing assertion he'd seen online.
"Is it true that you can extract data from a computer's RAM by freezing it? How?"
Yes! It involves a hybrid physical/electronic process that was discovered by Princeton university students some time ago.
Here's how it works: As you know, data in your PC's random-access memory (technically DRAM or dynamic RAM) will fade away if not regularly refreshed by the PC's memory circuits. But the key is how it fades. When you power off a system, the data stored in RAM doesn't suddenly vanish; rather, the electrical charges that represent the data degrade — at least over seconds or minutes but potentially over hours.
During that window, and under the right conditions, those data remnants can be recovered from formerly powered-off memory modules. So data we assume to have vanished at power-off — such as the supposedly transient working copies of your passwords or cryptographic keys for whole-disk encryption (e.g., BitLocker, VeraCrypt, FileVault, etc.) — might be recovered and then used to unlock the PC's entire contents.
Windows, Mac, and Linux PCs are all equally vulnerable.
This Princeton University research abstract explains:
"Contrary to popular assumption, DRAMs used in most modern computers retain their contents for seconds to minutes after power is lost … and their contents persist sufficiently for malicious (or forensic) acquisition of usable full-system memory images. We show that this phenomenon limits the ability of an operating system to protect cryptographic key material from an attacker with physical access. We use cold reboots to mount attacks on popular disk encryption systems — BitLocker, FileVault, dm-crypt, and TrueCrypt [now obsolete] — using no special devices or materials." (Click the above link for the full text.)
Worse, RAM's data decay can be slowed enormously by cooling the physical RAM package to low temperatures. The researchers found that just spraying RAM chips with the cold liquid from an inverted can of ordinary compressed air is enough to cause the RAM data to remain intact for as long as several hours!
This allows plenty of time for malicious or forensic tools to examine the (literally) frozen RAM and potentially extract its data.
Although this clearly is a major potential security hole, it's not something that most of us have to worry about. This attack requires serious planning and effort, specialized knowledge, and physical access to the guts of a PC. It would be hard to pull off in secret — and frankly, most ordinary PCs in homes and at work simply wouldn't be worth the effort.
It's more of a concern to people working in highly sensitive environments.
But in all cases, the Princeton paper offers this advice to mitigate the threat:
"The most effective way for users to protect themselves is to fully shut down their computers several minutes before any situation in which the computers' physical security could be compromised."
In other words, power off your PC a few minutes before you leave the vicinity. That way, your RAM data will decay to the point where it will be unrecoverable by any known method.
Bottom line: This is a security hole that you need to be aware of — but it's not one to lose sleep over!
Further reading:
Is one firewall enough? Is two too many?
Long-time subscriber Bob Biegon asked:
"I have a Sonic Firewall at my home office, which I believe effectively protects my wife and me. So, I've turned off the [built-in] firewall in our desktop PCs. But I repeatedly see a Windows 10 notification that its firewall is off. How do I turn off just that notification? (I am comfortable with registry revisions.)

"PS: Do you still have the yellow [Honda] Gold Wing motorcycle?"
First things first: I don't think disabling the Windows firewall is a good idea at all.
But to answer your first question: The only way I know to silence the your-firewall-is-off nag is to disable all security and maintenance notifications via a registry hack or Group Policy change. It ain't pretty, and it affects more than just the firewall notifications. But if you really want to do it, you'll find a discussion and how-to on a StackExchange page.
The more important question is, why are you disabling the firewall? You won't gain meaningful speed — the firewall exacts a negligible performance hit. Nor will you regain much memory. On my Win10 setup, the firewall service (mpssvc) is currently consuming a whopping 1.1MB of memory — less than a floppy disk's worth!
Running the Windows firewall has almost zero downside. It's reliable by itself and, when used with a second firewall, adds an extra layer of security. So I don't see a problem there.
It's your PC, but I'd leave the Windows firewall alone.
In answer to your second question: No, my motorcycling days are over. I live in a city center now, where a heavy touring motorcycle is exactly the wrong vehicle for local conditions. Instead, I ride an e-bike, which is much better for getting around in an urban environment … and for someone of my advancing age!
Send your questions and topic suggestions to Fred at fred@askwoody.com. Feedback on this article is always welcome in the AskWoody Lounge!
Fred Langa has been writing about tech — and, specifically, about personal computing — for as long as there have been PCs. And he is one of the founding members of the original Windows Secrets newsletter. Check out Langa.com for all Fred's current projects.
---
Best Utilities
Freeware Spotlight — WPD

By Deanna McElveen
Back in the day, if Windows 95 had sent out today's Win10 telemetry, our 56K modem connections would have constantly ground to a standstill.
Let's face it, we're all Microsoft's lab rats!
Yes, Windows offers various tools for managing privacy. But a third-party utility — WPD — makes the task far easier. It's a one-stop privacy dashboard that digs deep into Windows settings. It will, for example, let you easily change some privacy-related Group Policy options. WPD lets you wear your foil hat with pride!
One caution about using WPD: The utility's simple screens can be a bit deceptive; the app lets you control advanced Windows settings and enable IP blocking. But there's no real documentation. Thus, it's most suitable for more advanced Windows users.
Let's get started. Download the app's ZIP file from its OlderGeeks.com page and unpack it in a convenient location.
(Tip: If by some small chance you don't have 7-Zip, now's a good time to download and install it. This classic utility makes life much easier when working with compressed files. For example, just right-click a downloaded .zip file, select 7-Zip from the context menu, and then pick one of the various choices for unpacking the contents. You can find 7-Zip on our OlderGeeks.com site.)
Next, run WPD.exe. Yes, it's portable — there's no need to install it! During startup, WPD checks for updates, then displays its initial screen (see Figure 1). Note the three choices: Manage privacy settings, block Windows telemetry IPs, and uninstall Microsoft Store apps — all excellent privacy-management tools.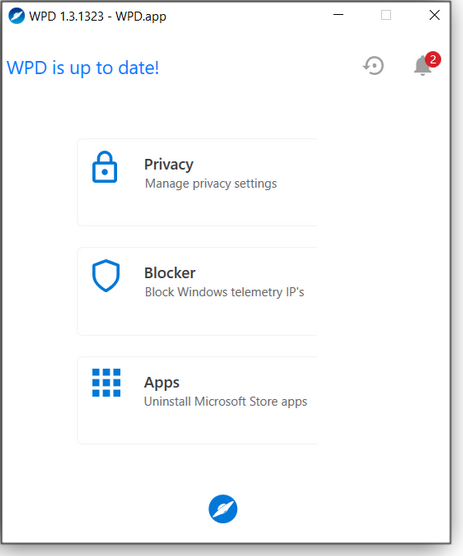 Figure 1. WPD offers a seemingly small collection of privacy controls. But it's a versatile and powerful utility.
Before you click one of the three options, note the notification bell. In the above example, it has flagged a few privacy issues. Click the icon for a brief summary of your privacy status (see Figure 2).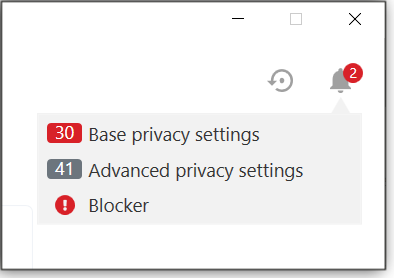 Figure 2. WPD's notification bell will alert you to possible problems.
Diving into Windows privacy settings
Let's start by clicking the Privacy button. That pops up a long list of items (see Figures 3, 4, and 5). Disabling these settings will prevent Windows from sending personal and system information back to the Microsoft mothership. If you want to quickly disable everything, just scroll to the bottom of the list and click Disable All (Figure 5). If you check the "Include All Advanced settings," you'll also turn off the items marked with a yellow exclamation point.

Figure 3. The Base privacy settings screen starts with Local Group Policy options.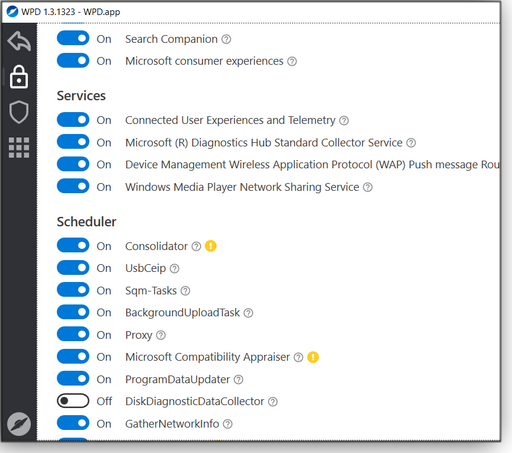 Figure 4. Services and Scheduler settings follow those for Local Group Policy.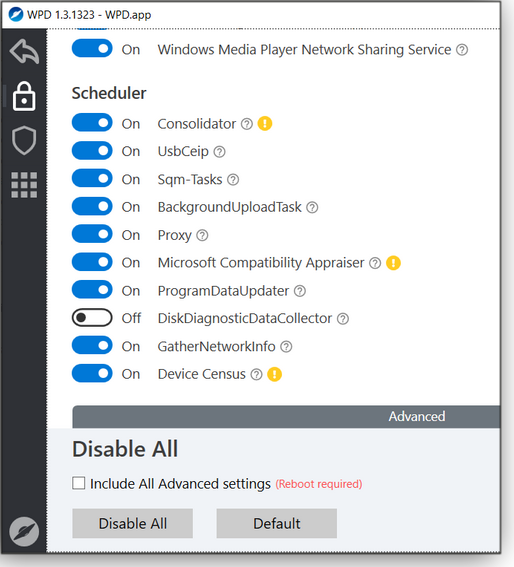 Figure 5. At the bottom of the Base privacy settings screen you can click Disable All to quickly turn most privacy controls off.
Yes, most of these settings will be unfamiliar to the vast majority of Windows users. Before you start disabling things willy-nilly, you should have some idea of what they do. Note that the title for each item is followed by a circled question mark. Clicking the icon pops up a brief description (Figures 6 and 7). If you need more help for individual settings, you'll have to Google them.


Figure 6. Each setting comes with a quick description — just press the circled question mark.


Figure 7. Microsoft states it uses the collected Windows Customer Experience information to improve future versions of Windows. WPD makes it easy to opt out.
To take control of what information goes back to Microsoft, start switching items off (Figure 8). In most cases, the change is immediate. Note, however, that disabling advanced items (again, marked with yellow exclamation icons) will require a system reboot.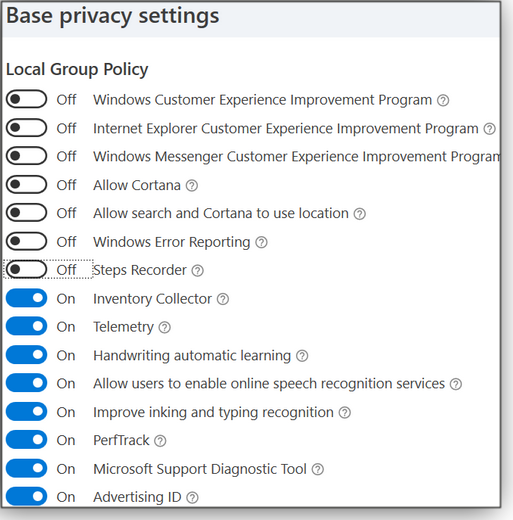 Figure 8. Don't use Cortana? Simply turn it off.
Blocking spying IP addresses
Head back to the main WPD page or click the shield icon in the far-left column to access Blocker. This tool prevents information from going back to Microsoft by setting up rules that block IP addresses. It can even block Windows updates.
The IP information comes from a popular GitHub list maintained by "CrazyMax." It's updated fairly often, because Microsoft likes to change things up from time to time. Select one of two blocking methods: the built-in Windows firewall (typically, the default option) or Windows Filtering Platform (more info) — if it's available on your system.
Now, click either the exclamation point in a red circle or the circled dash to enable the blocking rules in the Spy, Extra, and Update sections (Figure 9). Click the circled "X" to delete the rule.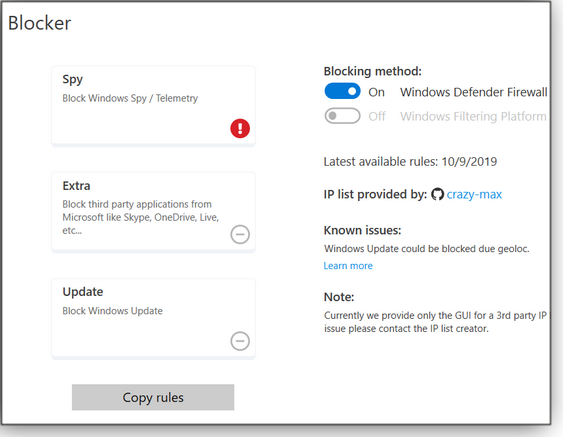 Figure 9. Blocker establishes rules that block outgoing data to specific IP addresses.
Uninstall MS Store apps
You might be surprised by the amount of information some Microsoft apps send back to company servers. To remove those you're not using, click the grid icon in the left column to open the Uninstall screen (Figure 10). You'll then see a list of native Windows apps — even hidden apps! Select those you want to remove and click the Delete buttons at the bottom.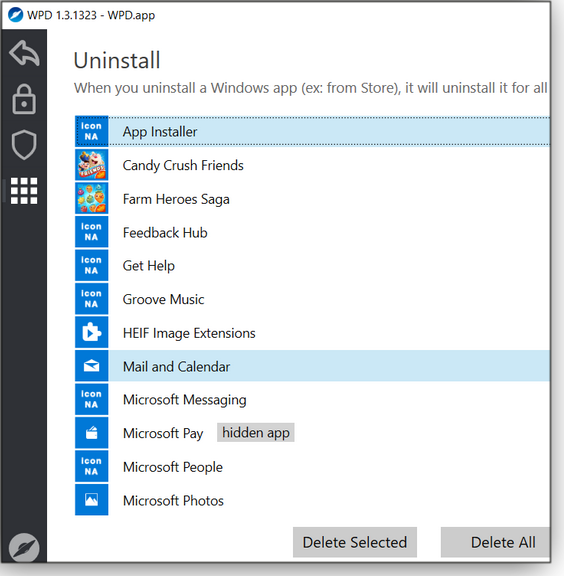 Figure 10. WPD's Uninstall option is a quick and easy way to remove unwanted MS Store apps.
That's it! WPD is quick, portable, and free. Just the way we like our utilities.
Happy Computing!
Questions or comments? Feedback on this article is always welcome in the AskWoody Lounge!
Deanna and Randy McElveen are celebrating 20 years in the computer business, seven years running OlderGeeks.com, and 26 years of putting up with each other. Their computer store is in a small town in the Missouri Ozarks. Believing that happy customers are always the best advertisement, they hope to do it for another 20 years.
---
PC BUYING
PC bargains: Buying a laptop on Black Friday and Cyber Monday

By Michael Lasky
Shopping for a new PC this holiday season? The best bargains are almost always on Black Friday (the day after Thanksgiving) and the following Cyber Monday.
While Cyber Monday's online shopping binge might have lessened the Friday brick-and-mortar crowds — and extended the time we have to look for bargains — it hasn't reduced the seduction for impulse buying.
So be forewarned: Mixed in with all those "diamond" deals are loads of rhinestone duds. Fortunately, some advance planning will help steer you toward the true money-saving offers. When it comes to purchasing a PC, you need to approach the battle for our bucks with a checklist of features and components that fit your needs — and budget.
Once you know what you're looking for, the next challenge is understanding what's being advertised. Because laptops make up the bulk of PC purchases, I'll focus on their specs.
Translating advertising copy
The glut of product advertisements — online, in emails, and via in-store signage — can easily overwhelm buyers with a thinly described alphabet soup of tech terms. To shine a bit more light on these specs, let's do a line-by-line deconstruction of the descriptions for one item, an Inspiron laptop, on a Dell Black Friday advertisement (see Figure 1).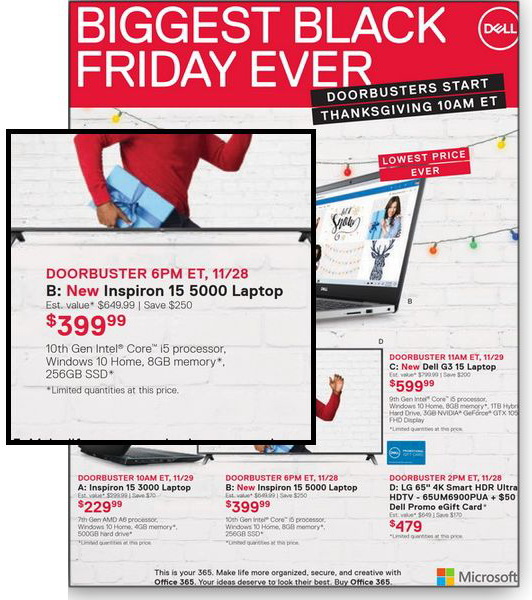 Figure 1. A sample Black Friday ad from Dell
Pricing and availability: These are the core elements of the Inspiron advertisement. Let's start with the first line: Doorbuster …. The time and date, along with the small footnote at the bottom of the specs, make clear that this is a first-come, first-serve offer. Also, note that its availability isn't on Black Friday, as you might assume: it's 6 p.m. Eastern time on November 28. So much for that Thanksgiving dinner.
Just below the model name, in an ever-so-tiny font, you'll find not the actual list price but an "estimated value" of U.S. $649.99, with a "savings" of $250. That strongly suggests that this model was configured specifically for the Black Friday sale.
Specifications: A bit of online research disclosed that the Inspiron 15 5000 includes a 15.6-inch screen. The list of system specs starts with a "10th Gen Intel Core i5 processor." According to an Intel webpage, that model is the latest generation (10) but not the fastest available for notebooks. On mobile PCs, an i5 processor falls in the middle, between Intel's i7 and i3 CPUs. (Fine more on the wide array of available processors below.)
This laptop comes with Windows 10 Home — typically the de facto edition on most mid- to lower-priced retail PCs. On-sale notebooks rarely include the more-capable Windows 10 Pro. (We prefer Windows Pro because of its enhanced connectivity, privacy, and update-management tools.) 8GB of RAM is the minimum we'd recommend for smooth graphics and video tasks.
Dell equipped this "sale" model with a 256GB solid-state drive (SSD) in lieu of a larger 1 or 2TB hard drive. SSDs might slightly reduce a laptop's overall weight, but the primary benefit is super-fast data reads and writes. On the other hand, 256GB is not a great deal of storage. Depending on how you use the laptop, the lack of massive internal storage may not be significant — you can often compensate with big, and relatively inexpensive, external drives and/or cloud-storage services.
Bottom line: This Inspiron is neither a low-end nor high-end model. It's pretty average. But is this Black Friday offer a good deal? A quick look at the Dell website lists the same model of laptop, but with half the RAM, a slower processor, and a small 128GB drive … for the same $399.99 price tag.
Demystifying PC-component lingo
Most Black Friday and Cyber Monday ads you'll see for personal computers give just the basic specifications (similar to those shown in Figure 1). Yes, CPU, storage, and RAM information is useful. But just as important are items typically not listed — USB ports, for example.
The number and type of included I/O connectors — video, USB, audio, Ethernet, fingerprint readers, etc. — are at least equally meaningful to the day-to-day usability of your machine. Unfortunately, gathering that information will often require some research before you actually shop.
Here are some considerations when reviewing a laptop's capabilities.
CPU: There are currently two major CPU players: Intel and AMD (aka Advanced Micro Devices). Intel all but owns the consumer PC space — AMD is a distant second. Consumer Reports featured nearly 50 laptops in its December 2019 issue. Just one of those units is equipped with an AMD CPU. The rest are either Intel Core i5 or Core i7.
Nevertheless, an Amazon search will show dozens of AMD-based laptops from major vendors such as ASUS, Dell, HP, Lenovo, and others.
In general, the number associated with each CPU gives a rough estimation of relative performance. For example, Intel's i3 processors are at the lower end of the "Core" class speed spectrum, while i7s and i9s are at the top end. AMD's numbers (e.g., Ryzen 3, 5, and 7) match up fairly closely to Intel's.
Intel's "generation" (typically shortened to "Gen") indicates the relative age of a CPU line. In short, the higher the number, the newer the processor. That can make measuring performance complicated. For example, the above Black Friday Dell's 10th Gen i5 processor might be faster (and lower-priced) than an older generation's i7 processor.
USB ports: Again, PC ads rarely list the type and quantity of USB ports included on the particular model. Yet USB ports are essential components that can determine both data-transfer speeds and the amount of power available to external devices. Unfortunately, finding that information for a specific laptop often requires diving into vendor webpages — if it's even given.
The type of available USB ports can be more important than the number. Coming up short on ports can be easily remedied with an inexpensive, external USB hub. Older and slower USB 2.0 ports are still prevalent on most PCs sold today. But less common are the faster and more efficient USB 3.x ports. (And SuperSpeed USB4 ports are on the way.)
Adding to the confusion, USB C ports (once the exclusive domain of Apple Macs) are gradually moving into Windows-based laptops — particularly the thin and light models. The versatility of USB C allows for bi-directional power, which means it can be used to power external devices and power the computer as well.
That flexibility, along with the small size of a USB C connector, explains why many ultra-portable laptops come with just a single "C" port. That's a bit of a liability, because you typically can't connect a USB peripheral and charge the laptop at the same time. There are USB dongles that get around that problem, but they're not especially convenient when you're traveling.
Yes, there are some great deals offered on Black Friday and Cyber Monday. But there are also many, many scams. Know specifically what you're looking for before diving in with the rest of the mob.
Final tip: To get a jump on upcoming sales, check out online sites such as blackfriday.com. These sites post "leaked" Black Friday ads that have not yet been officially posted. Rumor has it the information comes from employees at the printing plants preparing newspaper ad supplements.
Questions or comments? Feedback on this article is always welcome in the AskWoody Lounge!
Michael Lasky is a freelance writer based in Oakland, California. He has over 20 years of computer-magazine experience, most recently as senior editor at PC World.
---
Publisher: AskWoody LLC (woody@askwoody.com); editor: Tracey Capen (editor@askwoody.com).
Trademarks: Microsoft and Windows are registered trademarks of Microsoft Corporation. AskWoody, Windows Secrets Newsletter, WindowsSecrets.com, WinFind, Windows Gizmos, Security Baseline, Perimeter Scan, Wacky Web Week, the Windows Secrets Logo Design (W, S or road, and Star), and the slogan Everything Microsoft Forgot to Mention all are trademarks and service marks of AskWoody LLC. All other marks are the trademarks or service marks of their respective owners.
Your email subscription:
---
Copyright © 2019 AskWoody LLC, All rights reserved.