AskWoody
News, tips, advice, support for Windows, Office, PCs & more
We're community supported and proud of it!
| | |
| --- | --- |
| | Patch reliability is unclear. Unless you have an immediate, pressing need to install a specific patch, don't do it. |
Security Baseline provides basic PC protection
Windows Secrets Newsletter • 212 • 2009-08-27
---
---
INTRODUCTION
New info leads to today's unscheduled newsletter
By Brian Livingston
We don't usually publish new content during our summer break in the last two weeks of August, but an update to the WS Security Baseline is compelling us to release special content for you today.
Besides that, we're also releasing breaking news by contributing editors Woody Leonhard and Susan Bradley on ways some Internet service providers may be blocking your e-mail (and how you can work around it) and on the fact that Microsoft has started pushing out Internet Explorer 8 even to people who previously declined it.

Security Baseline gets new list and new writer

As long-time readers know, Windows Secrets periodically publishes a feature called the Security Baseline. This advisory is intended to advise home and small-business PC users on the minimal setup they need to protect themselves against hackers.
I recently asked Robert Vamosi, an award-winning tech writer, to update the baseline with the latest findings from around the Web. Robert has written for CNET, CNN, the BBC, and many other outlets. His analysis of the latest test-lab reports will be welcomed by anyone whose security is, shall we say, not up to par.
Advanced Windows users should always conduct their own research on the best combination of security products for their specialized needs. But if your mom and dad think buying a PC in a store and plugging it into the Internet is all the security they need (or you think that's all you need), take a minute to read Robert's article in our free content. Or surf to our site's Security Baseline page, which is updated whenever we find a major change.
Woody's and Susan's articles are contained in our paid content today. If you're a free subscriber and aren't receiving our paid content, it's easy to get. There's no fixed fee! Simply make a financial contribution of any amount — whatever it's worth to you — and you'll receive all WS paid content for one full year. More info on how to upgrade

New bonus download for all paying subscribers

A big benefit for our paying subscribers is the fact that we license valuable content several times a year and let our paid readers download it at no extra cost.


This month's bonus is a two-chapter excerpt from Teach Yourself Visually Microsoft Windows 7 by Paul McFedries. The book uses illustrations and screen shots instead of straight text to help make the transition to Windows 7 easier than ever for computer users.

The printed volume won't be available in stores until late September. But all paid subscribers can receive our exclusive download now through Sept. 23. Free subscribers who upgrade to paid will see a download link thereafter. Paid subscribers can simply visit their preferences page and save any changes to see the download link. Thanks for your support!

Free subscribers: Upgrade to paid and get the bonus
Paid subscribers: Set your preferences and then download
Info on the printed book: United States / Canada / Elsewhere
Brian Livingston is editorial director of WindowsSecrets.com and co-author of Windows Vista Secrets and 10 other books.
---
TOP STORY
Security Baseline provides basic PC protection

By Robert Vamosi
The Windows Secrets Security Baseline describes products and services that serve as a minimum safe PC configuration.
This week, I'm updating the latest findings on a set of hardware and software that should meet the needs of individual PC users, though more-advanced users and large businesses may want a more-sophisticated approach to computer defense.
It sometimes seems like we spend more time protecting our PCs than actually using them. Sadly, in the modern computer age our systems are under continuous attack. Even worse, those attacks take ever-new approaches to break into our PCs and steal our personal data.
Fortunately, you can put the odds against becoming a malware victim decidedly in your favor by taking a few relatively simple precautions. That's the purpose of the WS Security Baseline. Windows Secrets doesn't have a test lab and ordinarily doesn't test hardware, so we analyze the results of independent labs to determine which products provide a balance of security and convenience for individual PC users.
The baseline's four components are a hardware firewall that's built into your router, security software that guards against all types of malware threats, a software-update service to ensure that your applications are patched against the latest exploits, and a secure browser.
Keep in mind that the baseline is just that: the minimum precautions required to protect the average PC user. Depending on your activities and level of computer experience, your security may require added layers of protection, including encrypted data storage and transmission, PC virtualization, and parental controls.
For more information on virtualization software, see WS senior editor Gizmo Richards' Dec. 18, 2008, column, "Keep your Net activities away from prying eyes." Contributing editor Becky Waring offers sage advice on keeping your children safe online in her Dec. 4, 2008, column, "Tools let parents control their kids' PC use."

New top choice for router-based firewall

D-Link DIR-825 Xtreme N Dual Band Gigabit Router boasts an Editor's Choice from PCMag and high marks from other publications as well. While wireless routers are not so secure as hard-wired units, this model includes a guest feature that lets you grant friends wireless access to your network while blocking them from accessing anything on the network except the Internet.

Figure 1. D-Link's DIR-825 Xtreme N Dual Band Gigabit Router makes it easy to let friends use your wireless network securely.
Other features of the DIR-825 are device sharing via a USB port, support for 2.4-GHz and 5-GHz mixed-mode Wi-Fi, and the ability to connect a USB EV-DO card for use as a cell modem should your WAN link fail, according to PCMag. The product costs about U.S. $150 online. Visit the routers page on D-Link's site for more information.

Security suites are simple and all-in-one

The most straightforward approach to PC security is to use a security suite — such as Symantec's Norton Internet Security or Norton 360, McAfee's Internet Security or Total Protection, and Kaspersky's Internet Security — that protects your PC from viruses, Trojans, spam, and other malware. You benefit from having to install and maintain only one application, as opposed to the best-of-breed approach to security software that requires multiple installations and updates.
Many experienced PC users prefer to pick and choose their security programs so they get just the features and interfaces they prefer. Also, security suites have a reputation for being difficult to uninstall. Most importantly, many top-rated specialty apps are free. The suites cost from $30 to $70 a year for up to three PCs.
The benefit of a security suite for a home user is convenience. Only a single product needs to be purchased, configured, and updated.
Having achieved top or first-runner-up honors from the editors of PC World, PCMag, Maximum PC, and other reviewers, today's consensus security-suite selection is Symantec's Norton Internet Security 2009. The program pairs excellent malware detection with a good range of features. The latest release continues to be faster and less resource-hungry than previous versions, according to PCMag and other testers.
If you're one of the many people who've sworn never to install a Norton or McAfee security product again, however, there are a lot of other strong contenders for security-suite top dog:
Maximum PC lists ESET Smart Security as its second choice; the program matched Symantec's score of 9 out of 10. (Read Maximum PC's most recent security-software reviews.)
Norton Internet Security shares its PCMag Editors' Choice with ZoneAlarm Extreme Security. (Read recent PCMag security-software reviews.)
PC World rates G-Data Internet Security 2010 as its first choice — just ahead of Norton Internet Security — and ranks BitDefender Internet Security 2009 just behind Norton. (Read the full BitDefender review and all PC World security-app reviews.)
For those who'd rather select their security program solely on the results of independent antivirus test labs, visit AV-Comparatives.org's list of recently tested antivirus apps, AV-Test.org's comparison of AV test results, or Virus Bulletin's summary of AV test results (free registration required). Many people rely on ICSA Labs' AV test reports, but ICSA's certification testing can be less stringent than the testing performed by the three antivirus test labs cited above.
If you choose a specialty antivirus program over a suite, you'll need to download and install a good software firewall as well. (This is in addition to the firewall built into your network hardware.) The free Comodo Internet Security combines a firewall and antivirus app; more information and a download link are on the vendor's site. An alternative is Agnitum's Outpost Firewall Free; Agnitum's site provides more information about the product.
One of the highest-rated free antivirus programs — by PC users and software reviewers alike — is Malwarebyte.org's AntiMalware, available for download from the company's site.

Update services identify unpatched applications

For novices, the free Microsoft Update service automatically patches Windows, Office, and other Microsoft programs. (The service requires Internet Explorer, which has security weaknesses of its own. However, it's extremely unlikely that any malware will make it onto the Microsoft site and attempt to infect your PC by exploiting a vulnerability in IE.)
Susan Bradley and other WS contributing editors recommend that you configure Windows' Automatic Updates service to Notify me but don't automatically download and install. Before you install any Windows updates, read Susan's twice-a-month Patch Watch column and other Windows Secrets articles to learn which patches might be risky or otherwise undesirable.
Many PC users don't trust Microsoft's opinion of what they should install, and neither of the MS programs report on patches for non-Microsoft programs. In her May 28 Top Story, Susan reviews Shavlik's Patch Google Gadget, Secunia's Online Software Inspector/Personal Software Inspector, and Belarc Advisor as alternatives to Windows Update and Microsoft Update.
The downside of using Shavlik's updater is the program's reliance on the Google Desktop program, which some analysts consider a privacy risk. If you wish to use the updater anyway, however, you'll find it on Shavlik's download page.
Secunia's OSI runs in your browser, requiring no download or installation, while PSI is a standalone program that installs on your PC. You can download PSI from Secunia's site.
If you find yourself forgetting to run either OSI or PSI after Microsoft releases updates, you can sign up for an automatic reminder. To do so, click Secunia's reminder service link and enter your e-mail address. The company will notify you whenever a new update is released.
The free Belarc Advisor utility can be downloaded from the Belarc site. The program's interface isn't too pretty, but Belarc does the job.

Use a browser that will keep you safe

Until recently, most experts agreed that the safest way to surf the Web was to use Mozilla's Firefox browser, available from the organization's download page.
At present, Secunia's Firefox 3.0.x advisory page states there's a URL spoofing issue in that version of the browser. The equivalent report for Firefox 3.5.x indicates the same unpatched vulnerability.
By comparison, Secunia's report for Google Chrome 3.x shows no advisories for that browser. Likewise, Google Chrome 2.x comes up clean in Secunia's analysis. That gives Chrome a bit of an edge over Firefox security-wise, at least for the moment.
For added safety when using Firefox, download the donationware NoScript add-on, which is available from the vendor's site. This extension automatically blocks JavaScript and Adobe media files on a site-by-site or source-by-source basis, allowing you to override the blocks as needed. NoScript can also thwart clickjacking attempts and other Web nasties. (Be sure to add WindowsSecrets.com and other trusted names to your list of sites that are permitted to use JavaScript, which is important for some Web functions.)
Windows Update and some other Microsoft services require Internet Explorer. Unfortunately, Susan Bradley hasn't yet been able to give the latest version — IE 8 — the thumbs-up for large enterprises, due to incompatibilities it has with some sites.
I recommend that you use Firefox, Chrome, or another IE alternative as your default browser and open IE only when necessary.
Having a patched copy of Internet Explorer installed, however, keeps your PC free of exploits targeting Office and other Microsoft products that use IE's HTML-rendering capabilities.
Secunia states on its IE 8 page that Microsoft has addressed only two of the four vulnerabilities found to date in the new browser. The service's report of a URL path-spoofing vulnerability was posted on Aug. 19. A "Charset Inheritance Cross-Site Scripting Vulnerability" in IE 8 remains unpatched more than two years after the problem was first discovered, according to Secunia's report. (The vulnerability also affects IE 7.)
To be sure, Firefox and other browsers periodically suffer from flaws such as IE's. But until Microsoft learns to close its browser's holes within days, as Mozilla and other browser developers do, using Firefox or another alternative to IE is still your best bet.
WS contributing editor Robert Vamosi was senior editor of CNET.com from 1999 to 2008, writing pieces such as Security Watch, the winner of the 2005 MAGGIE Award for best regularly featured Web column for consumers.
---
WOODY'S WINDOWS
ISPs block some outgoing e-mail unexpectedly
By Woody Leonhard
Recently, many Windows Secrets readers — me among them — discovered that they could no longer send e-mail, although they could still receive messages.
In an attempt to reduce spam, many ISPs, including Verizon as of a few months ago, now block all outbound traffic on what used to be the de facto avenue for e-mail, port 25 — leaving customers in the lurch.
E-mail glitches rate among the most difficult, distressing, and dire problems in all of computer-dumb. Orphaned e-mail programs, operating systems with more patches than a clown's coat, the whims of intransigent e-mail and Internet service providers, and the phases of the moon combine to make e-mail problems devilishly difficult to solve.
And any e-mail glitches you fix today will undoubtedly require even more remedial attention in a month or a year.
One problem pops up regularly over the years because an ISP suddenly blocks all outbound communication using port 25. This glitch has a very specific symptom: your e-mail program — whether Outlook, Windows Live Mail, Outlook Express, Windows Mail, Thunderbird, or Eudora — suddenly loses its ability to send mail. You can receive messages with no problem, but every e-mail you try to send sticks in your outbox.
In fact, there are about 10 million different reasons why your outbound mail may refuse to budge. Also, a very slow Internet connection may leave you thinking that your e-mail app has given up the ghost, whereas the mail is actually just taking its sweet time.
The port 25 problem is more obvious: messages get stuck in the outbox and won't transmit, no matter how long you wait. Surprisingly, Windows and your e-mail program probably aren't to blame. In this case, your Internet service provider has erected an enormous roadblock on your stretch of the information highway, and you can't get around it without a detour.

Why ports matter when you're sending e-mail

When you use any of the popular e-mail programs to send messages from your PC, your machine connects to an SMTP server on the Internet. These servers use the Internet's mail-handling routines to deliver the messages. Most people use an SMTP server that's owned by the company that provides their e-mail service.
The SMTP server I use for my personal Web site's e-mail account, for example, is called smtp.askwoody.com. When I pay each year to renew that domain name, part of the payment goes to the care and feeding of the server at the address smtp.askwoody.com.
Here's where it starts to get complicated. When computers communicate over the Internet, the steps they go through are similar — in some ways, anyway — to the steps you take when you telephone someone at a large company. So if you're trying to call somebody at Microsoft's Redmond, Wash., offices, you need the Microsoft phone number — 1-425-882-8080 — and you also need the person's extension, which will be something like 1212.
Computers on the Internet communicate similarly: they need to know the domain name, which in the case of my outbound SMTP server is smtp.askwoody.com, as well as the "extension," which in the computer world is known as the port.

How to determine your outbound port setting

When you set up an e-mail account in Outlook, Outlook Express, Windows Live Mail, or any other program, the software assumes you want to use port 25 to send your outgoing mail.
The details vary from program to program. In Outlook 2007, for example, you can see what port your account is using by first clicking Tools, Account Settings. Next, select the account, click Change, More Settings, and choose the Advanced tab. As shown in Figure 1, look for the port number next to "Outgoing server (SMTP)."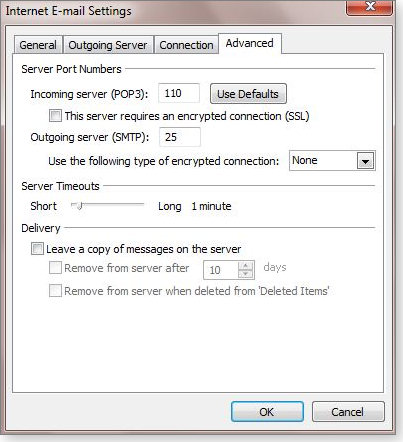 Figure 1. The Advanced tab in Outlook's Internet E-mail Settings dialog tells you which port the account uses to send outbound mail — in this case, port 25.
An increasing number of e-mail providers won't let you use port 25 to send mail. They relegate all traffic destined to port 25 to the bit bucket. Why? Many virus-infected PCs shower the Internet with tons of spam directed to SMTP servers' port 25. This has caused many ISPs to block all outbound traffic over port 25.
Think of this as the baby-with-the-bathwater approach: If your ISP blocks port 25, anything headed from your computer to any server or other Internet destination on port 25 gets thrown away. The ISP doesn't care whether the outbound traffic is an e-mail or where the data is headed or who sent it. Anything flowing out of port 25 simply disappears into the ether.

Prevent your ISP from blocking outgoing messages

Your e-mail program may have worked flawlessly for years, but if your ISP suddenly decides to block port 25 — as Verizon did last February — your outbound messages will suddenly and mysteriously vaporize. Outlook won't receive acknowledgment that the mail has gone out, so it keeps the messages in your Outbox. There are no warnings and no apologies. Outbound messages never make it to the SMTP server, and your e-mail program never pushes them out of the Outbox.
Similarly, whenever you use a different ISP to send mail — whether you switch broadband vendors or simply take your laptop to an Internet café — your mail may fail to transmit. And there's absolutely no notification of any kind.
The symptoms can be perplexing. For example, you may have one e-mail account from a provider that still uses port 25 and another address from a domain that works only with port 587. In this case, you may suddenly discover that outbound messages using the first address make it out, while those from the second address don't budge.
Some ISPs encountered so much resistance after blocking port 25 that they reversed themselves and unblocked the port. The result: One day your mail goes out, the next day it doesn't, and the day after that it transmits again.
Don't judge the ISPs too harshly, however. For instance, Comcast shut down port 25 almost five years ago after discovering that 700 million of the 800 million total messages the provider processed each day were spam sent from port 25.
When you set up a new e-mail account, your ISP should send you instructions for manually changing the SMTP server port in your e-mail program. Most commonly, e-mail providers in the U.S. tell customers to use port 587, but port 2525 is often used as well.
The port number itself doesn't matter. The important thing is that the port you enter in the program's e-mail settings matches the port your ISP expects to receive mail from.
Check your e-mail program's settings, and if your SMTP server is set to use port 25, contact your ISP for instructions on how to change the port setting. If the SMTP server is currently set to use port 25, it's worth changing it even if your ISP doesn't yet block that port — because at some point, the company may decide to do so.
If you can't contact your e-mail service or the company doesn't respond, enter 587 in the setting for your outbound SMPT port and, on the Outgoing Server tab, check the box labeled My outgoing server (SMTP) requires authentication. In most cases, this will keep your outbound messages flowing.
Be sure to test the changes and immediately revert to your original settings if your outgoing mail stalls. The headache you save may be your own.
Woody Leonhard's latest book, Green Home Computing For Dummies, just hit store shelves. His encyclopedic Windows 7 All-In-One For Dummies will be available in most bookstores and computer stores, worldwide, in October.
---
PATCH WATCH
IE 8 is being pushed to systems that blocked it
By Susan Bradley

Microsoft has begun presenting Internet Explorer 8 as an available update to PCs that previously hid IE 8 from the update list.

If you've previously declined and hidden IE 8 in one of Microsoft's update services, you'll need to do so again to prevent the browser from being part of the download list.

The return of the Internet Explorer 8 download

On Aug. 25, Microsoft repackaged the IE 8 download, bundling with it all of IE 8's cumulative updates and patches for Windows XP, Vista, Server 2003, and Server 2008.
The new patch bundle is being pushed out to PCs over a period of time via Microsoft Update, Windows Update, and WSUS (Windows Server Update Services). At present, the bundle is being offered even to systems that were previously configured to (1) scan for patches manually only and (2) hide IE 8 from the update list.
If your system didn't have Automatic Updates (AU) completely disabled, Windows was set to one of three AU modes: download and install updates automatically, download updates but notify you before installing, or notify you when updates are ready but don't download and install.
In any of those three modes, Internet Explorer 8 may not have been "pushed" to your PC via Microsoft's update services — yet. However, you should expect that to change very soon, and IE 8 will be listed as an available update, even if you've declined and hidden it from the list in the past.
According to Microsoft Help and Support article 894199, the update has been refreshed with the latest cumulative security updates for all four of the Windows versions listed above. In addition, the IE 8 download will be offered in the compatibility view list for Vista and Server 2008.
If you, like many people, are holding off on installing IE 8 until you've done further testing, one saving grace is that the IE 8 cumulative update won't install automatically on any version of Windows. You first need to agree to the end-user license agreement (EULA).
On Windows XP and Server 2003, a button in IE 8's install wizard also allows you to opt in to a customer-feedback process. This is intended to give Microsoft feedback during the IE 8 install and post-install process. (See Figure 1.)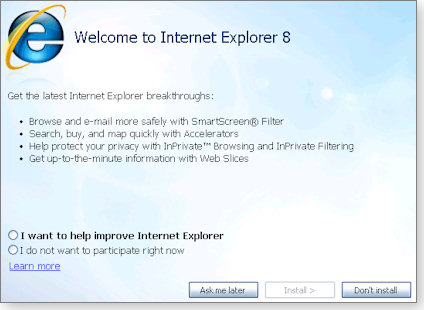 Figure 1. The IE 8 installer asks you to provide Microsoft with information about your user experience.
Before the installation routine commences, you can choose Ask me later to postpone the process or Don't install.

IE 8: Fine for home use, but admins should test

Large organizations need to test Internet Explorer 8 for compatibility with their vital third-party applications before installing the browser on their networks. However, IE 8 will likely be a trouble-free and beneficial upgrade for most individual PC users. In particular, a new security feature in IE 8 called the SmartScreen Filter helps users block malware-infested downloads.
Microsoft introduced SmartScreen in IE 8, building on the Phishing Filter that first appeared in IE 7. Microsoft described SmartScreen in a July 2 post in the official IE blog. In my Sept. 10 Patch Watch column, I'll have more info about SmartScreen and how it compares with the Google SafeBrowsing API, which is used by Firefox and other browsers.
Given recent improvements in IE 8's compatibility with various Web sites, I can now recommend that individual users upgrade to IE 8. Even if IE isn't the default browser on a system, individual users can benefit from the more-secure components of IE 8. Anyone who's still using the ancient IE 6 should immediately upgrade to either IE 7 or IE 8. This is especially true for students who are preparing to return to school, where a more-modern browser may be required for coursework.
Both businesses and individuals should install IE 8 on any Vista PCs before an "upgrade in place" to Windows 7 is performed. Due to a bug in the browser, IE 8's Favorites bar will be missing in action if the browser is installed after the Win7 upgrade. This is documented in Microsoft Knowledge Base article 974852. In order to fix this issue, you must edit the Registry, as the article explains.
Thanks to Microsoft's new bundling policy, PC users who previously decided not to upgrade to IE 8 will have to decline the update again. To decline and hide the update, open Microsoft Update and choose the Custom option. When the list of available updates appears, uncheck the entry for IE 8. (See Figure 2.) Check Don't show this update again at the bottom of the screen to prevent it from being offered to you repeatedly — at least until Microsoft repackages it yet again.

Figure 2. Check "Don't show this update again" to prevent IE 8 from being offered via Microsoft's update service — at least temporarily.
IT administrators who use WSUS will now find Internet Explorer 8 included as a patch offering. The update must still be manually approved, as discussed in a post on the official Small Business Server blog. More info on how WSUS will push out IE 8 is available in an Aug. 25 announcement on Microsoft's IE blog.
Also, the IE 8 Installation Blocker Tool will no longer prevent the browser upgrade from being deployed on servers, so admins will need to approve or disallow the patch as they deem necessary for their organizations.

Malware can interfere with IE 7 SSL connections

A person at my company who uses IE 7 suddenly couldn't use SSL Web sites because malware had damaged the browser's cipher strength. The telltale sign was that, instead of indicating it supports 256-bit encryption, IE listed 0-bit. Even reregistering some key .dll files didn't correct the situation.
The person's XP PC was so damaged by malware that I had to perform a repair install — as described on Microsoft's Help and Support site — to get the machine working again. (Microsoft Knowledge Base article 956196 documents the various tests you can perform to determine whether the browser is fixable.)
The Patch Watch column reveals problems with patches for Windows and major Windows applications. Susan Bradley recently received an MVP (Most Valuable Professional) award from Microsoft for her knowledge in the areas of Small Business Server and network security. She's also a partner in a California CPA firm.
---
Publisher: AskWoody LLC (woody@askwoody.com); editor: Tracey Capen (editor@askwoody.com).
Trademarks: Microsoft and Windows are registered trademarks of Microsoft Corporation. AskWoody, Windows Secrets Newsletter, WindowsSecrets.com, WinFind, Windows Gizmos, Security Baseline, Perimeter Scan, Wacky Web Week, the Windows Secrets Logo Design (W, S or road, and Star), and the slogan Everything Microsoft Forgot to Mention all are trademarks and service marks of AskWoody LLC. All other marks are the trademarks or service marks of their respective owners.
Your email subscription:
Copyright © 2021 AskWoody LLC, All rights reserved.
---
Welcome to our unique respite from the madness.
It's easy to post questions about Windows 10, Win8.1, Win7, Surface, Office, or browse through our Forums. Post anonymously or register for greater privileges. Keep it civil, please: Decorous Lounge rules strictly enforced. Questions? Contact Customer Support.

Plus Membership
Donations from Plus members keep this site going. You can identify the people who support AskWoody by the Plus badge on their avatars.
AskWoody Plus members not only get access to all of the contents of this site -- including Susan Bradley's frequently updated Patch Watch listing -- they also receive weekly AskWoody Plus Newsletters (formerly Windows Secrets Newsletter) and AskWoody Plus Alerts, emails when there are important breaking developments. Click here for details and to sign up.
Search Newsletters
Search Forums
Search for Topics
Key Links
Want to Advertise in the free newsletter? Send an email to sb@askwoody.com to ask how.