ISSUE 19.01.F • 2022-01-03
In this issue
EDITORIAL: Special Edition: Building Opal
HARDWARE DIY: Opal: The update
HARDWARE DIY: Opal: I'm building a new PC
HARDWARE DIY: Opal: How I planned my new build
HARDWARE DIY: Opal: Physical assembly — the motherboard
HARDWARE DIY: Opal: Physical assembly — the case
---
---
EDITORIAL
SPECIAL EDITION: Building Opal

By Will Fastie
Our writers have the week off.
The AskWoody newsletters are published 48 times per year, leaving four Mondays on which we would have no issue. Last year we tried an experiment on one of those off Mondays, reprinting a few articles that we thought you would like to see in one place.
That experiment went well; your feedback was positive. We ended up doing it twice last year and now we're doing it again.
This time, we're bringing you the four published articles about Opal, my new Windows 11 PC DIY build. That is complemented with a brief new piece in which I describe my lack of progress.
Unlike most issues of the free edition, this one contains all five articles. The full articles, not teasers. We wanted you to see the kind of work we're doing and plan to continue over the coming months and years. This week, you are seeing exactly what our Plus members are seeing.
Why? Because we want you to become an AskWoody Plus Member with a small donation. If just one tip you pick up in one article in the newsletter saves you hours of time and frustration, isn't that worth a couple of bucks per month?
We hope you'll agree, and we hope you'll like this very special edition of the AskWoody Free Newsletter. Tell your friends!
Join the conversation! Your questions, comments, and feedback
about this topic are always welcome in our forums!
Will Fastie is editor in chief of the AskWoody Plus Newsletter.
---
---
HARDWARE DIY
Opal: The Update

By Will Fastie
It hasn't gone as smoothly as I had hoped.
Maybe I've just been lucky. Maybe I'm getting older and slower. Or dumber. Whatever it is, I've run into some problems getting Opal up and running.
I've done the basic configuration steps and I've installed Windows 10 Pro. The computer is running fine. The UEFI BIOS sees all the hardware and I think I've done the RAID 1 configuration correctly. So what's the problem?
What optical drive?
You may recall that I purchased an external USB 3.0 DVD Writer instead of buying a case that could accommodate such a drive in a 5-1/4″ bay. I tested that drive on my current system, Onyx, and it works just fine in every respect. When connected to Opal, UEFI reports its presence. However, Windows can't see that drive. I have never seen that happen before.
I wouldn't worry about that too much under ordinary circumstances, but Windows also can't see my RAID array. This leads me to believe that I need some updates that are present on a CD that came with my ASUS motherboard. So all I need to do is pop that disc into my external drive and … oops.
I spent hours trying to figure out that little Catch-22 and then both the holiday season and the end-of-year work for AskWoody got in the way. In a couple of weeks I'll get back into this to figure out what's really going on.
What RAID software?
When I built Onyx, I had absolutely no problem configuring the RAID array. The manual that came with the Z97-A motherboard had clear instructions and every pointer I needed. For the Z590-V motherboard, the manual makes reference to an online document at ASUS. That document is very poorly done, badly organized and confusing.
Worse, it is clear that software from Intel is needed. ASUS points to the Intel site and I did find software, but it does not seem to apply to my system. Here again I spent too much time and needed to break off before I could get to the bottom of the problem.
Even though I need something from Intel, I lay the blame for this squarely at the feet of ASUS. Onyx was a breeze. Opal isn't built.
My next step — once I get going again — is to look closely at the disc that came with the motherboard. It may be that something is there that will break things loose.
What Windows 11?
No, I haven't upgraded Opal to Windows 11. There's no sense in bothering until I get the hardware sorted. During my experiments trying to solve the problems, I was forced to reinstall Windows 10 once. If I've done something wrong in UEFI, I may need to reinstall it again. And if I'm having trouble getting the drivers I need for Windows 10, I can't expect them to be available for Windows 11 yet.
Which means I haven't set up any software on Opal at all. I'm not about to lose days of work because I discover I need to start from scratch due to a configuration error.
It shouldn't be this hard. It's never been this hard before.
Join the conversation! Your questions, comments, and feedback
about this topic are always welcome in our forums!
Will Fastie is editor in chief of the AskWoody Plus Newsletter.
---
---
HARDWARE DIY
Opal: I'm building a new PC

By Will Fastie
Hardware for the future. Windows made me do it.
I wasn't expecting to need a new computer just yet. My current PC is a bit long in the tooth, but I chose well when I built it and it has lasted six years, still providing the performance and capability I need on a daily basis. I have no urgent need for Windows 11.
Except that I work for this newsletter.
I have never been an early adopter. My philosophy has been to let others suffer the slings and arrows while I remain safely behind the barricade, waiting for the chaos to die down. I can't do that this time. For you, I need to be current on Windows and most things Microsoft. And because my wife won't let me use her Windows 11–ready Lenovo Yoga, I need a new PC.
To get exactly what I want and to be sure I prepare for the future, I'm going to build rather than buy. It will be the third PC I've built for my own use, although I have built a few more for others. I think you might be interested because I'm not Linus Sebastian, building extreme gaming machines and 100TB disk servers (not that I don't love the guy). I'm conservative, with an intense interest in longevity, reliability, and total cost of ownership (TCO). I'll spend money if it helps achieve my goals. But I'm not interested in shiny objects. I don't need the PC to be a light show. It's a tool.
All my personal builds exceeded their expected lifetimes and were doing useful work at their decommissioning. My 2002 build was in use in 2012. I was a travelling consultant for most of that time, and my primary development and productivity PCs were a series of ThinkPads, which accounts for the delay in getting to my 2015 build, "Onyx."
What are my goals?
That's the key question. I'm going to state them, then describe how I met the goals with Onyx and how I'm going to do the same with the 2021 build.
Longevity — I want the greatest possible return on the investment. I want my total cost of ownership per year to be as low as I can make it. If spending a little more up front makes the PC last longer, that's good. My target is no less than five years, with six optimal.
Reliability — Knock on wood: there has been only one hardware failure in my builds over 19 years (and it happened a couple of months ago — the network port died). Spending a little more up front to get an appropriate level of quality is worth it for the long run. Longevity and reliability go hand in hand.
Expandability — I don't want to be caught three years downstream with a brick. The system needs to be built sufficiently well to deal with new and unpredictable requirements, such as buying an add-in network card in a hurry.
Functionality — The system needs to be able to do everything I want. I need all the normal productivity stuff, but I also need a software- and Web-development platform. I do some video work. I maintain my family's digital assets repository. I don't do heavy gaming, but I am looking forward to using Microsoft Flight Simulator again.
Quiet — I remember the quiet roar of my original IBM PC. I didn't mind it back then; I was used to computer noise. In 2015, I demanded quiet, and in 2021 I demand silence. I'll invest to make that happen.
Onyx — the 2015 build
Even though I should explain the details of my 2002 build, it suffices to say that its primary use was as a gaming and media-production system, with capabilities suited to the time. Onyx was significant because I merged my business and personal functions into one machine, forgoing laptops (I was no longer traveling heavily). Here are the basic components I used.
Corsair Obsidian 550D quiet case (black, hence the name "Onyx")
Corsair RM750 power supply
ASUS Z97-A motherboard, ATX format, two PCI and five PCIe slots
Intel i5-4690 processor, 3.5GHz base, 3.9GHz turbo, 4 cores, 4 threads
8GB Crucial DDR3-1600 RAM (2 x 4GB)
Intel 730 240GB SSD
Two Seagate 3TB, 7200rpm Barracuda hard drives
Windows 8.1 Pro 64-bit edition
Longevity/Reliability — I felt sure that I had purchased nothing but quality components and that they would last. The PC needs new hard drives now, planned for and expected. Every item on the list was considered very reliable at the time.
Expandability — Here I made a mistake. I had a number of PCI cards that I felt I could continue to use, but I was wrong: driver support dwindled to nothing; I lost my useful SoundBlaster Audigy. I still have empty slots. I intended to add a graphics card, but it never proved necessary. I should have bought a motherboard with nothing but PCIe slots.
I have been able to expand as needed, though. RAM went to 16GB, the SSD to 500GB, I added some SATA ports to handle extra drives, and I got a PCIe IEEE 1394 card.
Functionality — The only thing I can't do on Onyx is play my favorite retro game, Red Alert 2. That's why I keep an old PC with Windows 7 around.
Quiet — As long as I keep dust out of Intel's stock cooler's fins, Onyx is very quiet. In its sixth year, noise is coming from the hard drives and perhaps the fans. The CPU has a base frequency of 3.5GHz and a turbo boost of 3.9; it usually runs around 3.8, a testament to the cooler and fans managing the temperature well. (If you're not dealing with dust in whatever computer you're using, you should — dust being a computer's number-one lethal enemy.)
Considering the 2021 build
The physical act of assembling a PC is not that hard. Exceptions are dealing with smaller form factors, such as an ITX-compatible case into which one is trying to cram a water cooler, one or two graphics cards, and more drives than are reasonable.
It's not the assembly, it's the planning. I think I plan well, but this time I faced a huge mental block. It's worth describing because while my thinking was not irrational, I got hung up until I made a key alteration in the plan.
Since my first IBM PC in 1981, and including all the laptops I've used, every single computer has always had front-accessible, half-height, 5-1/4″ drive bays (side-accessible, quarter-height bays in the case of the ThinkPads). I have at least one gadget in a front bay to which I am very attached, and I could not get past not having it. This came up because 80 percent of the cases that I looked at do not have such bays. Having not built a PC in six years, I missed this transition — in 2015, 95 percent did. Where was I going to put my gadget?
The answer is that I am no longer going to have that gadget.
The gadget is a drive bay into which 2.5″ and 3.5″ SATA drives can be inserted (Figure 1). I've got a lot of older, bare hard drives, and I just want to plug them in when needed. I also have a 2TB drive that I use for backups; once the backup is done, the drive is disconnected and thus not vulnerable to encrypting attacks, such as ransomware.

Figure 1. Will's very useful drive-bay gadget, a Syba dual-bay mobile rack (no longer available) Photo: Will Fastie
The solution was to purchase a similar device that connects via USB 3.0 and is thus external (Figure 2). One plus of this solution is that it's not permanently attached — I can use it on any system. Even though I liked the idea of having the bay available instantly, it gets used every few weeks, if that often. Pulling an external drive out of a drawer isn't a struggle.
Another plus is speed. USB 2.0 devices simply could not match SATA speeds. USB 3.0 devices still are not as fast as SATA, but they are much faster than USB 2.

Figure 2. Sabrent USB 3.0 External Hard Drive Lay-Flat Docking Station for 2.5″ or 3.5″ SATA HDDs Photo: Will Fastie
Along those same lines. I also purchased a generic USB 3.0 DVD writer (Figure 3). Yes, I still need that. I have an old, generic, USB 3.5″ floppy disk drive, 15 years old and working fine.

Figure 3. ROOFULL USB 3.0 external DVD writer Photo: Will Fastie
I might store these external devices in a drawer, but having a case for them is good. The ROOFULL drive unexpectedly came with a sturdy and well-padded one.
Ever hear of Sabrent and ROOFULL? Neither have I. These two devices are very generic; I think the Chinese make up new brand names as it suits them. I'm not worried.
Opal — The 2021 build
Here's the tentative plan for the new PC, which I've named "Opal."
Be Quiet! Pure Base 500 case
Be Quiet! Dark Power 12 750W power supply
Noctua NH-D15 CPU air cooler w/ two NF-A15 PWM fans
ASUS Prime Z590-V motherboard, ATX format
Intel i5-11600K processor, 3.9GHz base, 4.9GHz turbo, 6 cores, 12 threads
32GB Crucial Ballistix DDR4-3200 RAM (2 x 16GB)
Samsung 980 Pro 1TB SSD, M.2 2280, NVMe, PCIe 4.0 (M key)
Two Toshiba 6TB, 7200rpm hard drives
Windows 10 Pro 64-bit edition
Opal represents a general doubling of everything — cores, RAM, SSD, HDD, and cooling. The CPU clock rate doesn't double, and I have no intention of over-clocking — even though this is a K model processor — but I'm getting a nice bump up. I generally consider two hyperthreads to be the equivalent of one physical core, so I count the processor as having nine cores (i.e., double) from a performance perspective.
This calculation is confusing. The specs always say something like "6 cores, 12 threads." What that really means is that each physical core can run one thread and one hyperthread. In other words, there are six "hard" threads and six hyperthreads.
Longevity, Reliability — I'm making the same kinds of decisions I made with Onyx, going for quality and being willing to spend for it. The one extra thing I'm doing this time is checking for Windows 11 compatibility. ASUS documentation confirms that the Z590 series motherboards have TPM 2.0 and the i5-11600K processor is on Microsoft's list. My purchase of Windows 10 Pro will assure a free upgrade to Windows 11.
Expandability — PCIe slots seem to be like gold these days. ASUS's most expensive Z590 motherboard, the Z590-A, has but four, as does the -P. The -V has five. However, my current motherboard has two PCI and five PCIe slots; seven slots is the max for an ATX form-factor board. Space that might have been given to more PCIe slots has instead been used for M.2 storage slots; there are three of those on the Prime motherboards mentioned here.
Functionality — The only thing I can't do on this PC is play Microsoft Flight Simulator, which requires a graphics card. I'll get to it, but not right away. I'm not made of money.
Quiet — I'm buying quiet cases and dramatically expanding air-cooling capability.
Oops, I said "cases," didn't I? My Corsair 550D case is huge. The Be Quiet! case is still on the large side for my taste, but it is slightly smaller overall. I'm thus buying two cases and putting my old system in one of them.
That's it for now. Next time, I'll discuss my new choices in detail, explaining why I've chosen each component.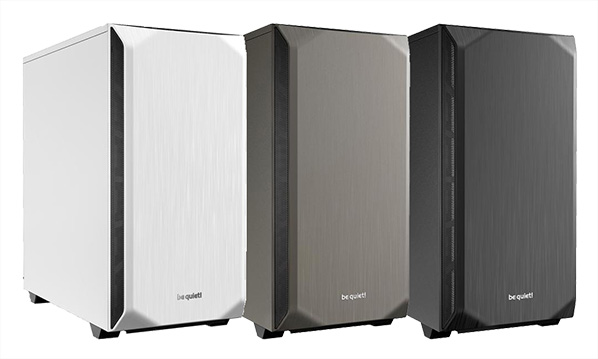 A little sneak peek. Which color won't I buy?
Oh, wait. one more tiny thing. I mentioned above that building your own PC isn't hard. I should amend that — It isn't hard after the first one, which can be nerve-wracking. Check out one of the best build videos I've ever seen, from Linus Tech Tips: Maybe Building Your Own PC is a BAD idea.
Join the conversation! Your questions, comments, and feedback
about this topic are always welcome in our forums!
Will Fastie is editor in chief of the AskWoody Plus Newsletter.
---
ADVERTISEMENT
---
HARDWARE DIY
Opal: How I planned my new build

By Will Fastie
I'll say it again — it's not the building, it's the planning.
A favorite saying about war plans is that they do not survive first contact with the enemy. A slight paraphrase is that a plan does not survive first contact with reality.
Reality caused me to make a change in my build plan, which is the first thing I want to tell you about.
Onyx may be dying
In the first article in this series (2021-08-02), I mentioned the recent failure of the Ethernet port built into the motherboard of my 2015 build, Onyx. It is disturbing. The port is operated by the Intel Z97 chipset. It's possible that the failure was a result of breakage of the RJ-45 connector, and I will look for that, but if the Z97 is the culprit, it could foreshadow a failure of the motherboard. The safest course of action is to assume the worst, which means I won't be buying a second case and keeping my old system.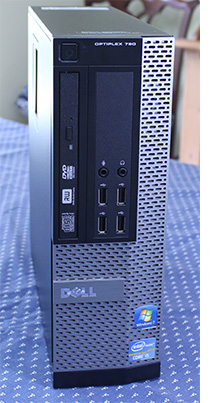 My plan was to build the new system and gradually put it into service as my primary, but now I must get the 2021 build into full service as soon as possible. It means decommissioning Onyx, which in turn means coming up with a PC to use as my secondary. I need a secondary to assure continuity of business (COB), and I have one: a 2012 Dell OptiPlex 790 that is suitable (left). The significant adjustment to my plan is making sure the 790, named "Opti," can continue to function indefinitely as the secondary, both for COB and as my primary Windows 10 computer once my new system, Opal, is running Windows 11.
Business continuity is vitally important. I don't need the secondary for video work, gaming, or any of my other personal projects. I just need it so I can still earn a living if something happens to Opal.
Because Opti was already my secondary, a few months ago I gifted it with a new, 500GB SSD and quadrupled RAM to 16GB. Simultaneously, I bought a 1TB SSD to upgrade Onyx. Now I don't need that, so Opti will inherit the 1TB SSD because for full continuity of business, I need slightly more than 500GB.
If you're curious about why such an old PC will suffice, it's because its i5-2400 processor sports four cores with a base frequency of 3.1GHz and a turbo boost frequency of 3.4, almost as fast as my current PC. In 2012, this thing was a screamer — it was used for CAD work! (I've got its video card around here somewhere.)
The financial impact of this decision is minimal. The RAM and 500GB SSD cost $180. The 1TB SSD it will inherit was $105. That's $285 total. But because Onyx is being decommissioned, I will not need to replace its two 3TB hard drives, a saving of about $160. Opti is worth the $285 investment.
Nothing about the plan for Opal has changed.
Why I chose what I bought
None of my choices for Opal was made idly. I've already mentioned that I'm conservative, but a deeper reason is that I try to be as careful as possible not to make mistakes, especially ones from which recovery will come at extra cost.

Figure 1. Parts are starting to stack up.  Photo by Will Fastie
Here's my thinking. Prices are shown in US dollars as of August 2021.
Case — be quiet! Pure Base 500, $75 (NewEgg)
Silence is golden. I looked at cases for nearly two days before settling on this one. It's a bit of a gamble, because — having no experience with be quiet! — I don't know for sure how quiet it will be. But I didn't have experience with my Corsair Obsidian case, and it was fine.
Wondering which color I chose? White. Thus "Opal."
PSU — be quiet! Dark Power 12 750W, $215 (NewEgg)
One risk I took with Onyx was using the power supply from the case vendor. Previously, I had used highly engineered PSUs from PC Power & Cooling, but this time around the company had none available. I went with the case vendor again. I bumped up the wattage to make sure I had enough headroom for a graphics card someday. I used a couple of online calculators, including one at the be quiet! site, to determine how much power would be needed.
Note: This PSU was on sale when I ordered it. The usual price is $255.
Cooling — Noctua NH-D15, $100 (Amazon)
Good cooling, especially air cooling, significantly contributes to quietness. Noctua has an incredible reputation. Air coolers can be very large and thus relatively heavy; part of Noctua's reputation is based on its excellent, secure mounting system. A check of specs confirms that the D15 will fit into the Pure Base 500 case; Noctua has an excellent and comprehensive database about compatibility. Choosing Noctua is easy.
CPU — Intel Core i5-11600K, $290 (NewEgg)
Without question, this is the hardest choice to make because it most defines the overall performance of a DIY build for many years. And my decision might be somewhat controversial, because I didn't opt for an i7 or i9.
Windows 11's hardware requirements make it clear that this time around, it is best to choose a processor from the most recent generation. That means an 11th-generation processor no matter what. But beyond that, what do I need? I don't think I need 12 cores, or even eight. So it's complicated.
I base my analysis on the price per effective core (my term, not something you'll find in the literature). The number of effective cores is the number of cores (just physical cores, not hyperthreads) times 1.5. That's because I consider two hyperthreads to be the performance equivalent of one physical processor. The 11600K is hyperthreaded with six cores, so I say it has nine effective cores. That leads to the following:
i9-11900K, $550, 12 effective cores, $46/core, base frequency 3.50GHz
i7-11700K, $400, 12 effective cores, $33/core, base frequency 3.60GHz
i5-11600K, $290, 9 effective cores, $32/core, base frequency 3.90GHz
The i9 obviously has the highest price per core but also the lowest base frequency. The i7 matches the i5 in price per core but, again, has a lower base frequency. In my eyes, that makes the i5 the winner. At nine effective cores, I consider it a doubling of Onyx's four-core i5-4690, and doubling is the goal. And nothing will run slower than 3.90GHz.
Motherboard — ASUS Prime Z590-V, $175 (NewEgg)
ASUS offers several motherboards with the Intel Z590 chipset. I considered the Z590-A, Z590-P, and Z590-V variants. Wading through the specifications to see what each board offers, compared against what I need, was time-consuming. But eventually, that study allowed me to conclude that the -V model, the least expensive of the lot, was more than sufficient for both current and future requirements.
Historically, I've been obsessed with having as many SATA ports as possible so I could connect a couple of DVD drives, my D: drive mirror, a boot drive, and my "gadget." The six ports available on Onyx's ASUS Z97-A motherboard proved inadequate in the long run, requiring an add-in PCIe card. This time, however, I need only to connect the boot drive and the mirror. The boot drive will use the M.2 PCIe slot, so I need only two internal SATA connectors; the Z590-V has four. My experience with Onyx tells me that Opal will probably not need more than three, ever.
For all other ports and connectors, there are enough (Figure 2). The sole limitation is that the Z590 motherboards provide only HDMI and DisplayPort connectors. I still need VGA, but that will be remedied with an adapter. More on display technology later.

Figure 2. The port arrangement on the ASUS Z590-V motherboard Source: ASUS website.
ATX format motherboards allow for up to seven expansion slots. The Z590-V has five, which should be more than I need.
RAM — Crucial Ballistix DDR4-3200, 32GB kit (2 x 16GB), $190 (Crucial)
I've been buying Crucial RAM for over 20 years, not just for me but also for family, friends, and clients. Zero problems; this vendor selection is a no-brainer. As for the quantity, I'm doubling. Onyx has 16GB, so Opal gets 32GB. This memory can be overclocked. I don't do that, but because it can support much higher speeds, using it at base speed will contribute to its longevity and encourage low temperatures.
Ballistix RAM DIMMs come in colors. I'm getting white. Surprise. Nobody will see it (no windows on the case) but I'll know it's in there.
Boot Drive — Samsung 980 Pro NVMe M.2 SSD, 1TB, $200 (Amazon)
M.2 sockets can be confusing. It's important to understand exactly which M.2 slots are on a motherboard (three on the Z590-V) and how each is connected. Trust me — it's not obvious.
If an 11th-generation processor is used, the first M.2 socket will support the very high-speed PCIe 4.0. That socket actually represents the first available slot location on the motherboard, which makes sense because it connects via PCIe. The 980 Pro SSD will run at PCIe 4.0 speeds in that socket. Blazing speed for the boot drive and thus an easy choice, but double the price compared to everyday 1TB SSDs.
I should mention that the Z590-V motherboard has a fourth M.2 socket. It is an E-key socket, not the M-key used for SSDs. The E-key socket is used to add a Wi-Fi/Bluetooth card. I have a USB dongle for Bluetooth in Onyx, so I may want to add a combo card and pick up Wi-Fi in the bargain.
HDDs — Toshiba X300 6TB 7200rpm drives, two each, $320 total (Amazon)
The D: drive on Onyx is a 3TB mirror (RAID 1). Following the doubling principle, I opted for 6TB drives for Opal, which I will again mirror. The choice of Toshiba might concern some, as Seagate and Western Digital HDDs are more common, but I've never had a problem with Toshiba drives in the past.
More to the point, I consider a mirror an excellent way to hedge against failure. The odds that both drives fail at the same time is infinitesimal. If one fails, I must simply act quickly to obtain another drive so I can rebuild the mirror.
If you're not sure what a RAID 1 mirror is, it is a pair of HDDs that acts as one; all data is written to both drives. If data cannot be read from one drive, it is automatically read from the other. To the user, the pair of drives appears as a single drive with a maximum capacity of the smallest of the two drives. In other words, the two 6TB drives don't yield 12TB of storage but rather 6TB.
One of the reasons I like RAID 1 mirrors is that each drive can stand alone. Either drive can be removed and read on another PC as if it were just a single drive. In other words, if something happens to Opal, I can pull one of the drives and access it without having to configure RAID on the system reading it.
Fred Langa expressed concerns (2021-04-26) about RAID configurations in personal systems, but mirrors are simple, reliable, and fail-safe. For other RAID types, I agree with him. RAID support is provided by the motherboard.
O/S — Windows 10 Pro 64-bit, USB stick, $200 (NewEgg)
Not much of a surprise here. One of the expenses of a DIY build is that individuals don't get the OEM break on the price of Windows. I need a new activation, and this is the way to get it. I bought the USB stick instead of the downloadable version. Using a downloaded ISO is not difficult, but the USB method is simpler by far.
As for Pro vs. Home, my personal preference — and recommendation — has always been Pro, despite the higher cost.
Adapter — StarTech DisplayPort to VGA Adapter, $22 (Amazon)
The Z590-V motherboard provides only DisplayPort and HDMI connections, not VGA or DVI. My KVM switch (see below) handles only VGA, so I need this adapter.
About displays
I have not mentioned displays as part of this project. That's because earlier this year, I replaced my great but aging, power-hungry, and heat-generating Dell UltraSharp displays with a pair of ASUS ProArt Displays (model PA248QV). I have what I need, and the new displays were inevitable, not part of this buying decision.
My situation has another twist. I have a KVM (keyboard, video, mouse) switch that allows me to use one keyboard and mouse to control up to four PCs. The switch handles one display; my second display is permanently connected to my primary PC, even when I switch to another. This arrangement is very important to me because of my limited space and the proven efficiency of working this way.
My KVM is a TRENDnet model TK-423K (recently discontinued, Figure 3). I've been using KVMs for over 20 years, and this is the only one that has lasted. This model has one gotcha — it only switches VGA. Opal does not have VGA, only HDMI and DisplayPort (Figure 2 above).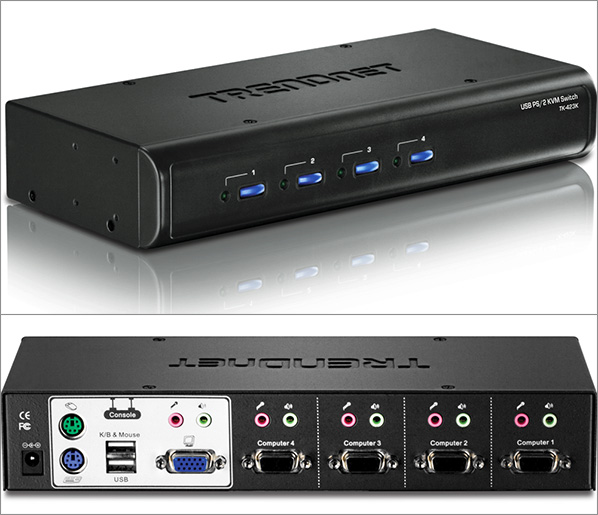 Figure 3. Today: TRENDnet TK-423K KVM switch, VGA only, custom cables provided
Source: TRENDnet support website
For now, this aging switch will suffice, because I bought the DisplayPort to VGA adapter. Eventually, I will need to modernize (Figure 4).


Figure 4. The future: TRENDnet TK-441DP KVM switch, DisplayPort only, cables not included Source: TRENDnet website
The TK-441DP will be somewhat costly. The unit is about $290 at the moment, but unlike previous KVMs from TRENDnet, cables are not included. Plus, I'll need adapters for my older computers that don't have DisplayPort. Call it $35 per PC or another $70 in total.
About DIY
If you contemplate building your own PC, you should be aware of the pitfalls. I believe the benefits usually outweigh the negatives, but that's just me.
Attention to detail — If you are not a detail-oriented person or you find it hard to stay organized, DIY might not be for you. All manuals and instructions should be read thoroughly. Don't proceed if you have any doubts. Don't be afraid to consult with others who have done builds — and don't be afraid to consult the manufacturers.
Planning — You wouldn't (or shouldn't) build a house without blueprints. Don't build a PC without a plan. Don't hurry it. Be a tortoise and win the race.
No warranty — Naturally, you will receive the manufacturer's warranty on any component you buy. However, your completed system, as a whole, will not be warranted. You are its manufacturer, and you must deal with whatever problems you encounter.
Vendors — Over the course of 20 years building PCs, I dealt with 14 vendors and resellers. Of those, only six remain. Once such a company is gone, you can forget about getting anything from it, such as help, warranty support, or evidence that you even purchased from it. The six survivors are Amazon, NewEgg, Crucial, Microcenter, JNCS, and Directron. This time, I used the first four (my new ASUS displays were purchased from Microcenter).
Tools — You won't need much, mostly screwdrivers. I recommend having a Phillips #1 and #2 on hand, although you can usually get by with just a #1. I recommend separate drivers, not a kit with multiple bits. For protection against static discharge, get a wrist strap ($15 or less). For maximum protection, also get an anti-static mat ($30).

Opal's parts in their native packaging Photo by Will Fastie
Having trouble keeping track of the names of my computers?

Will's inventory of desktop PCs. Onyx is doomed.
Next time, some assembly.
All the components for Opal were purchased by me, personally.
I neither solicited nor received any consideration from any of the manufacturers or vendors I chose.
My choices do not represent an endorsement of any product or manufacturer.
Join the conversation! Your questions, comments, and feedback
about this topic are always welcome in our forums!
Will Fastie is editor in chief of the AskWoody Plus Newsletter.
---
ADVERTISEMENT
---
HARDWARE DIY
Opal: Physical assembly — the motherboard

By Will Fastie
I didn't realize assembling a PC could be so dangerous.
Like other folks who put together PCs, I usually call them "builds." That's a bit generous. As you've seen from my previous installment in this series (AskWoody 2021-08-30), I acquired components. I'm not really building anything — I'm assembling those components into the final product, Opal.
Once the collection of components is on hand, where does one start?
Tools
In the last installment, I suggested that having just a #1 Phillips screwdriver and anti-static equipment would be adequate. That's largely true, but there are some useful tools above and beyond just one screwdriver. See Figure 1.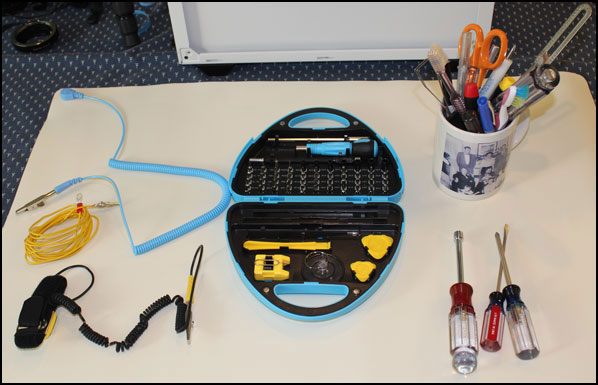 Figure 1. The tools I used to assemble Opal
This array includes everything I used in the assembly process. The little kit in the middle is a bit over the top, but it contains just about everything one might need to work on devices such as tablets or smartphones. It wasn't very expensive ($17); even though it includes a perfectly sized, magnetic driver handle (blue, in the lid of the case) as well as 55 different bits (Phillips, flat, hex, Torx™, star, etc.). I didn't expect it to be very useful, but it turns out that the handle's small size came in handy. If I had been doing this professionally, I would have gotten something better.
The coffee mug is my full-time, desktop tool kit. It contains what I usually need for tinkering with PCs, including the three Craftsman tools shown just below it: a 1/4″ nut driver, a 1/8″ flat screwdriver, and a #1 Phillips screwdriver.
Everything is sitting on the white anti-static mat I bought for the project. I still had my old wrist strap (black and yellow); despite age, it is still conductive. I decided to use it instead of buying a new one. The yellow coil is the ground wire I made for connecting the anti-static equipment.
You can see how I assembled the coil so it would connect to the screw in the middle of an electrical faceplate (left). My condo is new enough that all outlets are properly grounded, and the center screw is seated in a part of the outlet body that is grounded. The coil is about six feet long, which allowed me to string it from the outlet to the table where I was doing the work.
I advise caution with this type of arrangement. In an older house or with an outlet that does not meet code, the center screw might not be grounded. It's unusual for that to be the case; just know what you are doing. I'm not an electrician, and you shouldn't take my word.
I ran the wire to the table and clipped both the wrist strap and the mat to it.
The motherboard
The most sensitive electronics in the assembly are the motherboard and the components attached directly to it. That's what the mat is for — preventing any static discharge while working on the motherboard.
Motherboard assembly is first because it is much easier to work on outside the case. When using a big cooler like the Noctua NH-D15, it's especially important to get things in the right order.
The processor
First comes inserting the processor. There are various sockets; the one on the ASUS Z590-V (designated FCLGA1200 by Intel) is typical. It consists of a little tray full of contacts, and a clamp held in place with spring tension from a lever on the side. Initially, the mechanism holds a protective plastic cover in place (left image in Figure 2); but after opening the clamp and dropping in the processor, closing the clamp pops the cover out, leaving the processor visible.
Tip: Keep the plastic cover!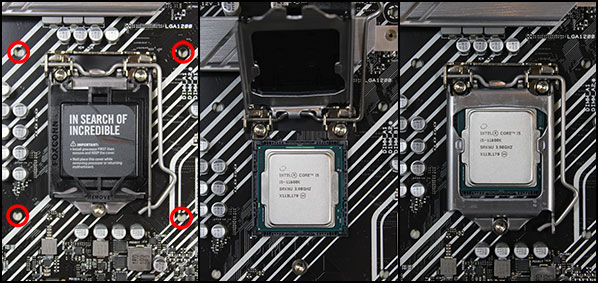 Figure 2. The stages of inserting the processor
In the left image in Figure 2, the red circles denote holes in the motherboard that are used to secure a cooler. They are not marked in any way on the board but will come into play when mounting the Noctua cooler.
The insertion process is usually very simple because the socket and the chip are a matched set, with notches to assure the chip lines up properly in the socket. Don't force anything here; just gently drop the chip in and make sure it is aligned.
Tip: Don't touch the surface of the chip with your fingers — hold it from the edges. If you get fingerprints on the chip, you will need to clean it with 90% isopropyl alcohol before further assembly. Keeping the surface clean is essential so that the cooler and chip have the best possible thermal connection.
The memory (RAM)
Inserting the DIMMs (dual inline memory modules) is easy. Nonetheless, some care should be taken to make sure you understand the nature of the slot. These days it seems to take a little more force to get the DIMMs seated properly, but that means you can usually be sure of good connections. The main thing to look for is the small notch near the middle of the modules (visible in the middle image of Figure 3). Make sure you've aligned the DIMM so the notch matches the slot. Then open any catches on the slot; the slots of this motherboard have one catch at the top (visible at the top of the left image in Figure 3). Insert the DIMM until the catches snap into place (right image).

Figure 3. Memory insertion. It is important to insert the DIMMs into the proper slots.
It is very important to be sure the DIMMs are inserted into the correct slots. Order of insertion is usually described well in the motherboard's manual. It is also marked on the motherboard (circled in red in the left image of Figure 3). This is my first ding about the ASUS Z590-V motherboard — those markings are very confusing. The slots are named A1, A2*, B1, and B2*. DIMMs are most often installed in pairs, and the matching slots often have the same color (black and gray for the Z590-V). It was impossible to know what to do just by looking at the motherboard; the manual was essential. As you can see, the answer is that my single pair of DIMMs goes into the gray slots, A2* and B2*.
Make sense? Not really. Pairs in alternating slots are not unusual, but the slot names are odd. I would have named them, from left to right, 3, 1, 4, 2. Then the correct assembly instructions, regardless of how many DIMMs were involved, would simply have been "Insert DIMMs in slots 1 through 4, in order." These things bother me.
Cooler mounting system
Noctua calls its mounting system SecuFirm2™. Figure 4 shows the part and how the mount looks once installed.

Figure 4. Noctua's SecuFirm2™ mounting system
Most coolers, even radiators, just mount directly to the holes. But the size and weight of the Noctua NH-D15 cooler need something stronger. In the left image of Figure 4, you can see the backing plate with four integrated machine screws. The backing plate is inserted from behind the motherboard. The four black plastic spacers are then inserted over the screws, the curved braces are slipped over the ends of the screws, and the knurled knobs with the Phillips head are installed to secure the braces. The backing plate is the key to the strength.
Once this mounting system is in place, the chip's socket is no longer accessible because the lever cannot be operated. In all the PCs I've built, I've never removed the processor after installation, so this should not pose a problem.
The braces can be installed either up-and-down or left-to-right. Their orientation determines which way the cooler is installed and what direction the fans will blow. This is explained in the Noctua instructions, albeit poorly. But if you get it wrong, you can easily switch the braces.
The M.2 SSD
The last motherboard item is the solid-state drive (SSD). I chose an NVMe M.2 SSD, one capable of running at PCI 4.0 speeds. Figure 5 shows the SSD installed.

Figure 5. Samsung 980 Pro NVMe M.2 SSD installed in the primary M.2 socket on the motherboard
M.2 slots provide for a variety of lengths, most commonly 24, 60, 80, and 110 millimeters. The motherboard provides screw holes at those points, but a standoff must be installed to match the length of the specific M.2 card being used. My 980 PRO is 80mm; you can just barely see "80" next to the screw at the far right. The motherboard came with three of the standoffs and screws because there are three M.2 slots. Those standoffs and screws are very tiny; it is important to bag and tag the ones not used, so you can figure out what they are three years from now.
The motherboard is now ready for installation in the case. Wonder why I'm not installing the cooler at this point? Because it would make sliding the board in very, very difficult. Installing the cooler is one of the last items on the todo list.
The dangerous motherboard
Here's my next ding about the ASUS Z590-V — the heat sinks have incredibly sharp edges. I was very disappointed about this because I'd had no problems with the Z97-A in Onyx. Just brushing my fingers near the sinks resulted in cuts four times! Two of them were just nicks, but the others were more serious than paper cuts. I managed to get blood on the motherboard and elsewhere.
I'm talking scalpel-sharp here. I didn't even notice the cuts until I saw the blood.
ASUS should have taken the sharp edges off in a finishing process. My advice? If you buy an ASUS motherboard, handle with extreme care, but have a supply of Band-Aids® and Neosporin® handy anyway. And make sure your tetanus shots are up to date.
I was shutter-happy during the assembly of Opal, but I somehow managed to omit photographing the assembled motherboard outside the case. You'll see it in the case in next week's installment!
Previous installments
All the components for Opal were purchased by me, personally.
I neither solicited nor received any consideration from any of the manufacturers or vendors I chose.
My choices do not represent an endorsement of any product or manufacturer.
Unless otherwise noted, all photography by Will Fastie.
Join the conversation! Your questions, comments, and feedback
about this topic are always welcome in our forums!
Will Fastie is editor in chief of the AskWoody Plus Newsletter.
---
ADVERTISEMENT
---
HARDWARE DIY
Opal: Physical assembly — the case

By Will Fastie
Obviously, everything ends up going into the case.
Last week, I discussed the assembly steps necessary to prepare Opal's new motherboard. That process included installing the processor, the cooler's mount, the RAM, and the SSD. Now it's time to talk about getting the motherboard into the case, along with all the other components that make up the system.
The process I describe here is generally applicable to just about any case. However, cases of different sizes and configurations may present different challenges.
The case
There is one thing that I have always found to be tricky. It is installing the "I/O shield." This little piece of stamped sheet metal is an all-important interface between the case and the motherboard. And it must be installed carefully.
It really is a simple thing, as shown in Figure 1. It is also very specific to a given motherboard — its layout must exactly match the ports on the motherboard, and there can't be any other holes.

Figure 1. A typical I/O shield, this one for the ASUS Z590-V motherboard
Handle this little snip of metal gingerly. If it gets bent or dented, it may not fit the hole in the case for which it is designed, and you will have no choice but to order a replacement.
It can also be difficult to align properly. Install it by placing it against the hole in the case, from the inside, and then pushing it until it snaps into place. It's usually a tight fit, and it's easy to think the shield is seated when it really isn't. If you decide to use a tool to push it into place, that's the time to watch for dents and bends. It is best to use a small, flat-blade screwdriver and push only on the edges, gently. If you have a plastic tool with a flat blade, that's even better.
Figure 2 shows the shield mounted in the case.


Figure 2. I/O shield installed. This view is from the outside. Note that the edges of the shield are above the surface of the case. If every side is not above the surface, the shield is not set correctly.
With the shield installed, the motherboard can finally be installed in the case. That's been my next step in previous builds. This time, I decided to change the order a bit and install the PSU first.
The power supply
The power supply unit (PSU) is usually the heaviest item installed in the case. The case by itself, stripped of its skins, is very light, so installing the PSU dramatically increases the weight. This makes handling the case during assembly a bit tougher. I decided to do the PSU next anyway.
PSUs in an ATX case are usually installed in one of two ways. Most commonly (and with Onyx), the PSU is placed inside the case, pushed rearward all the way, and then secured with screws from the outside. The be quiet! case is different. It has a frame that is first attached to the PSU, and then the assembly is inserted from the rear and secured. Figure 3 shows the frame attached to the PSU.

Figure 3. Case frame attached to PSU
Note the thumbscrews on the outer edges of the frame, which are retained. This means that when an item is removed, the screw says with the item. Such thumbscrews are used throughout the be quiet! case.
Figure 4 shows the assembly inserted into the case and secured.

Figure 4. PSU assembly mounted in the case
There is a reason for using this frame approach. The power supply can be a source of noise. If directly attached to the case, that noise can reverberate. The bottom of the case has padding, as does the little frame where it sits on the PSU. So the PSU makes no metal-to-metal contact and thus is unlikely to transmit its noise to the case.
The cage for the hard-disk drives (HDDs) fits into the bottom front of the case in the same plane as the PSU. With the cage installed, it is very difficult to connect the PSU cables. Thus the next step was choosing the cables the system would require and plugging them into the PSU. The cables provided with the PSU are shown in Figure 5.

Figure 5. Cables provided with the Dark Power PSU
These cables are beautifully done. They are all sheathed with a woven material, which prevents the wires inside from chafing against any metal edge in the case. Sheathing is extremely difficult to install on unprotected cables, so I prefer PSU cables that include it.
PSUs come in two general flavors — modular and not. Modular cables are separate from the PSU and not permanently connected to it. Nonmodular PSUs come with all cables attached. Modular PSUs cost slightly more, but they allow the builder to use only the necessary cables and thus substantially reduce clutter. I chose the cables needed for my HDDs and the motherboard, then stored the rest for the future. Eventually I will need one more to power a dedicated graphics card (assuming I win the lottery and can afford to buy one).
The hard drives
With the cables connected to the PSU and hanging out the side of the case, the hard drives can be installed in the cage. Then the cage can be installed in the case. Figure 6 shows the parts.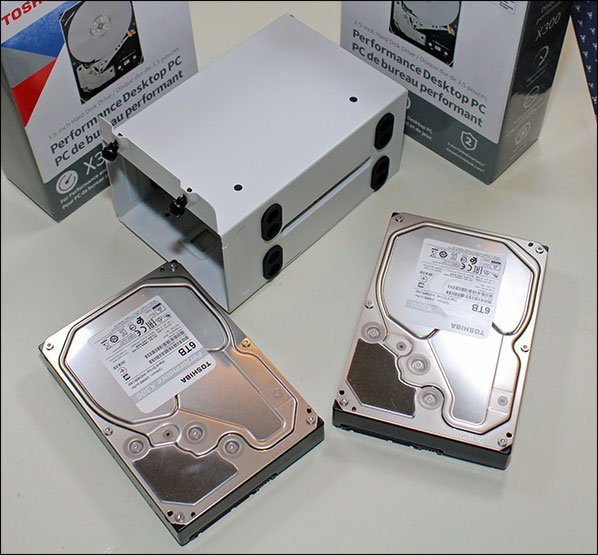 Figure 6. The Toshiba HDDs, with the be quiet! case's drive cage in the middle
The drive cage has rubber grommets on both sides of each bay. Mounting screws go through those grommets and thus completely isolate drive vibration from the metal case. My only concern about the drive bays is that the cage is solid on both sides. While that will tend to focus noise left and right when the case is viewed from the front, directing noise at the foam padding on the sides of the case, it also means that the front-to-back airflow is somewhat blocked.
I'm sparing you a lot of the detail here because this is a very simple part of the assembly. Figure 7 shows the drive cage installed and all the cables connected.

Figure 7. The drive cage installed in the case, with all cables attached
Also visible above is the space between the drive cage and the front of the PSU. As you can tell, there isn't much room for excess cable inside that space. That cramped space also means that when it comes time to add additional power cabling, the front of the case and the drive cage must be removed for access.
The dangerous motherboard, again
Now it is time to get the motherboard in place. During this process, I got my second set of finger cuts. You'd think I'd learn.
This is a nuanced and potentially difficult part of the build. Unfortunately, it is very difficult to capture in a few photographs. I'll do the best I can to explain it.
The motherboard sits on standoffs (see Figure 8, in the red circle). When I first started doing DIY PCs, the standoffs were parts requiring their own installation. Today, a case that supports ATX motherboards comes with the standoffs required by the ATX format already installed in the right locations. Set the motherboard on these little legs, slide the board toward the back of the case to engage the I/O shield, and then fasten the board by putting screws through it into the standoffs.
The I/O shield is springy. If the board is pushed up to it and released, the board will be pushed back. This was another one of those tricky things in the past; one needed to hold the board in place and get at least one screw installed (but I've got only two hands). With the be quiet! case, one of the standoffs has a stud on top of it (Figure 8, arrow). This clever bit of engineering means that the board can be positioned until the stud engages its matching hole, after which the board will stay in place while the screws are inserted. Simple, but elegant.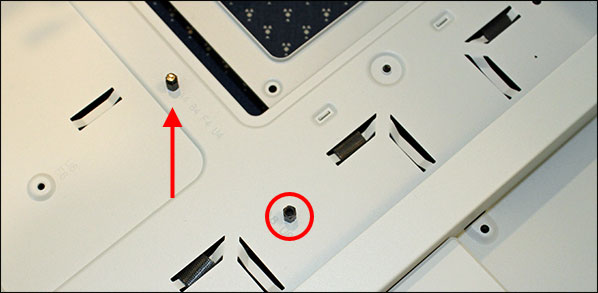 Figure 8. Case standoffs for an ATX motherboard, with an alignment stud in the middle
While I'm talking about nice case features, let me mention the way openings are handled through the metal of the case. Onyx, with its Corsair case, had openings that were stamped through and then softened by the addition of plastic edging so that sharp edges would not damage the cables running through them. One of my concerns about the be quiet! case was that it did not have this protection. What it does have, however, are edges that are softened by extrusion (see Figure 9, left arrow) or wrapping (right arrow). There are no sharp edges to damage cables. Again, very nice engineering.

Figure 9. Edges are softened in the be quiet! case by clever metal-stamping techniques.
In addition to removing the sharp edges, these manufacturing techniques add structure and strength to the case. Even though the case is light, it is stronger than it looks. The structure will also tend to prevent vibration and thus additional noise.
Once the motherboard is installed, cables can be routed as needed. Figure 10 shows the board installed and all cables in place.

Figure 10. The motherboard installed with all cables connected
While many of you are no doubt marveling at my assembly skills, the more astute will have noticed my big error. The cables at the bottom are lying on top of the grid, just above the power-supply space and are thus right in the upward flow of hot air. Not good. You will also notice the three holes just below those cable connections, where I should have run the cables in the first place. This will be fixed.
Even with my blunder, it is easy to see that the space is not cluttered at all. Similar neatness is evident on the back side, as shown in Figure 11.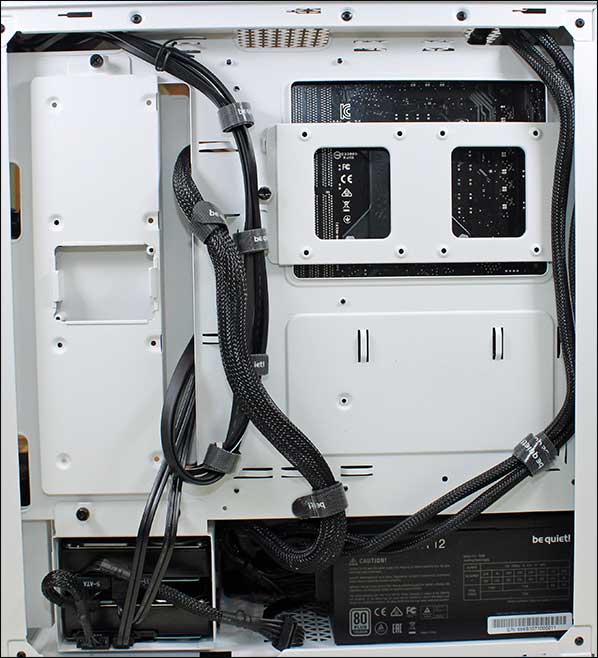 Figure 11. Cabling behind the motherboard
There are four mounting points for SATA SSDs, two on the left and two on the upper right. If any of those were installed, there would be a bit more clutter. Still, it's very neat back here.
The cooler
Finally, we come to the item that will consume a huge amount of the interior volume of the case: the Noctua NH-D15 cooler. As with the motherboard, there are several steps that were difficult to photograph, so I'm going to describe the process and show the result.
The cooler consists of a heat sink connected via heat pipes to two very large sets of fins. One of two fans is installed between the fins and the second fan is installed on the forward side of the cooler. To install the heat sink and fins, the fans must be temporarily removed.
The cooler comes with a syringe of thermal paste: the highly rated, award-winning NT-H1. A small amount of the compound is placed on the center of the processor, and the cooler is lowered into place — making contact with the processor. Two screws secure the cooler to the SecuFirm2™ mounting system. Care must be taken not to use too much compound — so that it does not leak around the edges.
With the cooler in place, the two fans can be mounted. Because these are the CPU-cooling fans and are thus controlled by a specific fan header on the motherboard, Noctua provides a Y-cable so that both fans can be powered from the same source. This is important: if the fans run at different speeds, turbulence is possible, which will disrupt smooth air flow and increase noise.
The installed cooler is shown in Figure 12.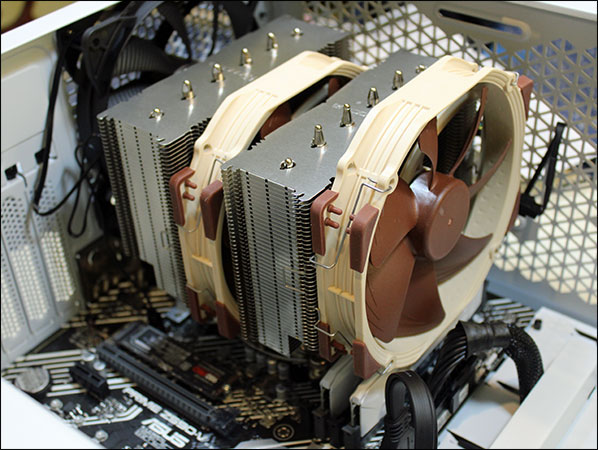 Figure 12. The dual-fan Noctua NH-D15 air cooler installed
Massive, isn't it?
Noctua fans are clearly marked to indicate the direction of airflow. Be sure you get this right; in this instance, the air needs to flow toward the rear.
You'll notice that the forward fan is mounted higher on the fins than the fan in the middle. That is necessary to clear the memory DIMMs, which can be seen below it. In this photo, the fan is actually resting atop the DIMMs, but I will be checking to see whether I can raise the fan by a few millimeters. The mounting system for the fans can be snapped between any set of fins, so small adjustments are possible. The only consideration is making sure the total height of the cooler still fits into the case. Too high, and I won't be able to get the side panel closed. Even if I can't raise it, sitting on the DIMMs isn't a disaster.
If there is truly a problem with fit, the cooler works very well with just one fan.
And that's it! Assembly is complete. Put the skins back on, and it will look like a regular old PC.
Did I turn it on? Nope. That's for next time.
Previous installments
All the components for Opal were purchased by me, personally.
I neither solicited nor received any consideration from any of the manufacturers or vendors I chose.
My choices do not represent an endorsement of any product or manufacturer.
Unless otherwise noted, all photography by Will Fastie.
Join the conversation! Your questions, comments, and feedback
about this topic are always welcome in our forums!
Will Fastie is editor in chief of the AskWoody Plus Newsletter.
---
ADVERTISEMENT

---
You're welcome to share! Do you know someone who would benefit from the information in this newsletter? Feel free to forward it to them. And encourage them to subscribe via our online signup form — it's completely free!
---
Like what you see in the AskWoody FREE newsletter?

Become a PLUS member!

As a Plus member, you'll receive the full newsletter, including all our great content about Windows, Microsoft, Office, 365, PCs, MS-DEFCON Alert notifications, useful and safe freeware, and Susan Bradley's sought-after patch advice. Plus membership also allows continuous access to the complete archive of nearly two decades of Windows Secrets and AskWoody Newsletters.

Naturally, Plus members have all the benefits of free membership, including access to the popular AskWoody forums.

The cost? We're supported by donations — choose any amount for a one-year membership. Every little bit helps.
---
The AskWoody Newsletters are published by AskWoody Tech LLC, Fresno, CA USA.
Your subscription:
Microsoft and Windows are registered trademarks of Microsoft Corporation. AskWoody, AskWoody.com, Windows Secrets Newsletter, WindowsSecrets.com, WinFind, Windows Gizmos, Security Baseline, Perimeter Scan, Wacky Web Week, the Windows Secrets Logo Design (W, S or road, and Star), and the slogan Everything Microsoft Forgot to Mention all are trademarks and service marks of AskWoody Tech LLC. All other marks are the trademarks or service marks of their respective owners.
Copyright ©2022 AskWoody Tech LLC. All rights reserved.